Tell us about Shooting Picasso.
A promising young journalist must struggle confronting ruthless criminals who try to take advantage of the general panic. She defies the lawless bullies who would like to trap her. She fights hard to unmask the culprits. In the life-and-death battle, the heroine has to find the strength and stamina she needs to unearth the truth and change her life.
In 5 words or less:
Your book
Shooting Picasso describes 9/11 survivors coping in New York.
Your heroine
Journalist Mara discovers life-changing links to the past.
Your hero
Photo-reporter Brooks finds his camera useful.
You as an author
I was struck and deeply touched by 9/11.
Let's say your book is a movie – which one does it most closely resemble?
Wish Shooting Picasso would be a movie! It would be similar to Flight 93, at least in part.
The subject was very difficult and emotionally draining. This kind of book would make a unique and harrowing movie.
What real-life actors are playing the roles?
Demi Moore might be a fine, inquisitive Mara and Johnny Depp would work well as Brooks, the photo-reporter always-ready-to-snap the most revealing pictures.
Now this movie needs a soundtrack – what songs/tracks best fit your book?
Celine Dion singing My Heart will Go On from the soundtrack of the Titanic might be fitting for this 9/11 movie.
Your characters end up in a world where everyone's a fashionista – how do they dress and what are they wearing?
The characters wear blue jeans, T-shirts and informal clothes.
What's their favorite food?
Their taste is simple at the scene of so much destruction. When they find an open restaurant, they gobble down hamburgers and French fries and gulp down Coke, or coffee.
As writers, we are bombarded with ideas every minute of every day. What's the idea behind this book, and how did it come about?
The terrible tragedy of 9/11 caused a lot of grief in the U. S. and it was shared around the world. These man-caused deaths and devastation struck and moved me to tears. When I visited New York, I found out how beautiful and strong this city is. Fantastic how the City and its citizens withstood all the destruction! New Yorkers took it in stride and rebuilt their lives.
In my book, I wrote about how horrible it would be to be taken hostage in one of the planes that hit the North or the South Towers. Could fiction do justice to reality? It would be nice if fiction could change what happened, but it doesn't and all we can do is talk about the tragedy and remember the World Trade Center and the 3,000 victims. The reverberations of all the deaths and losses will go on.
Tell us a bit about you, and something we don't know/wouldn't expect about you.
I always like to discover new ideas and hope to find out what I didn't know anything about. Knowledge is like power and is something we can't do without.
What's your favorite moment of the day, and why?
My favorite moment of the day is in the early morning when I see Harry, my Siamese cat's big blue eyes looking at me expectantly. He purrs happily when I offer him his dish full of kibble.
What's your biggest indulgence?
Choco-mania is my main indulgence, especially after a day spent writing. I know I'm addicted to dark chocolate, orange creamsicles and doughnuts just out of the Doughnuts Mill.
Biggest peeve?
My biggest peeve is someone who cuts in front of me in the grocery line, particularly when I'm holding a heavy basket to unload by the cashier.
What unique factor do you think you bring to the book/story market?
The unique factor I bring to the book market is based on different life experiences. The search for the truth is essential and may lead to amazing discoveries.
Best advice you've received, and that you'd want others to know?
A hard-to follow advice I have received is to surprise your readers who deserve to be treated only to the best. You have to write, write, write.
The 9/11 surprise attack on the World Trade Center creates unimaginable chaos and grief in New York City. Ruthless opportunists try to take advantage of the ensuing panic, but a promising young reporter known for her no-holds-barred story-chasing hunts them down and soon finds herself at the heart of a criminal underworld.

How deep into that underworld, and her own past, is she willing to go? And more importantly, will she have the strength to face a drastic life change?
About the Author: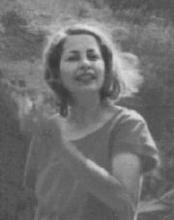 Vanna Tessier writes about the world we live in today. She believes reason and modern technology can enrich the quality of life allowing us to face changes affecting modern society.
Her fiction is at times broadcast on CBC Radio and her book reviews appear in The Edmonton Journal and The Edmonton Sun.
Gypsy Drums, her collection of short stories, was a finalist for the Howard O'Hagan Award. Another collection of short fiction, Thistle Creek, appeared before her book Sandweaver. She translated from Italian, The Last Waltz of Chopin, a novel by Gilberto Finzi.
In 2002, Peppermint Night won The Poets' Corner Award.
She examines the challenge of survival within a forever mutating environment influenced by the onerous demands of our civilization coping with the threat of terrorism.
The author agrees we could find a refuge within the realm of our imagination leading us to discover a balance between reality as is and as we would like it to be.
Buy the book at http://www.amazon.com/dp/B00CWU0420.