Where is your favorite place to write? Please describe your writing place.
My favorite place to write is in my studio that is divided from my kitchen
by the cupboards, near the pantry. I know I'd never go hungry with food so
close to me. But I have to be careful not to eat all the time instead of working
on my computer. The keyboard is patiently waiting for me every day with all
the new words and adventures anyone could possibly want. There could be
no better place to write.
What is your favorite part of the writing process? The least favorite part?
Dialogue is my favorite part of the writing process. It can sound natural
and spontaneous in a given situation. That could add a sense of truth
in a work of fiction. Dialogue can also reveal a particular character by
the words he or she uses. If the protagonist for example uses French words,
he or she might be French.
If the computer breaks and lets me down, it would be unpleasant, disrupting
my writing process and my train of thought.
How much time do you spend writing each day?
I enjoy writing and I spend as much time as I can doing what I like doing best.
Do you write on a computer, typewriter or pen/paper?
It would take too much time to write with the typewriter or pen and paper. It
takes long enough to write a novel with the computer. I always promise myself
to be faster.
Who are some of your influences?
Mark Twain offers fantastic adventures in Tom Sawyer.
Alice Munro is inspiring with her unique short stories in Runaway.
Isaac Hooke dares surprise the reader with his book The Forever Gate.
The 9/11 surprise attack on the World Trade Center creates unimaginable chaos and grief in New York City. Ruthless opportunists try to take advantage of the ensuing panic, but a promising young reporter known for her no-holds-barred story-chasing hunts them down and soon finds herself at the heart of a criminal underworld.

How deep into that underworld, and her own past, is she willing to go? And more importantly, will she have the strength to face a drastic life change?
About the Author: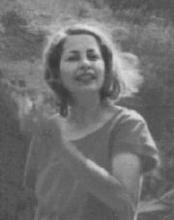 Vanna Tessier writes about the world we live in today. She believes reason and modern technology can enrich the quality of life allowing us to face changes affecting modern society.
Her fiction is at times broadcast on CBC Radio and her book reviews appear in The Edmonton Journal and The Edmonton Sun.
Gypsy Drums, her collection of short stories, was a finalist for the Howard O'Hagan Award. Another collection of short fiction, Thistle Creek, appeared before her book Sandweaver. She translated from Italian, The Last Waltz of Chopin, a novel by Gilberto Finzi.
In 2002, Peppermint Night won The Poets' Corner Award.
She examines the challenge of survival within a forever mutating environment influenced by the onerous demands of our civilization coping with the threat of terrorism.
The author agrees we could find a refuge within the realm of our imagination leading us to discover a balance between reality as is and as we would like it to be.
Buy the book at http://www.amazon.com/dp/B00CWU0420.