Why do you write?
I enjoy writing and story-telling. Some stories, either happy or sad, have to be shared. They may record our present way of living, warts and all, or an ancient way, or even a future way of life.
What made you decide to sit down and actually start something?
The harrowing 9/11 attack on the Twin Towers of the World Trade Center in New York, touched me and the rest of the world. I felt disturbed and writing was one of the ways to deal with reality and with what happened.
Do you write full-time or part-time?
I prefer to keep myself going and writing full-time. I would need more than 24 writing hours a day!
Do you have a special time to write or how is your day structured?
I have to find the time to write. It's better for me to write in the morning before I do my house chores. Also, I must spend about 30 minutes a day exercising, lifting weights and running on the spot to keep in shape.
Do you write every day, 5 days a week or as and when?
I'd like to write 5 days a week. But sometimes I skip a day or two and I try to make it up on the weekend.
Do you aim for a set amount of words/pages per day?
Yes, I aim for a few double-spaced pages a day. It would be nice to have 4 or 5 pages done every day. Often, however, I must rewrite and go over those same pages to see if they run and can be read smoothly. This may prolong the writing process, but it's worth it.
Do you write on a typewriter, computer, dictate or longhand?
I write on computer. Or else I could never get anything done.
Where do your ideas come from?
My ideas may come from different sources. They could develop from reality or my own fantasy. Reality can be transformed when it is seen through the kaleidoscope of fantasy.
Do you work to an outline or plot or do you prefer just see where an idea takes you?
I might start with an idea or with a sketchy plot in mind. I always change it, or let the characters be themselves so that they can choose which way to go.
How do you think you've evolved creatively?
I started out with poetry, short stories and reviews. I wrote a young/adult novel. I felt I had to write more and dedicated plenty of time to a serious and disturbing subject for a novel like Shooting Picasso.
What is the hardest thing about writing?
I find that writing the beginning of a book is very hard. I mean, you have to make sure that the person who opens the book likes what he reads.
What was the hardest thing about writing your latest book?
Shooting Picasso attracted my interest. The subject was, and still is, sensitive and got me emotionally involved. It was difficult to deal with the pain of death and loss. I even attempted to understand how could the terrorists plan and execute such a horror. But I couldn't find an answer that would satisfy reason.
What is the easiest thing about writing?
The computer makes things a bit easier for an author. But sometimes it can trick you. It may substitute, for example, the 'e' in 'bed' with an 'a' becoming 'bad'. That would change the meaning of the whole sentence.
How long on average does it take you to write a book?
It takes me too long to write a book. I worked for years on Shooting Picasso. I'm planning to write the next book much faster, taking only a few months.
Do you ever get writer's block?
I'm not immune to the writer's block. There could be a phase in your career when you must take care of many other things and can't focus on writing.
Any tips on how to get through the dreaded writer's block?
Even going through a period with the writer's block, I can read and read until I'm ready for a short piece like a review. Once you start, who is going to stop you?
What is your favourite motivational phrase.
What doesn't kill you, makes you stronger!
The 9/11 surprise attack on the World Trade Center creates unimaginable chaos and grief in New York City. Ruthless opportunists try to take advantage of the ensuing panic, but a promising young reporter known for her no-holds-barred story-chasing hunts them down and soon finds herself at the heart of a criminal underworld.

How deep into that underworld, and her own past, is she willing to go? And more importantly, will she have the strength to face a drastic life change?
About the Author: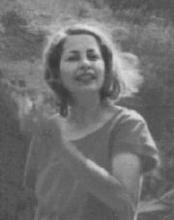 Vanna Tessier writes about the world we live in today. She believes reason and modern technology can enrich the quality of life allowing us to face changes affecting modern society.
Her fiction is at times broadcast on CBC Radio and her book reviews appear in The Edmonton Journal and The Edmonton Sun.
Gypsy Drums, her collection of short stories, was a finalist for the Howard O'Hagan Award. Another collection of short fiction, Thistle Creek, appeared before her book Sandweaver. She translated from Italian, The Last Waltz of Chopin, a novel by Gilberto Finzi.
In 2002, Peppermint Night won The Poets' Corner Award.
She examines the challenge of survival within a forever mutating environment influenced by the onerous demands of our civilization coping with the threat of terrorism.
The author agrees we could find a refuge within the realm of our imagination leading us to discover a balance between reality as is and as we would like it to be.
Buy the book at http://www.amazon.com/dp/B00CWU0420.