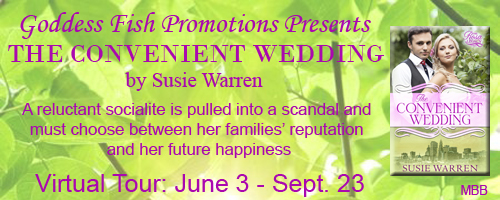 This post is part of a virtual book tour organized by
Goddess Fish Promotions
. Susie will be awarding $50 Amazon or B/N GC to a randomly drawn winner via rafflecopter during the tour. Click on the tour banner to see the other stops on the tour.
Long and Short Reviews welcomes Susie Warren who has stopped in to chat with us today. What advice would you give a new writer just starting out?
Writing can be a lonely profession and many writers are introverts. So I think it is critical to join writing groups and to go to conferences and workshops. You will find many, many like-minded people who are happy to give advice and talk about writing. Learning about the craft and speaking with other writers will push you forward. Like many other things in life, sometimes you just have to put one foot in front of the other and keep making progress.
Do you ever suffer from writer's block? If so, what do you do about it?
I don't get writer's block per se. I've become more of a plotter over time and map out very detailed outlines before I start writing. So I know the basic framework of the scene before I sit down at my computer. My first draft is mostly dialog as I get the characters together and have them act out the scene. If a scene is not flowing well then I'll move to the next scene and come back to it. If it is still not working after a second attempt then I'll cut the scene and find another way.
What, in your opinion, are the most important elements of good writing?
I like to read a fast-paced story with great dialogue and interesting characters. But there are many elements that need to come together flawlessly to create a memorable story – an emotional arc, enough conflict to create tension and varied pacing, strong character goals and motivation and finally some type of satisfactory resolution to the story goal or question.
How do you develop your plot and characters?
I'm interested in the structure of a story so I like to spend time on plotting. For me, the hardest part of being a romance writer is the willingness to explore the emotional core of the story. I get lost in intriguing plots and the structure of the story and have to push myself to fully investigate the emotional life of the characters. But the reader ultimately is looking for the emotional impact of the story so the setting and plot details in a well told romance, while important, will need to be seamless.
What is your work schedule like when you are writing?
When I started writing, there were often gaps in the time I could dedicate to writing. In these intervals, new story ideas would surface and I would start a new project if I had a few hours. I would have three or four stories going at the same time. Ultimately, this approach didn't work for me and nothing got completed.
So out of sheer necessity, I became more disciplined. I started writing an hour each day and wouldn't allow myself to switch projects. If a new idea surfaced, I would write it down in an idea folder and go back to my current project. Something interesting happened. I became more focused and productive. And I started completing projects.
What would you say is your most interesting writing quirk?
I'm a linear thinker so I write the first draft from start to finish. I don't write scenes out of order or skip ahead. Other writers find this a little strange but it works for me.
What is the most surprising thing you discovered while writing your book(s)?
I'm continually surprised by how much I love to write. Even though it can be massively difficult and a struggle at times – I still love it. I'm satisfied when I find just the right words to put on the page.
How many books have you written? Which is your favorite?
I'm just finishing my 6th novel, The Chosen Heir, which will come out in late October. Usually the novel I'm working on is my favorite – I become so entrenched in the plot that I have a difficult time imagining another book.
Do you hear from your readers much? What do they say?
I do read reviews on Amazon or Goodreads but I don't hear from readers much. I would love to get feedback so please reach out if you read one of my books. I respond to every email and message.
If you had to do your journey to getting published all over again, what would you do differently?
I would have started a social media presence before I launched my first book. I wasn't sure how to get started and I should have just jumped in.
How do you keep your writing different from all the others that write in this particular genre?
I don't worry so much about being different. If you work on developing your voice then your story will be distinctive or unique. The secret is to dig deeper and find that voice.
If you were stranded on a desert island and were only allowed to have five modern conveniences with you, what would they be?
I would want to unplug and relax so – sunscreen, chilled water, books, air mattress and a tent.
What was the scariest moment of your life?
I imagine most mothers have had this moment – I couldn't locate my two and a half year old for several minutes. It was a few days after we had a pond dug on our property and I was convinced that she had somehow walked down to it. I frantically searched the water. My four year old stopped me and said he found her safe and unharmed. She had gone to retrieve her doll from the car. The fear must have been in my subconscious mind.
Is there a writer you idolize? If so who?
I definitely idolize successful self-published authors. It takes so much skill and perseverance to keep going. I think you have to be part entrepreneur to take on all the business aspects of self-promotion and marketing.
What would we find under your bed?
Nothing. I have wood floors throughout my home and keep under the bed vacuumed and spotless. It probably has something to do with my phobia of spiders.
What makes you happy?
I heard someone say a long time ago, as a mother you are only as happy as your most unhappy child. I think this is very true. If my children are happy and doing well then I feel happy and content.
If you could keep a mythical/ paranormal creature as a pet, what would you have?
I would like a beautiful hare with special powers. It would have the ability to see into the future and heal serious injuries.
What is a talent you wish you had, but don't?
I wish I could sing. I enjoy it but I'm so not good at it. I'd love to have an amazing voice.
Favorite place to read?
I love to read in front of a wood burning fire on a snowy day with no one home. (This doesn't happen very often).
The Convenient Wedding

A reluctant socialite is pulled into a scandal and must choose between her families' reputation and her future happiness.

Lucia Montgomery is from an old and powerful political family in Connecticut and desperately wants to shed her reputation as a superficial socialite. Against her family's wishes, she seeks a position working for a fiercely contested political campaign and the dark horse in the race, Anderson Adams. She is thrown into the middle of a scandal of her own making when she is tricked into going to his hotel room. Anderson persuades her to play along with a pretend engagement then an actual wedding to save her reputation and his campaign. The media falls in love with the charismatic couple and they must figure out how to reconcile their public image with their private life.
Enjoy an excerpt:
Lucia Montgomery knew failure was a likely outcome of the evening's celebration. Looking around at the glittering social elite clamoring for her grandfather's attention, she wanted to make her escape. But instead she held her ground. Taking a sip of chilled champagne, she waited for the evening to unfold. She smiled openly at anyone who approached her and exchanged pleasantries waiting for her moment.
Anderson Adams was scheduled to appear this evening and she was waiting to make a pitch to the recently nominated candidate. Tonight was all about getting the party elite behind the last minute candidate, he was largely seen as the underdog in the race. She was hoping her public relations experience and skills would grant her access to this campaign. Her grandfather had mentioned that he would use his influence in the party to insist on an interview but she wanted to make her own way. The fact that her grandfather was the past governor of the state was enough pressure without him calling in favors.
Her grandfather's mansion was showcased beautifully this evening; the unseasonably warm late April evening in Hartford allowed the numerous sets of doors to be left open to the landscaped back yard. Candles and lanterns illuminated the gardens and allowed for an easy flow of guests from inside the formally decorated spaces to the vast terraces and lawns.
Lucia watched her aunt dance with an older gentleman and took another sip of champagne. She would need to limit herself to the one glass of the chilled indulgence. It was critical that she had her wits about her when she approached the recently chosen candidate for the U.S. House of Representatives. He held the key to her launching a public relations firm on the east coast. If she could convince him to hire her then his tightly contested election bid would catapult her ahead of countless firms and talented individuals. She needed to escape her life in California and all the recent humiliation surrounding her broken engagement. A job with Anderson Adams would allow her to land on her feet and not have to explain her complete professional and personal melt down.
She walked out into the garden and reminded herself not to think about past mistakes. It would destroy her confidence and prevent her from positively pitching her ideas to Anderson Adams. Her family was well-connected politically and she had the poise and skills to run an effective public relations campaign. She knew how to make things happen and control the communication in such a way that she could help a candidate get elected. The challenge of helping with a campaign for the House of Representatives filled her with enthusiasm and direction.
About the Author: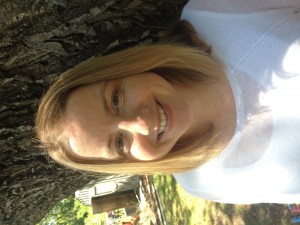 Susie Warren writes contemporary romance. Besides being an avid reader, she spends much of her free time crafting intense and complex stories about falling in love. When she is not writing, Susie works as an administrator in a small, independent school while caring for three teenagers and keeping tabs on her inventor husband. With the launching of her first book, The Forgotten Heiress, she has slowly begun to navigate the social media realm.
Susie loves to hear from readers and responds to each email and Facebook post. Please reach out to her via Facebook or at Twitter.
For more information on her upcoming releases, new excerpts and other related postings, or to sign up for free promotions, please visit her website.
The Rosa Legacy Series
The first novel in The Rosa Legacy series, Ruthless Perfection, started with the idea of a traditional Italian mother who wanted her only daughter happily married. The mother, Carla Rosa Neri, along with her two sisters, Francesca and Marie, had emigrated from Italy as young girls and each went off to create a dynamic and successful family.
Each of the sisters had an only daughter and they made sure the girls spent time together. They attended the same boarding school in the northeast and visited each other's homes in the summer.
Ruthless Perfection
Carla Rosa married into the Neri family with a long history in the Carrara marble industry. Her daughter, Isabel Neri, being a filmmaker and wanting to honor her grandfather's legacy, approaches a reclusive billionaire, Marc Santoro, to ask permission to produce a documentary about the life of a quarry worker. Ruthless Perfection is the story of how they fall in love.
The Exiled Jeweler
Francesca Rosa married into the Berceto family with a long history in the jewelry making business. The Second novel in The Rosa Legacy series, The Exiled Jeweler, is about her daughter, Emelia, who went into seclusion after a scandal tore the family apart. Emelia is a talented jewelry designer who lived a sheltered life and was drawn into a passionate encounter with her family's rival, Alexander Armati at a gala. Outside in the garden, photographs were taken on them and sold to the tabloid press. Her family was shocked and embarrassed and sent Emelia off to Florida. Four years later, she returns when her grandfather has a heart attack and her parents are deciding to sell the family business.
The Convenient Wedding
Marie Rosa married into the prominent Montgomery family, with a successful background in politics. Her only daughter, Lucia, is fascinated by politics and becomes a campaign aide. The opportunity to work on a senate campaign in Connecticut draws her into the middle of a scandal. Anderson Adams is a dark horse in the senate race yet convinces Lucia to play along with a strategy to save his campaign. The third novel in The Rosa Legacy series, The Convenient Wedding, is the story about how they reconcile their public image with their private life.
Buy the bok at Amazon.