Long and Short Reviews welcomes Kira Peikoff, who is visiting with us to chat about her latest book, NO TIME TO DIE. NO TIME TO DIE focuses on a 20 year-old woman who stopped aging at 14 years-old – where did you get this idea?
A few years back, I saw a documentary on Discovery Health about a young woman who had inexplicably stopped aging. She was almost 20 years old but had stayed frozen as a toddler her whole life, baffling doctors and scientists alike. The case caught my attention because I've always been interested in medical mysteries, and like many people, I'm also fixated on the promise of eternal youth. Yet staying young forever, as welcome as it might be, could also be a curse. I decided to explore it further in a novel, but I didn't want my protagonist stuck as a toddler without much mental or emotional capacity. So I decided to trap her in the worst possible page for maximum drama and frustration. What could be worse than 14?
Why is our culture so interested in defying aging?
I think it probably derives from our collective fear of death. It's very painful to face down our own mortality and to grasp how temporary our lives are. Religion may provide people with some measure of comfort, but there remains no scientific consensus on an afterlife. So we're forced to accept that all we really have is the here and now. Defying aging would be the ultimate way to prolong our time and avoid oblivion.
Do you think scientists will find a cure for aging?
Some leading researchers believe the end of aging is within reach–perhaps in the next century. One respected scientist, Aubrey de Gray, thinks that the first person who will live to age 1,000 is already alive now.
What are some of the benefits of not aging?
On an individual level, endless time–time to spend with family and friends, time to pursue infinite knowledge, passions, careers, hobbies, etc. No longer having to worry about outliving your parents or grandparents. Knowing generations of your own descendants. Living in the prime of life without breaking down physically after 70 or so years.
On a societal level, much less spending on health care, since the diseases of aging (cancer, diabetes, Alzheimer's) would be greatly reduced. A more robust economy, thanks to workers who retain full strength and energy long past retirement age.
What would be some of the negative results of not aging and becoming almost immortal?
Individually–people might suffer from a kind of idle purposelessness if they are living so long that there's no point in "seizing the day" or making the most of life. They might start taking their time for granted and losing their ambition. But of course, you'd still have to support yourself with food, shelter, etc. And you could still get hit by a bus and die, or get sick. It's very different from actual immortality.
Societally–we would have to deal with how to avoid overpopulation. People would have to have fewer children, or maybe skip generations before having children. We'd have to figure out how to make existing resources and infrastructure support the growing population. Social security would end. I don't know if people would retire anymore.
How did you research aging for NO TIME TO DIE?
I read some textbooks about both the physiology, genetics, and social aspects of ending aging. I developed a professional correspondence with a leading researcher who answered all my questions pertaining to my book's specific scenario in great detail. We went back and forth many times on the hypothetical scenario I created with his help, so it's as credible as possible while still being fiction.
In NO TIME TO DIE, there are women scientists. Outside of thriller writing, you write about science and medicine for several major publications. What advice would you share with other women interested in going into STEM fields?
Study hard and be as ambitious as you can. Don't get caught up in the gender trap of thinking that science and math are for guys, and women should focus on more traditionally "female" careers. Not true! Women have just as much to offer as men. That's partly why I chose to make my heroine scientist a woman–to better offset today's male-dominated culture in technical fields.
NO TIME TO DIE – how was the book title chosen?
My wonderful late mentor, Michael Palmer, suggested the title to me when I told him I was stuck on a title. (Titles are impossible.) Everyone at the publishing house immediately liked it, so we went with it. It's extra meaningful because Michael died shortly after I turned in the final manuscript. It was one of the last novels he read.
In a Washington, D.C. research lab, a brilliant scientist is attacked by his own test subjects. At Columbia University, a talented biochemist is lured out of her apartment and never seen again. In the Justice Department's new Bioethics Committee, agent Les Mahler sees a sinister pattern emerging…Zoe Kincaid is a petite college student whose rare genetic makeup may hold the key to a powerful medical breakthrough. When she is kidnapped, the very thing mankind has wanted since the dawn of time threatens to unleash our final destruction.
About the Author: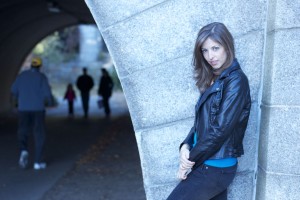 KIRA PEIKOFF is a journalism graduate of New York University who has written for The New York Times, Slate.com, Cosmpolitan.com, Psychology Today, The Daily News, The Orange County Register, Newsday and New York magazine on a wide range of subjects. She published her first book, Living Proof, in 2012 and has worked in the editorial departments of New York publishing houses. She is currently at work on her third thriller, freelancing for major media outlets and attending Columbia University's Master of Science program in Bioethics. www.kirapeikoff.com