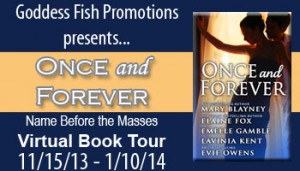 This post is part of a virtual book tour organized by
Goddess Fish Promotions
. The authors will award a digital copy of the book to five randomly drawn commenters and one grand prize of a $50 Amazon GC will be awarded to a randomly drawn commenter. Click on the tour banner to see the other stops on the tour.
What advice would you give a new writer just starting out?
The best is that old cliché, write every day. Make your creative life a business, and report for duty whatever amount of time you can each day. And take your writing seriously, or no one else will.
What, in your opinion, are the most important elements of good writing?
I think one needs to have a reader empathize with your characters and see them as real people. I have taken a little heat from some reviewers for this. They felt my characters are too flawed to be romantic characters. But this is always my goal. To write stories that are memorable, stories about characters that act naturally from what motivates them in the life they are leading, characters that aren't just being moved around on page to make a certain point. This was especially true in my novella, Duets, in the Once and Forever anthology.
The second is two sides of the same element…to not be boring and to be suspenseful. Building suspense is necessary in every type of genre, in my opinion. Keeping a reader on the edge of their seat, tightening the attention on an explosive situation, and delivering a great payoff is what I would hope any writer would strive for. I've told many beginning writers, don't treat your novel like a term paper that has to be finished…it should have a story line that evolves and resolves and that readers can fantasize how it moves on after 'the end', just like real life does.
What comes first, the plot or characters?
Plot. Always. The situation, how it ends, then a title. I've never experienced anything else. HA! Oh no, I am boring!!!
Tell us something about your newest release that is NOT in the blurb.
The authors in this anthology and I are all members of the same critique group. We've been partners for years, three of us for fifteen years, and we love each other like sisters. And feel the same stresses and tensions, competition and celebration when things go wrong or right. Being part of this group has been an amazing blessing for me.
How do you come up with the titles to your books?
Cue the spooky music…Sorry, but they do just 'come to me'. They just appear in my head, and I know when they're right. The only published title I fought with myself about was Secret Sister. After the book was done I decided to rename it Nick & Cathy and Roxanne.. I thought it was subtle and sexy and sophisticated. And then people told me they thought it was a book about ménage a trios. HA. Which it is, but not in the way you might think. So I went back to the one that woowoo-ed its way into my head to begin with. And now I trust the title gods and stick with my first choice.
What is the hardest part about writing for you?
Hating it on the fifth or sixth edit so much I want to scream. I get so exasperated with finding errors every time I read it, despite thinking it's been tightly edited.
What is the most surprising thing you discovered while writing your book(s)?
That I keep writing about personal issues of my own, even though I'm sure I'm only writing about ideas I have about fictional character's lives. HA! Someone once said writers write the same story over and over. Sometimes it is a little close to home for me.
Do you hear from your readers much? What do they say?
I do. The social media venues have brought me tweet to tweet and post to post with a lot of people. Out of hundreds of exchanges, only a handful have been rough. Readers are overwhelmingly kind, insightful, and complimentary for my efforts as a writer. I've been touched more than I ever imagined I would be by a reader's words when it's clear they got something from a book of mine.
What group did you hang out with in high school?
I was a drama nerd in the smarty pants classes. I wanted to be Natalie Wood or Faye Dunaway. My best friends were the football captain and the cheerleader. I had a crush on my 23 year old geeky History professor whose first name was Barrett. I drank too much at parties and was miserable. No one understood me. It was glorious. In retrospect.
What is one thing your readers would be most surprised to learn about you?
I used to work for Pacific Telephone and I handled the studio marketplace in LA. Late one Friday afternoon I got a frantic call from a field movie producer in San Francisco. They had to shoot a scene with a motorcycle running into a phone booth (anyone out there remember what those are?) and they had to replace the real one with a fake one or risk grave injury to the stunt man. They told me in confidence it was a Clint Eastwood movie, and not to tell anyone. I hung up and called the field supervisor where the shoot was, and told him to go get Clint's autograph Saturday morning, and oh by the way, move the phone booth. He did. No one died. And I got a bouquet of fancy flowers the size of a VW beetle the next Monday from hunky movie star who will not be mentioned. HA! Which taught me keeping secrets isn't always the best policy.
Tell us about the absolute BEST fan letter you have received.
I'll quote it in its entirety…it's a review of Secret Sister… "BOOK. GOOD. READ. DURRRP" I laughed my fanny off, and will treasure those 4 words forever.
Do you have a favorite quote or saying?
"A goal without a plan is just a dream". It's the best advice I can give writers. Or anyone. It's the 'how do you eat an elephant" way of thinking. Make a plan and pick up your spoon. All success is achieved one bite at a time. Bon appetit!
A blurb about "Duets" from Once and Forever

Duets offers alternating looks into the lives of two women who would seem to have little or nothing in common.

Screen star Molly Harper is on the verge of marrying a man who has swept her off her feet, thought perhaps hasn't swept all her feelings for her first love away. Anne Sullivan, happily married for twenty-five years, is fighting to hold onto the man she loves, and hold off a confrontation that could shatter her family's image of what they are.

Duets confronts a past secret that ties these two women's lives together, just as chance events turn Molly and Anne's worlds upside down.
Enjoy an excerpt:
"When are you thinking of having the wedding, Molly? And where?" Norma cleared her throat. "Here in LA or up at the Santa Barbara house?"
"In a couple of weeks, actually. At Cabo San Lucas. I think only two dozen people at most. It will be easier to keep the location a secret that way." Molly clapped her hands together, throwing herself into the part of a thrilled bride-to-be. "It's going to be perfect. I'll wear your veil and your mother's emerald earrings. Jason can give me away. Isn't that what you always dreamed of? Me as a bride?"
Norma nodded. "Yes, I've dreamed of that."
"Then be happy for me, Mom. For all of us. Please." She folded her hands around her mother's. "It's a new chapter. And Ben's perfect for me. Give him a chance and you'll see."
The limousine pulled into the driveway and a few seconds later stopped at the front entrance. Molly kissed Norma's cheek and bounced out, directing the luggage removal and welcoming the family dogs that leaped around her like canine paparazzi at the sound of her famous voice.
But Norma didn't move. A few moments later her chauffer opened the door and leaned inside. "Are you feeling alright, Senora?"
She pointed through the window at Molly. "My daughter is an excellent actress, Mr. Garcia. She looks very happy. But did you hear her say even once that she loved her fiancé?"
The old man shook his head. "No, I did not hear Molly say that."
Norma nodded. "Ben Delmonico might be a lot of things, but 'perfect' for my daughter isn't one of them."
About the Author: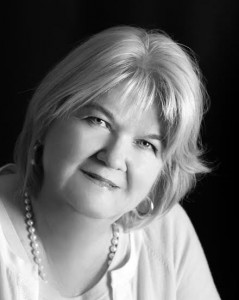 Emelle Gamble was a writer at an early age, bursting with the requisite childhood stories of introspection. These evolved into bad teen poetry and worse short stories. She took her first stab at full length fiction in an adult education writing class when her kids were in bed. As M.L. Gamble, she published several romantic suspense novels with Harlequin. She has contracted with Soul Mate Publishing for Secret Sister, published in the summer of 2013, and Dating Cary Grant, a Spring 2014 release.
Molly Harper will be released by Posh Publishing in December, 2013
.
Emelle lives in suburban Washington D.C. with her husband, 'Phil-the-fist', her hero of thirty years, and two orange cats, Lucy and Bella. These girls, like all good villains, have their reasons for misbehaving. Her daughter, Olivia, and son, Allen, are happily launched on their own and contributing great things to society, their mother's fondest wish.
Review Quotes:
Praise for Secret Sister
"Along with being a very unique and captivating plot, SECRET SISTER offers a shocking turn of the paranormal kind. So if you are the type of person that wants ordinary romance in a book, you won't find that here. This is a story of friendship, family, and most of all, true love and what those things can mean. I cannot recommend SECRET SISTER strongly enough… " Fresh Fiction, Fresh Reviews
"If you're looking for a typical women's fiction/romance, don't look here… this story has a twist of the paranormal that will have you willingly stretching your belief in order to enjoy the plot. Emelle Gamble has created a story that will tear your heart out." Long and Short Reviews
Links:
Email: emellegamble@aol.com
Website: www.EmelleGamble.com
FaceBook: Author Emelle Gamble
Twitter: @EmelleGamble
Goodreads: http://www.goodreads.com/author/show/7123746.Emelle_Gamble
Secret Sister http://www.amazon.com/Secret-Sister-ebook/dp/B00DUL4LQA