Long and Short Reviews welcomes Sarah Castille who is visiting with us to celebrate the release of her newest book Fighting Attraction, the fourth book in her Redemption series.
How do you personally distinguish between pornography, erotica, and erotic romance?
Pornography is written expressly for sexual gratification. I see it mainly as a visual medium although there are some books out there that can achieve the same end through words. There is little by the way of plot or character development and the reader's orgasm is the HEA.
Erotica consists of stories written about the sexual journey of the hero and heroine. I think of it as a story of two individual sexual journeys that may or may not include romance. If there is a romance, it is not the most important part of the story and there does not have to be a HEA for the characters.
Erotic Romance is about the development of a romantic relationship primarily through sex. If you take the sex out of an erotic romance, there would be no story. In an erotic romance, sex defines the growth of the both the characters and their relationships, and because it is a true romance it must have an HEA
What authors do you think write excellent erotic fiction?
Cherise Sinclair writes amazing books about the BDSM world. Joey Hill's books cover a wide range of sensual erotic fiction from vampires to CEOs, and Lexi Blake throws suspense into her erotic fiction that makes for compelling reading.
How do you judge what makes a good erotic story when writing your own fiction?
It's hard to judge my own stories, but if I can see the characters grow sexually and emotionally from beginning to end, then I hope I've taken them on a compelling journey.
What are the biggest public misconceptions about erotic romance?
I think the biggest misconception is that erotic romance is the same as porn or erotica and the romance gets forgotten.
Who is your favorite erotic author and why?
I love Lexi Blake because of the mix of love, BDSM, suspense and family in all her books.
My sweet, sexy Penny has a dark side. Just like me.
I will have her. And then I will lose her, and suffer a lifetime of regret.

Rampage. Everyone loves him. He is Redemption's top heavyweight fighter and the biggest gossip in the gym. But he isn't the teddy bear everyone thinks he is. He's hiding a dark secret-and he hates himself for it.

Twice a week, Rampage transforms into Master Jack, a notorious dom only the most hard-core submissives will play with. How can he-a Southern gentleman, bred to respect and protect women-want to dominate them?

But Penny Worthington wants him. Beneath her pearls, kitten heels, and prim British exterior beats a tortured heart…Master Jack is the only one who can set her free.
Enjoy an Excerpt
Jack "Rampage" Caldwell is the first MMA fighter I created for the Redemption series, and even when I first brought this Southern gentleman to life, I knew he had a secret. But Penny has a dark secret, too. After Jack discovers what she hides from the world, he makes her promise to come to him if she needs him. But trust doesn't come easily for Penny. She breaks her promise, never expecting that Jack will find out. But, of course, he does…and crossing a sadist is never a good idea!
"I'll call you back. Jack is here."
Cora sucks in a sharp breath. "I'll see you at class tonight. I can hardly wait to hear all about it."
I end the call and swallow past the lump in my throat. It's only been three days, and yet it feels like I haven't seen Jack in forever. He's wearing a white T-shirt that clings to his taut, muscle-ridged abdomen, and worn jeans that ride low on his narrow hips.
"What are you doing here?" I ask, trying to keep my gaze above his belt.
He pins me with a direct stare, his eyes fierce and hard. I feel like he's trying to see into my soul, but my heart is pounding so hard I'm not sure enough oxygen is getting to my brain to make any sense of what's going on.
"Jack?"
His gaze rakes over my body, lingering on my thighs as if he can see beneath my skirt. He tenses, and his eyes narrow. If I didn't know X-ray vision was impossible, I would swear he knows I broke my promise.
"Are you alone?"
"Yes." My pulse kicks up a notch. "Everyone's out for the rest of the afternoon."
He takes a step toward me, and the hair on the back of my neck stands on end.
"Lock the door."
A thrill of fear shoots through me, and sweat beads on my forehead. What if he knows? Or suspects? What will he do?
"Now." His deep, commanding Dom voice ripples through me, fanning the flames of my desire. Do I trust Jack enough to lock myself in the office with him, especially when I know what is coming? Do I trust myself?
I brush past him and lock the front door.
"Your office," he snaps after I return.
I jump at his sharp tone and scramble out of his way as he brushes past me and through my office door, a lithe and powerful animal herding its prey.
"What's going on?"
"Stand in front of the desk." He gestures to the big oak desk Amanda and I refinished when we first moved into the building.
Puzzled, I do as he asks, my breath catching in my throat when he closes and locks the door behind him.
"Jack?"
He gives me his back as he draws the curtains at the side of my office. "Don't move."
A sting of disappointment hits me in the chest. Has he come to reject me all over again? Does he want to make sure I understand there is nothing between us? It shouldn't bother me because I got the message the other night. I'm nothing. Nothing special. Nothing extraordinary. Not worth his time, especially since he's on the cusp of fame. I'm just his pal. Plain old quirky Pen. But he doesn't have to be so cold.
Worthless, no-good piece of shit.
No. No. No. My fingers tighten on the lip of the desk. I haven't even started to heal from last night. I don't need the past intruding on the present.
Jack leans against the door across from me, thick arms folded over his massive chest.
"Lift your skirt."
Shock steals my breath away, and all I can do is stare.
"What?"
"You heard me. Lift your skirt. Now."
Bang. Bang. Bang. My heart thuds frantically against my ribs. Adrenaline pounds through my veins, and I feel a rush of heat between my legs. He knows. I can see it in his eyes, hear it in his voice…
"Why?" I whisper, stalling. And why is this turning me on?
"You know why," he snaps. "You didn't keep your promise."
I smooth my hands over my cream skirt, silky underneath with a cotton macramé overlay, pressing it tight against my thighs. "It doesn't matter if I kept it or not. We're not in the club. There's nothing between us. You made that clear the other night."
"I fucked up the other night." He shifts his stance. "I'm not good for you, Pen. You need to be with someone normal. A nice guy who's going to treat you right and doesn't want to hurt you."
My hand fists on my thigh. "I don't like nice guys. They don't understand me. They're too gentle. My life is about pain. Emotional and physical pain. It's what I know, what I understand, what I need."
"So you hurt yourself?"
"I didn't—"
He cuts me off with a scowl. "Don't lie to me." He pauses, and his voice takes on a deeper, cutting edge. "Show me."
My mouth goes dry at his abrupt command, and I fiddle with the edge of my skirt, at once indignant that he would try to boss me around and aroused that he did.
"What if I did?" I say defiantly. "There's nothing you can do about it."
His corded throat tightens when he swallows, and he fixes me with a level stare. "I'll give you what you need."
All the air leaves my lungs in a rush, and I feel a disconcerting wetness between my thighs. "You wouldn't dare. I'm at work."
"Try me."
Electricity sparks in the air between us, and a curious mix of fear and arousal courses through my veins. Stiffening my spine, I curl my fingers under the edge of my skirt and draw it slowly, painfully slowly up my thighs. Jack stills. His eyes flick down and then back up again. He licks his lips, and his eyes darken.
I have awakened the beast.
About the Author: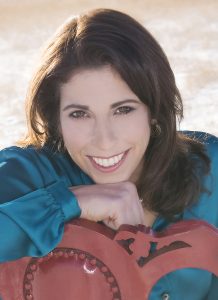 New York Times and USA Today Bestselling author, Sarah Castille, writes contemporary erotic romance and romantic suspense featuring blazingly hot alpha heroes and the women who tame them. A recovering lawyer and caffeine addict, she worked and traveled abroad before trading her briefcase and stilettos for a handful of magic beans and a home near the Canadian Rockies.
Twitter | Facebook | Instagram | Amazon Author Page | Goodreads | Pinterest | YouTube | BookBub | Newsletter | Website
Buy the book at Amazon US, Amazon UK, Barnes and Noble, iBooks, Google, or BAM.