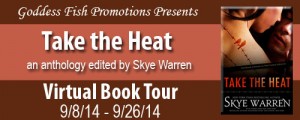 This post is part of a virtual book tour organized by
Goddess Fish Promotions
. The author will be awarding a $15 Amazon gift card to a randomly drawn winner via rafflecopter. Click on the tour banner to see the other stops on the tour. Enjoy an interview with Trent Evans, whose story "Last Day" is in TAKE THE HEAT.
What comes first, the plot or characters?
It really seems to depend upon the project. Like a lot of writers, ideas come to me at frustratingly inconvenient times (meetings, the shower, kids events, etc), but I've found the Notes feature on my iPhone to be a lifesaver. I just enter in the idea or the line of dialogue or a description of character or their motivation. Then as soon as I get the chance, I'm frantically e-mailing the idea from Notes to myself as if the ideas are written in disappearing ink (or, er, electrons). Okay, I'm weird — I own it;)
I've had whole novels whose genesis was a single line of dialogue that just stayed with me and refused to let go. I've had others where the inherent conflict between the characters was what sparked the creation of a story too. Ideally, considering the genres I write in, having characters be the impetus is probably preferable, but sometimes a really compelling plot idea just can't be ignored!
What is your work schedule like when you are writing?
Ha! Schedule? What schedule? Blink Blink. Sorry. Seriously, when I'm in drafting mode, I try to focus solely on that work in process. I'll try to set aside a 3-4 hour block of time right after I get up, then lunch and some exercise, followed by another block of 3-4 hours of time devoted to writing. If I'm feeling particularly inspired, or I've managed to get enough sleep (the planets need to be aligned just right for the latter to occur), then I'll crank for another 2-3 hours late at night before bed.
Unfortunately, well, I tend to get bored when I stick with the same project for too long. Paradoxically, this is probably one of the main reasons I ended up as a writer in the first place — that inherent dislike for rigid schedules, and doing the same thing all the time.
To combat this tendency to boredom, I rotate through WIP — usually 4-5 going at the same time — which I've found helps keep the gears turning. The mind is an amazing, mysterious thing, and what I've discovered is that even if I've set aside Project A in order to work on Project B, my mind is always working Project A in the background. Turning things over, taking them apart, synthesizing ideas. Even though I'm not consciously thinking about it, my mind the mind is always chipping away at Project A somewhere deep in the recesses of the sub-conscious. I don't really know how that works, but I know that it does:)
What do you like to do when you are not writing?
I don't talk about them much online because I'm very, very protective of them, but I spend most of my non-writing time with my two sons. They ensure Dad has plenty of things to fill up the day, thank you very much. I love it though — my children give my life purpose. I'm extremely close with my family, and love them dearly, and spend as much time as I can with them.
As for what else I do, I'm a voracious reader. I firmly believe reading is the fuel that fires creativity. I'm that guy who loves books so much, that he actually has the CSPAN Book TV channel on in his home. I know, embarrassing. I'd guess I read 5 or 6 books a month, on average. I know that's not much compared to some readers, but all things considered I think that's a fairly good clip! I read lots of smut and e-rom (of course), but I'll also read anything from military history to current events to fantasy and science fiction. I don't read that many thrillers, but I'm a huge Chelsea Cain fan, and snap up everything she puts out. My God, that woman can WRITE. I'm a retired D&D nerd and that's always whispering my name trying to get me to start up playing again. Thus far, I've resisted the siren's song. It just takes up too much time I need for writing!
I get asked from time to time whether or not I'm a Dom in real life (considering I write D/s erotic romance), and the short answer is, technically, yes. However, the life of most real-life Doms is a LOT less exciting than what you see in fiction. No clubs, no scening, no drama, no fighting off werewolves;) I lead a pretty boring life IMO — but I'm incredibly grateful for every single day of it.
What is the most surprising thing you discovered while writing your book(s)?
This is actually a very difficult question to answer. I sat and thought about this for a long time. I think the thing I keep coming back to is the impossibility of perfection. I know a lot of writers (and a few aspiring writers) who are nearly paralyzed by their need to make their writing perfect. I found early on that this is simply impossible.
If you'll forgive me for nerding out (and absurdly simplifying physics) I think of writing in the same way one thinks of the Heisenberg Uncertainty Principle. Stay with me here;) The closer you look at a particle, so goes the Uncertainty Principle, the more difficult it is to precisely pinpoint the physical location of that particle. With writing, the more you drill down, and revise, tinker, and obsess, the less likely you're going to ever finish the book, or find that "perfection". And often there is a point — like the Uncertainly Principle — where things get more difficult the farther you go with it.
At some point, a writer needs to say: "That's as good as I can make it, with my current skills." Then let it out into the world. I learned the truth of this early on, fortunately, and it's allowed me to be okay — if not totally at peace — with "the best that I can do".
I'll end this with a quote from Roy McAvoy in the underrated golf movie, Tin Cup: "Perfection is unattainable."
What are you passionate about these days?
Well, writing, of course, but I'll be more specific:) This is without a shadow of a doubt, the best time to be a writer. Ever. But there's more to it than that, so read on and I'll try to explain. I am unapologetically a BDSM writer. It's what I am, and it's what I write. I can't tell you how uplifting, inspiring, and sometimes heartbreaking the letters I get from readers are. BDSM writers, when they're doing it right, make readers feel. And see. When I read posts from people who say that reading book X gave them the courage to tell their husband what they really want, and in some cases admit who they really are, it makes me want to jump for joy. I LOVE to see these people reconnecting with themselves — and with each other.
Can the written world still change the world? Perhaps not in a global sense. But I believe its power to change can still be profound in the vital, intimate worlds of peoples' lives. Maybe that sounds self-serving, but when I hear someone who says they've found such happiness, and joy, and satisfaction, as a result of reading a book, there is nothing, and I do mean nothing, better than that.
Writing can be a lonely, frustrating pursuit, but it's days like that when it seems like the best job in the world 😉
The ultimate bad boys, criminals capture our attention and awaken our darkest desires. Celebrate the illicit in this romantic suspense anthology, where handcuffs are used for more than play. These stories are shocking, sexy, and thought-provoking.

In New York Times Bestselling Author Skye Warren's Magnolia Hotel, meet the heroine who pays her brother's debt to a loan shark—who happens to be her childhood crush. Find out if the jury made the right decision in Acquitted by award-winning author Giselle Renarde. Explore a dark and sensual psychology with New York Times Bestselling Author Pam Godwin in Unlawful Seduction.

Ride the edge of desire and see if you can TAKE THE HEAT…

Skye Warren – Magnolia Hotel
Cynthia Richards – Captivated
Pam Godwin – Unlawful Seduction
Sheri Savill – Slipknot
Shoshanna Evers – This Might Hurt A Bit
Candy Quinn – The Bombshell
Tamsin Flowers – Playing with Fire
Elizabeth Coldwell – Disposing of Donnie
Audrey Lusk – Surprise Witness
Trent Evans – Last Day
Giselle Renarde – Acquitted