Linda Goodnight is visiting Long and Short Reviews to share a special recipe with us and talk to us about her newest release The Memory House. Leave a comment for a chance to win a copy of the book.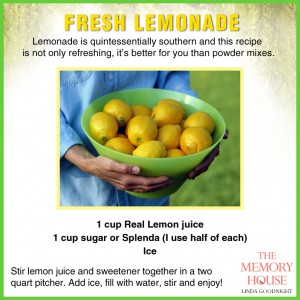 What is the central message of THE MEMORY HOUSE?
THE MEMORY HOUSE explores themes of loss and grief, healing and redemption, and offers perspective on the way people cope when life goes awry. A number of the characters, Eli, Julia, Charlotte, Ben, and Lizzy face deep tragedy, but each one responds differently. When you read it, (as I hope you will), look at the different responses and see which character responds the way you might.
What inspired you to write THE MEMORY HOUSE? Did it start with a character? The place?
The idea for THE MEMORY HOUSE began with a thought that led quickly to a character-Julia. I wondered, when a child goes missing and never returns, how does the family cope? Does every family react the same way? And of course the answer is, no. Individuals react differently, according to their personal make up. As I researched, I discovered warriors like Colleen Nick who start foundations and become activists. I also discovered families who became reclusive, don't give interviews anymore and shy away from thinking about that horrible day. With that information in mind, I saw Julia Presley trying to put her life back together.
You're known for writing about families and exploring familial relationships. How does your own family play a part in that?
I'm an extremely family oriented person. Family is what I love, what interests me and I think it's a common interest most people share. We all have families, whether functional or dysfunctional, big or small, traditional or non. The dynamics in family relationships fascinate me and I love to explore them.
Readers generally comment on your heroes and Eli Donovan is no exception. Reviewers are already commenting on him. Is there a reason, you write such strong male characters?
Writing men has always been easier for me because I grew up with only brothers and a dad who coached baseball. I was surrounded by males every day of my life! To a kid, that's not a fun thing but later on, I changed my mind. Also, my husband and I share four sons, so with all this testosterone in my life, writing the male perspective comes easier than writing women. Lately, though, I've wanted to explore sister relationships and those are growing within the pages of The Honey Ridge Novels.
What's next?
Currently, I'm hard at work on another time-slip story set in Honey Ridge, Tennessee, THE RAIN SPARROW. Several characters from THE MEMORY HOUSE also appear in THE RAIN SPARROW, a story about facing the truth of a painful past so that it doesn't ruin the future. There's much more than that in the story, but that gives you a sneak peak.
Then in November, book 2 of The Buchanon series, a short contemporary romance for Love Inspired releases with The Christmas Family.
Six years ago, Julia Presley lost everything that mattered, and only the purchase of an antebellum mansion turned bed and breakfast has saved her sanity.

Eli Donovan is a broken man hiding from his shameful past. A small town seems the perfect place to hide and hope that no one learns the truth.

But the old Civil War home and a 19th century mother and son just might make a difference for two wounded souls in search of hope.
About the Author:
NY Times and USA Today Bestseller, Linda Goodnight writes novels to touch the heart as well as to entertain. Her stories of hope have won the RITA , the Carol, the Reviewer's Choice, and numerous other industry awards. A small town girl, Linda remains close to her roots, making her home in rural Oklahoma. She and husband have a blended family of eight, including two teenagers recently adopted from Ukraine. Many of her books are about family and children and rightly so, as she draws her emotional stories from her surroundings, her great love of family, and from personal experiences as a nurse and teacher. Website