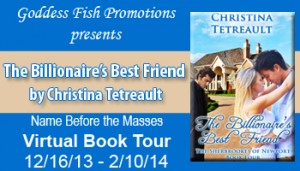 This post is part of a virtual book tour organized by
Goddess Fish Promotions
. Christina will be awarding a 25.00 gift card to either Amazon or BN to a randomly drawn commenter during the tour. Click on the tour banner to see the other stops on the tour.
Why did you start writing?
I loved reading at a young age. Then around the age of ten, I decided to give it a try myself. I just never stopped after that.
Did you ever think it would pay the bills? Or do you hope that one day it will?
Honestly, no I never thought it would help pay the bills, but right now it is definitely helping since as a stay at home mother with three daughters, I do not have another job.
Who is your favorite author? Why?
I can not say I have just one favorite author. However, one of my favorites is Julia Quinn. I love her characters and her voice.
Have you ever received a rejection letter? If so, how did you recover?
Yes, I have received many in the past. At the time, I tried to remember that it was only one person's opinion. I know what other people sometimes read and love, I have hated so I tried to keep that in mind.
Do your books simply come to you, or do you struggle for each chapter?
A little of both happens to me. Sometimes I will be on a great roll, the words and ideas just flying onto paper. At other times, I will sit and stare at a blanket sheet for a long time with no ideas.
What is one genre or sub-genre you wish you could try writing in?
At some point in time, I would love to try writing a paranormal romance.
Who is your favorite male character that you've written?
This is a difficult question. I love certain things about all of my characters. That being said, I think Jake Sherbrooke the hero in book 2 The Billionaire Playboy is my all time favorite.
Who is your favorite male character written by someone else? You know the one? The one that makes you wish he was your character?
One of my favorite male characters is James Malory from Gentle Rogue by Johanna Lindsey. This was the first romance novel I ever read, and it made me fall in love with the genre.
Who is your favorite female character that you've written?
Again, another tough question. I do like all of them, but my favorite maybe Callie Taylor the heroine from The Teacher's Billionaire.
Who is your favorite female character written by someone else? You know the one? The one that makes you wish she was your character?
I believe my favorite female character written by someone else is Penelope Featherington in Romancing Mr. Bridgerton.
Tell us about your latest release.
The Billionaire's Best Friend, is Lauren McDonald's story. Readers first met Lauren in book one as Callie Taylor's best friend. Lauren is an elementary school teacher and at the beginning of the book she is in a relationship with a wealthy CEO. Then her high school sweetheart returns to town. Nate Callahan is the man she expected to marry and grow old with until he broke up with her before heading of to the Naval Academy. Now, Nate is back in town for one reason, to reconnect with Lauren.
Can you share any details about something you have in progress or releasing soon?
Currently, I am working on the first book in a new series. The new series will be called Love on The North Shore. The first book will feature a secondary character readers saw in The Billionaire Playboy. Once that book is finished, I will continue work on book 5 in The Sherbrookes of Newport Series.
Despite a wonderful family, a career she loves, and great friends, a void has existed in Lauren McDonald's life ever since her best friend Callie married billionaire Dylan Talbot. Although they have remained close, Lauren and Callie now lead very different lives, that is until Lauren meets wealthy CEO Kevin Walsh. Lauren believes he could be the man who will help make her life whole again. That is until the night Nathaniel Callahan, her high school sweetheart and the one man she has always loved, shows up.Although Nate ended things with Lauren before heading off to The Naval Academy and his life with the Marines, he never stopped loving her. Now 15 years later he is back to correct the mistake he made all those years ago.

With Nate back in town, Lauren must decide between the man who promises her the world and the man who has the power to crush her heart again.
About the Author: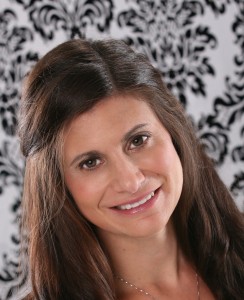 I wrote my first story with characters similar to those in the Sweet Valley Twins books at the age of 10 on my grandmother's manual typewriter. As I got older my stories and characters became more mature. During my freshman year at UMass Dartmouth, I read my first romance novel and fell in love with the genre. I have been writing contemporary romance ever since.
Today I live with my husband, three beautiful daughters and two dogs in Massachusetts. Whenever I have a free moment you'll find me either reading a romance novel or working on my most current story.
Website ~ Facebook ~ Twitter: @cgricci ~ Blog
Buy the book at
Amazon
,
Barnes and Noble
,
KOBO
,
Smashwords
, or
iTunes
.