Long and Short Reviews welcomes Sharon Sala who is visiting with us today as part of her virtual book tour celebrating the release of her newest book, I'll Stand by You this week. Enter the Rafflecopter at the end of the post for a chance to win a copy of I'll Stand by You and a diamond hummingbird necklace.
What comes first, the plot or characters?
For me, I dream almost all of my books, so my writing doesn't really fall into either of those aspects. For me, it's the story as a whole… like you go to the movies and you come out knowing the whole story…so it is with my dreams…which ultimately become the books.
Tell us something about your newest release that is NOT in the blurb.
The readers are always going to get a bit of Ruby Dye and the ladies at The Curl Up and Dye in each story. In my mind, Ruby Dye illustrates the genuine kindness and curiosity that is always evident in any small town.
Are you working on anything at the present you would like to tell us about?
Well, I am in the process of going back to contract for the next book in the Curl Up and Dye series set in Blessings and am looking forward to meeting the next people who's story I will tell.
No one is alone

Dori Grant is no stranger to hardship. As a young single mother in the gossip-fueled town of Blessings, Georgia, she's weathered the storm of small-town disapproval most of her life. But when Dori loses everything within the span of an evening, she realizes she has no choice but to turn to her neighbors.

As long as there is love to give

Everyone says the Pine boys are no good, but Johnny Pine has been proving the gossips wrong ever since his mother died and he took over raising his brothers. His heart goes out to the young mother and child abandoned by the good people of Blessings. Maybe he can be the one to change all that…
Enjoy an excerpt:
"Nothing means a damn thing if I don't have my baby."
"And now we get to my suggestion. Do you like Johnny Pine?"
"Yes, of course. He's been wonderful to us."
"No, I mean, could you like him as relationship material?"
"That possibility exists," she said.
"Good. Now let me talk to Johnny."
She handed the phone back to Johnny.
"Now he wants to talk to you."
She took the baby and Johnny took the phone.
"Yeah?"
"I have a suggestion that could bring an end to your troubles."
"Like what?"
"Do you like Dori?"
"Well, sure. She's great."
"Do you like her enough to consider a personal relationship with her?"
Johnny looked at Dori, then cupped her face and ran his thumb down the side of her jaw.
"Yes, I like her enough to consider a personal relationship."
Dori shivered beneath his touch as she realized Butterman was asking Johnny the same question he'd asked her.
"Put the phone on speaker," Butterman said.
"Just a minute," Johnny said and then pressed a button. "Okay, you're on speaker now."
"Here's the deal," Butterman said. "You two are very young to have such adult responsibilities. You're both trying to take care of your families on your own, and now DFCS has their nose in your business and is threatening you with removing the children from your custody, right?"
"Right," they said.
"So this would end tomorrow if you were married."
Johnny took a quick breath, started to speak, and then found himself staring at Dori instead, waiting for her reaction.
Dori already knew Johnny cared for her because he'd told her. What he didn't know was that she was very attracted to him.
"Well? Did both of you faint or what?" Butterman asked.
"I'm game if she is," Johnny said.
"I'm willing to do whatever it takes to keep our boys," Dori said.
Butterman chuckled. "Congratulations on your upcoming nuptials. If it were me, I wouldn't waste any time. Go get the license and find a preacher, and your trouble with Miss Carter is a thing of the past. I assume I am invited to the wedding."
About the Author: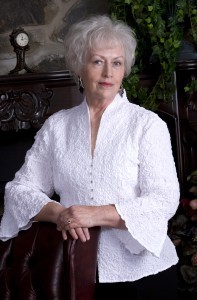 Sharon Sala, who has also written under the name Dinah McCall, has 85-plus books in print, published in four different genres-Romance, Young Adult, Western, and Women's Fiction, and her Young Adult books have been optioned for film. She has been named a RITA finalist seven times by Romance Writers of America, and in 2011 they named her the recipient of the Nora Roberts Lifetime Achievement Award. Her books are New York Times, USA Today, Publishers Weekly bestsellers and published in many different languages. She lives in Oklahoma, the state where she was born.
Website | Facebook | Twitter | Goodreads
Buy the book at Amazon, Barnes and Noble, iBooks, or IndieBound.