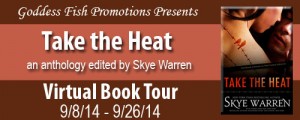 This post is part of a virtual book tour organized by
Goddess Fish Promotions
. The author will be awarding a $15 Amazon gift card to a randomly drawn winner via rafflecopter. Click on the tour banner to see the other stops on the tour.
Hi, Skye Warren here! I'm the New York Times Bestselling author of dark romantic fiction, and I'm also the editor of Take the Heat, an anthology of criminal romance. I'm so excited to share this release with you.
 One of the best parts of putting together this anthology was seeing what each author did. Giselle Renarde's story was so tense and expertly crafted and utterly unique. I'm excited to share her interview…

How long have you been writing?
I've been writing professionally since 2006. I keep thinking I should turn that into a tagline, somehow. Like, "Pussies and dicks since 2006!" No? No good? I'll stick with "Canada just got hotter," in that case.
Tell us something about your newest release that is NOT in the blurb.
I got the idea for my story "Acquitted" when my girlfriend and I attended this pot luck read-through night with a local theatre company. My Sweet is such a theatre person—she works in theatre, she subscribes to seasons, she's just mad for theatre. So we were at this event where they were doing scenes from every play in their upcoming season, and one scene had to do with this guy finding a dead body in a river, and how the image impacted him. It impacted me, too—the description, that is—and the whole thing kind of warped in my mind. What if the guy who found the body was actually the same guy who'd put her there?
Are you working on anything at the present you would like to tell us about?
I almost don't want to talk about it because I'm so afraid of jinxing the project, but okay, you've pulled it out of me: I'm writing my first dark romance. The idea came to me when I was cutting through the property of this old Victorian mansion that is, apparently, a rehab centre. I've lived in the same neighbourhood for over a decade and never noticed this place before. It's kind of tucked away, I guess. Anyway, as I was walking through this property, feeling like I shouldn't be there, I wondered what would happen if the staff at the facility were as Victorian as the structure. What if they spotted me and were convinced I was a patient trying to escape? What if they grabbed me and forced me into the building and…and…and…?
What are you reading now?
I pulled my copy of "La Belle et la Bete" off the shelf just the other day. I bought it couple years ago in Ottawa, but never read it. (Every time I'm there, I pick up a few folio livres de poche at Librairie du Soleil.) Anyway, as soon as I spotted it, it occurred to me that Beauty and the Beast is kinda THE ORIGINAL dark romance. Well, maybe not the first. It was written in the 1700s. There might have been others that came before it. But certainly, after all these centuries, it's still a story that springs to mind when we think about capture.
How do you come up with the titles to your books?
Either they come to me or they don't. Titles strike like lightning. Either I have the PERFECT title before I even start writing the book, or I never find the perfect title and I just have to make do with whatever my brain comes up with. Better when inspiration strikes.
What is your work schedule like when you are writing?
I am a full-time writer and I'm always working. I write during the day, usually 7 days a week unless I have something special going on (like visiting my mom—HA! I'm such a dork.) and in the evenings I'm doing book formatting, uploading, marketing… basically anything I can do in front of the TV. Because what would life be without daily reruns of Gilmore Girls broadcast on the Christian network with all the profanity bleeped out? (They even bleep the word "sex"!)
Have you ever eaten a crayon?
No, but I'd do it for $20. Hell, I'd do it for $5.
Ebook or print? And why?
I only read print books. Ebooks feel like working, because when I'm revising or proofing my own work, I'm reading it on a computer screens. Screens equate to work, in my mind, so when I'm relaxing with a book I want to hold it in my hands and smell the paper (unless it's one of those really old library books that smells like vomit. Pass.)
How do you keep your writing different from all the others that write in this particular genre?
I think it has to do with me being different. I'm queer. I'll write straight stuff, but I'm not big-time into men and the men who do draw my eye look nothing like the Harlequin heroes. My work has always been called "quirky" and "different." I honestly can't count the number of times I've heard that from editors, reviewers, readers. My work won't appeal to everyone, but that's okay. I learned years ago that trying to be someone else just turns out awkward and unappealing.
What are the best and worst pieces of writing advice you ever received?
When I first started writing, a lot of publishers and editors told me to stop with the lesbian erotica and fiction about queer women. I understand why they said this: because, generally speaking, it does sell. But, honestly, telling a queer chick not to write about queer chicks is like… SUPER-super not cool. I kind of felt like they were placing my identity under erasure and telling me to be someone I'm not—telling me to act straight, in essence. And then Rachel Kramer Bussel came along and told me that was terrible advice and thank the gods of queerdom for her, because my bestselling book of all time is extremely raunchy lesbian fetish erotica. (It's called Nanny State, in case you're wondering.)
Skye Warren: Thanks so much, Giselle! And thank you all for coming to check out Take the Heat. If you're down for a dark ride, I hope you'll read it!
The ultimate bad boys, criminals capture our attention and awaken our darkest desires. Celebrate the illicit in this romantic suspense anthology, where handcuffs are used for more than play. These stories are shocking, sexy, and thought-provoking.

In New York Times Bestselling Author Skye Warren's Magnolia Hotel, meet the heroine who pays her brother's debt to a loan shark—who happens to be her childhood crush. Find out if the jury made the right decision in Acquitted by award-winning author Giselle Renarde. Explore a dark and sensual psychology with New York Times Bestselling Author Pam Godwin in Unlawful Seduction.

Ride the edge of desire and see if you can TAKE THE HEAT…

Skye Warren – Magnolia Hotel
Cynthia Richards – Captivated
Pam Godwin – Unlawful Seduction
Sheri Savill – Slipknot
Shoshanna Evers – This Might Hurt A Bit
Candy Quinn – The Bombshell
Tamsin Flowers – Playing with Fire
Elizabeth Coldwell – Disposing of Donnie
Audrey Lusk – Surprise Witness
Trent Evans – Last Day
Giselle Renarde – Acquitted
Read Take the Heat now:
About the Author:  Giselle Renarde is a queer Canadian, contributor to more than 100 short story anthologies, and award-winning author of juicy books like Anonymous, Cherry, Bali Nights, Nanny State, the Wedding Heat series and the Adam and Sheree trilogy. Giselle lives across from a park with two bilingual cats who sleep on her head.
Find Giselle online: Website | Twitter | Newsletter