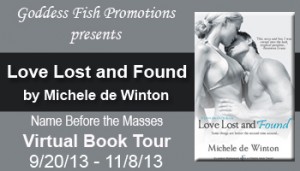 This post is part of a virtual book tour organized by
Goddess Fish Promotions
. Michele will be awarding a $25 Amazon GC to a randomly drawn commenter during the tour. Click on the tour banner to see the other stops on the tour.
Thanks for having me! I love chatting with writers and readers, and with lots of changes in my life at the moment I thought I'd ponder how I got into this writing business and what I'd tell myself were I to start all over again. Hope you enjoy.
Pushing a passionate pen – Michele de Winton
I am a writer. The statement only has four words when you lay it out flat like that. But those four words are a world and an ocean. A torment and a release. And sometimes they're a right pain in the ass because the day off I thought I was having is ambushed by a new idea. I am not a famous writer and I'm pretty new when it comes to romance, but I do push my pen passionately and I write over a broad range of genres.
I hadn't dreamed of being an author growing up (unless you count that brief moment when I copied out Where the Wild Things Are and tried to pass it off as my own). I was the want-to-be-a-ballerina-when-I-grow-up type. I followed that dancing dream, all the way through law school, until I left and went to teach dance in India. Yep. India. The classically trained Indian dance teacher at the school I was sent to wasn't impressed. So I ended up strumming a guitar and teaching orphans the words to Beatles songs before I wrote a play and we performed it, with Bengali subtitles, to one hundred and one people. Approximately. Truth is sometimes stranger than fiction.
Turns out that while this white girl can dance, I can write a whole lot better and my 'break' came with a whole lot of right time, right place energy. If it hadn't been for my background as a writer in other genres, I'm not sure my first publisher – Entangled – would have taken me on, as my book The Boss and Her Billionaire, was undoubtedly full of holes. But they did and my happy dancing hasn't stopped as the next book in the series Love Lost and Found is just released and the third Tempted by the Boss's Daughter will be out early next year. Coupled with the modest success of that first book, the support of my husband and a writing fellowship, I kept at it. Writing is the one thing that just seems to 'fit' with me. And that suits me fine. I love it.
Living in New Zealand however I'm pretty realistic about what it takes to make a living as a writer. Now I write nonfiction for a variety of clients, still keep up my literary work as well as writing for kids, and of course have dived into the awesome world of romance. Writing full time is a dream really.
I guess then the moral of my story is that you don't know where inspiration will spring from, or from what meagre beginnings your writing star will start shining. But you can keep pushing a passionate pen. You can float your dreams out on paper and let your characters dance with them. You can let the colour of some dark forest haunt your words or the light of morning warm them. And even if you don't want anyone else to see them, those words will be all yours. Full of poise and personality and passion, you will have created something that no one else has. And you will have made the world just a tiny bit better because of it. Isn't that fantastic.
If I had any advice for my as yet unpublished self it would be boiled down to four things:
1. Write. The discipline to get up every day and make yourself get onto the page even for a short time is the thing that will likely be the difference between you getting published and not. And of course if you only talk about writing your book rather than actually doing it the words won't ever get on the page.
2.Edit. Don't send off the first draft of anything, short story, play, novel. Even if it is a piece of genius. Let it sit, just for a couple of days if that's all you've got and then re-read. You'll likely pick up something that could do with tweaking.
3.Create a team. I've been part of a writing group for the last few years and they are the only people who see my first drafts. Having an objective eye look over your work is invaluable.
4.Read. Everything.
But what do you think? I'd love to hear the other sideways routes people have taken into writing. Or the paths they are still walking. Do you still find pushing the pen a driving source of passion?
About the Author: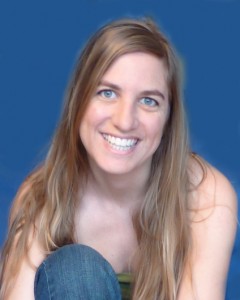 Michele was born in the mid 1970's amid a burgeoning sprawl of vineyards and new retirement homes. With two teachers as parents, her love of reading and books was cemented at an early age. Being a writer however, was not was she was supposed to do when she 'grew up'. Despite training in law (or perhaps because of it) she has been a dancer, producer, writer, and all round arty type in various countries for most of her life.
Moving into writing full time in 2010 was like being a part of a contemporary romance – perfect! Creating new worlds for her characters, or rather letting those same characters show her their worlds is now a highlight of Michele's daily life. And falling in love over and over as each hero and heroine allow their true feelings to surface is something very special. What a treat to do it every day! Now back home in New Zealand after travelling extensively, Michele writes from an office where the sound of the tapping keyboard is only rivalled by the whisper of wind in the trees.
Where you can find her: Website ~ Blog ~ Twitter – @Micheledewinton ~ Goodreads ~ Facebook ~ Pinterest
Felicity Williams can't remember the last five years thanks to an accident that wiped out her memory. She fled her old life in hopes of starting fresh and found refuge working on a cruise ship. But her past is coming for her…

Rick McCarthy wakes after a climbing accident to discover that his business partner and fiancée has quit her job and disappeared. He's trying to accept that she's run out on him, but now he needs her signature to close a deal that could literally be life or death. He'll go to any extreme to get what he needs…even if that means becoming someone else to win her back.

But a little lie becomes a large mess when they're stranded on a deserted island together, and old misunderstandings might ruin their chance at new love…