Leave a comment for a chance to win a print copy of A Howl for a Highlander (Terry's previous Highlander Wolf novel)–US and Canada only please.
I have written over fifty books. And omigosh, have things changed!!! When I first started, I was writing children's stories and typing on a typewriter! What a pain. Make a mistake, start over again. No copy and pasting like on Word programs today. I actually cut up pieces of paper and taped them where I wanted to move them. And then had to retype them all over again.
When I began to write full length novels, you can imagine the nightmare. Submissions were easier though. Because of no Internet, I had to research who was taking submissions in books that were a year old already, phone calls, ensuring that agents were still with a particular agency, and making sure I had their names spelled correctly. Everything had to be sent by snail mail, though at the time, publishers and agents were taking full submissions. That's why I said it was easier.
Then the Internet happened. Talk about the difference between walking everywhere, to riding in a high-speed jet. But then that meant everyone could send in manuscripts much more quickly. Agents and editors began taking email queries, though many didn't at first. Many still required submissions by snail mail, but some would allow a query, and maybe five pages of the manuscript. Sourcebooks was always good about taking full submissions when most publishers would not. They've also been great about reading unagented manuscripts also.
For writers, most of the time it was a Catch-22—can't submit without an agent/it's easier to sell a mss than it is to get an agent.
One of the first books I wrote was in response to a short story contest about the importance of the book store. This was WAY before the advent of ebooks. So I wrote this fun, futuristic shapeshifter story (my very first shapeshifter book, only she's a black panther and her brother is a dragon, so pretty far out compared to my shifter worlds now) about a bookstore on a faraway planet. The more I wrote on it, the more fun I had and turned it into a novel. Recently, I looked it over, and I realized how far we had come. Ebooks didn't even exist when I wrote that story! And maybe book stores will go the way of the dinosaurs.
I hope not. I now have an e-reader, compliments of my daughter and son-in-law who wanted to move me into the next century and bought it for me for Christmas, but I still love my paperback books, too.
I was with a couple of ebook publishers in the early days when no one had e-readers! So as you can imagine, sales were glum. And then e-readers came into fashion. Now everywhere I look, young and old have them. So that's caused a revolution in reading.
Now, print sales often aren't as high as ebook sales—totally the reverse of a few years ago. Who knows what's to come?
But one thing will never change. Readers love a good story—and Highlanders are well-loved no matter the century—even when they're rather wolfish.
And the great thing of it is, you can get them in paperback or ebook or both! And four whole books this year. When I was typing away on a typewriter with my white-out handy, no way would I have ever been able to write that many stories in a year.
I love Word, the Internet, and emails. Oh, and did I mention research?
Yeah, I used to visit the library, and still do on occasion. But there's nothing similar to learning what the jungle is like at the touch of the keyboard and a few searches, or learning the difference between kitty cats and jaguar cats. And what a Highlander eats in Scotland, though I visited, but still, it's easy to discover what the temperature is for a particular month, or when it rains more frequently, what haggis tastes like. Okay, I admit I could have tried it while I was there, call me a chicken. But I did try the blood pudding and I've decided it's an acquired taste. Which was some of the reason I didn't try haggis, too. Next time.
I just realized my characters are all still reading paperbacks. They are from the old world, after all. But in a future book, look for an ebook reading werewolf or big cat.
So what do you think? Should a wolf or a jaguar shifter have the first ereader?
Thanks for having me here today!
A HIGHLAND WERWOLF WEDDING – IN STORES MAY 2013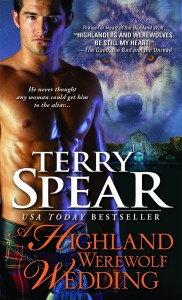 On The Run…
After werewolves Elaine Hawthorn and Cearnach MacNeill almost have a head-on collision on a foggy Highland road, they're pretty well stuck with each other. It'll be hours before anyone can get there to pull his car out of the ditch and they both have better places to be.
And Nowhere to Hide From Each Other…
The sexy little American brings out all of Cearnach's big bag protective instincts. If she thought she was in trouble before, Elaine has no idea what kind of complications a hot Scot can cause…
Delightful, steamy, and devilishly funny, join the hundreds of thousands of readers who already discovered that USA Today bestseller Terry Spear delivers a sizzle worth howling about.
Praise for A Highland Werewolf Wedding:
"The two protagonists are well matched in intelligence, and their snappy dialogue will have readers chuckling from the first chapter on." —Booklist
"The hills of Scotland make a dramatic backdrop for this novel, and the characters are pleasing and well written." —RT Book Reviews
"A Highland Werewolf Wedding is another shining example of exactly why Terry Spear is the Queen of the shifter romance."—Night Owl Reviews, 5 Stars, Reviewer Top Pick
ABOUT THE AUTHOR: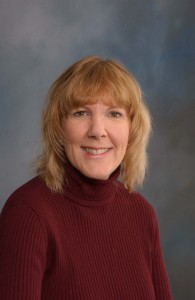 USA Today bestselling author Terry Spear has written over two dozen paranormal romance novels and medieval Highland historical romances. She has received incredible praise for her romances, including Heart of the Wolf named a Publishers Weekly Best Book of the Year. A retired officer of the U.S. Army Reserves, Terry also creates award-winning teddy bears that have found homes all over the world. She lives in Crawford, Texas, where she is working on her next paranormal romances! For more information, please visit www.TerrySpear.com.
To purchase A Highland Werewolf Wedding: