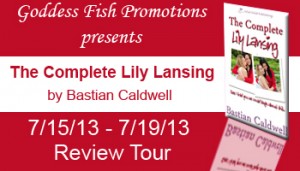 This post is part of a virtual book tour organized by
Goddess Fish Promotions
. Bastian will be awarding a $10 Wild Child GC to a randomly drawn commenter during the tour. Click on the tour banner to see the other stops on the tour.
Lilike Avrill Lansing is damaged. She is also unemployed, barely surviving a loveless marriage, and hiding a secret so painful that it's eating her alive.

The damage began when, as a student, Lily, inhabited a unique and dangerous world: Whitman College.
Located in a small city with big murder and crime rates, it is nothing like the suburb she was raised in. But the harsh city is not nearly as dangerous as the predators that roam the Whitman campus, preying on innocence and leaving a trail of ravaged souls in their wake.

The damage culminates ten years later at a dinner party where in the span of an evening Lily destroys her marriage and alienates her friends. She finally realizes that she must tell everyone the truth about what really happened during her years at Whitman. But can her marriage, her friendships, survive the truth?

The Complete Lily Lansing takes you on an emotional and often humorous journey as Lily struggles to make peace with the past and embrace the present. Along for the ride are Erica, Lily's movie buff best friend, and Petra, the girl in college who was known more for her bad reputation then her grade point average.

The novel touches lightly on contemporary issues like feminism, anorexia, relationships and sex, while conveying the positive message that honesty, laughter, friends, and watching the movie Gone With The Wind can fix anything.
Excerpt
The delicate blue gown stood out like a perfect streak of sky on a cloudy day, eclipsing the sea of black dresses, and all four girls made excited noises when they spotted it.
Jennie reached for it first and Lily, Petra and Carolyn formed a crescent around her. The small gray-haired woman standing behind the counter of the boutique nodded her approval.
"This is the perfect dress for the Starlight Ball," Jennie said as she traced the iridescent bead-work with her fingers. "It's so elegant. I've never seen material this sheer before."
"It won't look right on you." Carolyn edged Jennie out of the way so that she could examine the dress. "Only someone with absolutely nothing to hide could wear this. You'd look better in something black. And loose."
"It wouldn't look right on you either." Petra snatched the dress by the hanger and pulled it away from Carolyn. "But it would look perfect on you."
Petra held the gown up to Lily.
"The soft blue goes great with your blond hair," Jennie said. "You could wear it up, with a strand of pearls around your neck."
"And if you wear glass slippers, you'll look just like Cinderella," Carolyn said.
Petra rolled her eyes, still holding the dress up to Lily. "Every other girl at the Starlight Ball will be wearing strapless or skintight or just plain sleazy. But you, you'll look like a classic princess. A blond Audrey Hepburn. And no one will be expecting that. It's perfect."
"Grace Kelly, that's who," Jennie said. "Grace Kelly in To Catch a Thief."
"Maybe a little," Carolyn said in a flat voice.
"I'm not going," Lily said.
About the Author: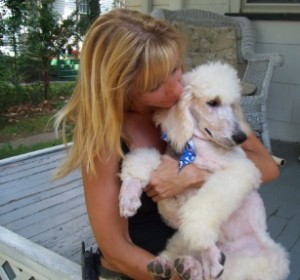 Bastian is living her dream life at the beach with her family and her poodles.
The Complete Lily Lansing is her first novel.
Find Caldwell online at her website, Twitter, Facebook, and find out more about the novel on its very own Facebook Page.