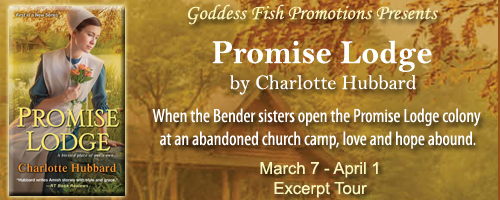 This post is part of a virtual book tour organized by
Goddess Fish Promotions
. Charlotte will be awarding a $15 Amazon or B/N GC to a randomly drawn winner via rafflecopter during the tour. Click on the tour banner to see the other stops on the tour.
Energetic widow Mattie Bender Schwartz is working day and night to get Promise Lodge going. She's also hoping the change will help her son Noah's heart to heal after his broken engagement. But his former fiancée, Deborah, is looking for a fresh start too. Filled with regret, and cast out by her dat for a reason she can't yet reveal, Deborah can only pray Noah will forgive her foolishness.

Deborah is the last person Noah expected to show up at Promise Lodge. But with her cruel words still ringing in his head, he's reluctant to accept her apology—even if the Old Order ways demand he try. If only he could obey Christ's most important commandment: love one another. But one thing is certain—his mother and aunts, and their beloved Preacher Amos, will do their best to help him get there.
Enjoy an exclusive excerpt:
As the chatter continued around the long table, Noah quickly finished his supper and excused himself to tend the livestock chores. At least the horses, Christine's cows, and Rosetta's goats wouldn't mock him as he filled their water troughs and put out their evening feed. When he stepped down from the lodge's porch, Queenie met him eagerly with her rubber ball, so he threw it hard, releasing his pent-up tension. Watching his dog chase the ball and catch it after the second bounce made him feel better, so when she brought it back to him Noah lobbed it down the driveway again.
A distant high-pitched yipping made him stop to listen. Coyotes. Dusk was falling, and they were on the prowl—reason enough to put Rosetta's chickens into the shed along with the goats. When he'd fed and watered all the stock, Noah took his rifle from behind the barn door and went out to the edge of the woods where they'd stacked their firewood beneath tarps. He fetched some cans from the recycling bin and spaced them across top of the woodpile.
Ping! Ping! Ping!
Noah shot without having to think about it, watching the cans fly with rhythmic precision. At the sound of distant female voices, he turned to watch his cousins bid Deborah goodnight on the lodge porch before she went to her cabin. When a lamp flickered in her window his heart quivered, but another round of target practice restored his resistance to her presence. She would be getting ready for bed . . . and as early as the sun rose on these summer mornings, he should be heading inside, too. He lingered on the dock, however, scratching Queenie between the ears as the frogs began their nightly chorus.
When Deborah's lamp went out, only two squares of pale yellow light remained in the lodge windows. The darkness deepened into a velvety indigo spangled with stars. Noah breathed easier, relieved that this eventful day had finally ended. Once again the coyotes called to each other, sounding closer now. Although his mother didn't like having Queenie in the house, he decided to slip her into his room. His Border collie was feisty and fast, and she would dutifully defend the livestock, but she was no match for predators if they outnumbered her.
"Come on, girl, let's go in," he murmured as he started toward the lodge.
When Noah reached the porch, he saw Roman leaning against a support post, shadowed by the dense trumpet vines. Even in the darkness, it seemed clear that his brother had been waiting for him. "You're not planning to use that gun on your guest—or to scare her off—I hope," he teased.
Something inside Noah snapped. After dealing with Deborah's surprise arrival since early this afternoon, he really didn't care to discuss her any further. "Enough already," he muttered, resting the butt of his gun on the ground. "Not so long ago my ducks were in a nice row—I had a fiancée, a farm, and a future—until Deborah ditched me, and then Mamm and the aunts got their half-baked idea about starting a new settlement out here in the middle of nowhere," he ranted. "At least it got me away from Coldstream and the Peterscheims. But why on God's gut earth has she showed up here, of all places?"
Roman's eyebrows rose. "Better adjust your attitude before Amos starts preaching at you," he warned. "It's no secret how you feel about Deborah—or about being here at Promise Lodge, little brother. Get a grip."
"I'll get a grip, all right—around Deborah's neck," he muttered. "This wagonload of manure started rolling downhill on account of her, you know."
Roman's expression confirmed what Noah already knew: his frustration had gotten out of hand. In the eyes of the Amish, such anger was every bit as sinful as the activities Deborah had attributed to Isaac Chupp. "Now you've lost all sense of perspective," his brother stated. "Maybe Deborah had gut reason to break up with you when—"
"Stifle it, Roman. Is it a gift from God to be right about everything?" Noah exhaled in exasperation. "Sorry. I'm all wound up—"
"Tighter than a top," his brother agreed.
"—because nothing's going right in my life anymore. And now Deborah's shown up to rub my nose in it," Noah blurted. Then he sighed loudly. "Even Job cried out to God when he'd had too many troubles heaped on his head."
About the Author: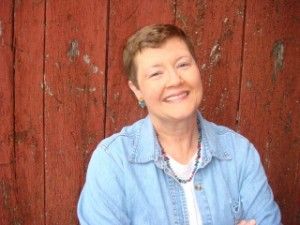 Many moons ago—like, in 1983 while she was still a school librarian—Charlotte Hubbard sold her first story to True Story. This launched her into writing around seventy of those "true confessions" stories over the years, and she's been a slave to her overactive imagination ever since. Over the course of her writing career, she has sold nearly 50 books—most recently, Amish romance series she's written as Charlotte Hubbard or Naomi King.
Charlotte lived in Missouri for most of her life, so her Amish stories are set in imaginary Missouri towns. These days she lives in St. Paul, MN with her husband of 40 years and their Border collie, Ramona.
Website | Facebook
Buy the print book at Amazon, Barnes and Noble, The Book Depository, BAM, Chapters, IndieBound, Powells, or Kensington Books.
Buy the digital book at Amazon, Barnes and Noble, iBooks, Google Books, Kensington, or Kobo.