This post is part of a virtual book tour organized by Goddess Fish Promotions. The author will be awarding a $10 Amazon or B/N GC to a randomly drawn winner via rafflecopter during the tour. Click on the tour banner to see the other stops on the tour.
The fireworks are about to begin as the sexual adventure of Rachel and Burt Markham continues. Small business owners and happily married couple of 20+ years, they live in the small town of Four Corners, Kansas. The year before, with the permission and encouragement of her husband, Rachel had the freedom to explore the depth of her sensuality through having her first Bull. After saying farewell to her Bull, Rachel and Burt settle back into the routine of small town life. Then, African-American frustrated artist and new fireworks territory sales manager Horus Grant arrives in Four Corners. He is searching for new sales territory for the Missouri-based company and wants to open a fireworks stand next to Rachel and Burt's seed and feed store. Outwardly friendly and personable, he is plagued by hidden demons. Though based in near-by Wichita, Horus finds himself returning to Four Corners again and again, and not because of the fireworks stand. Rachel is also drawn to him and soon realizes she may hold the key to Horus's slim chance of defeating his demons, of healing, and learning to live again.
Enjoy an Exclusive Excerpt
The hum of speeding tires on the concrete highway was a reassuring monotony that carried Horus toward an unknown future in the heartland of Kansas.
He had indeed kept his boss apprised of the challenges in his life, but when asking for a leave of absence at the start of the fire season, the top bosses were less than enthusiastic. He was told that he could stay or resign, but there was no leave of absence. If he resigned with less than two weeks notice, a return to the Forest Service, especially at his former position, would be next to impossible.
Horus made his decision. Five days after calling Denise, he put everything in storage and hit the road in his Hyundai Santa Fe SUV, bound for Kansas City. In addition to his clothing, laptop, and a collection of DVDs and CDs, he added a digital camera, artist easel, sketch pads, and art kits—two heavy duty plastic tool boxes—filled with brushes, oil paints, charcoal and pastel chalk, drawing bottles of turpentine, and a host of other accessories. Though he always told himself he would start painting and drawing again, it had been years since he did either. Gathering the art supplies was a tradition rather than preparation.
Two days later, on a bright Saturday morning, he arrived at the motel where Denise booked a room for him. That afternoon she met him for an early dinner, in part to welcome him to Kansas City, in part to assess his state of being…
About the Author: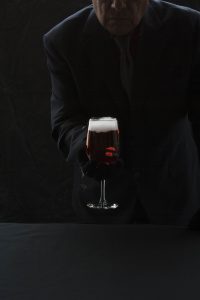 Stan Hampton, Sr. is a full-blood Choctaw of the Choctaw Nation of Oklahoma, a divorced grandfather to 13 grandchildren, and a published author, photographer and photojournalist. He retired in 2013 from the Nevada Army National Guard with the rank of Sergeant First Class; he previously served in the active duty Army, and the Army Individual Ready Reserve (mobilized for the Persian Gulf War). He enlisted in the Nevada Army National Guard in October 2004, after which he was mobilized for Federal active duty for almost three years. Hampton is a veteran of Operations Noble Eagle and Iraqi Freedom, with deployment to northern Kuwait and several convoy security missions into Iraq.
He has had two solo photographic exhibitions and curated a multi-media exhibit. His writings have appeared as stand-alone stories and in anthologies from Dark Opus Press, Edge Science Fiction & Fantasy, Melange Books, Musa Publishing, MuseItUp Publishing, Ravenous Romance, and in Horror Bound Magazine, The Harrow, and River Walk Journal, among others.
As of April 2014, after being in a 2-year Veterans Administration program for Homeless Veterans, Hampton is officially no longer a homeless Iraq War veteran.
In May 2014 he graduated from the College of Southern Nevada with an Associate of Applied Science Degree in Photography – Commercial Photography Emphasis. He has been studying at the University of Nevada-Las Vegas with in a double major in Art and English. He recently returned from spending a cold, rainy Spring 2017 semester studying at a university in southwestern France in the shadow of the Pyrenees Mountains.
After 16 years of desert in the American Southwest, and Southwest Asia, he still misses the Rocky Mountains, yellow aspens in the fall, running rivers, and a warm fireplace during snowy winters.
Barnes and Noble Author Page | Amazon Author Page | Amazon UK Author Page | Goodreads
See the author's work at
Dark Opus Press
,
Edge Science Fiction & Fantasy Publishing
,
Melange Books
, or
Muse It Up Publishing
.
Buy Prairie Muse at Barnes and Noble or Amazon.