Joe Cosentino has just released the second book in the Jana Lane mystery series, Porcelain Doll, and has stopped by to visit with us.
Can you tell us a little bit about creating the Jana Lane mystery series?
As a child I loved child stars like Shirley Temple, Hayley Mills, and Patty Duke, seeing their movies over and over. So I created a heroine who was the biggest child star ever until she was attacked on the studio lot at eighteen years old. In PAPER DOLL the secret behind that attack is exposed.
In PORCELAIN DOLL, it is 1982 and Jana is thirty-nine years old, living in a mansion in Hyde Park, New York. She makes a comeback film and uncovers who is being murdered on the set and why. Her heart is set aflutter by her incredibly gorgeous co-star, America's heartthrob Jason Apollo. The other suspects include Jana's James Dean type young co-star, her older John Wayne type co-star, her children's Eve Harrington type nanny, the film's gossipy makeup and hair artist, a local reverend trying to stop the film's production, and Jason's agent.
In SATIN DOLL (not yet released), Jana and family head to Washington, DC, where Jana plays a US senator in a new film, and becomes embroiled in a murder and corruption at the senate chamber. She also embarks on a romance with Chris Bruno, the ex-professional football player detective.
In CHINA DOLL (not yet released), Jana heads to New York City to star in a Broadway play, enchanted by her gorgeous co-star Peter Stevens, and faced with murder on stage and off.
Through the course of the books, Jana not only solves the mysteries, but also reclaims the courage and fortitude she had as a child. This is an important message for all of us. As one reviewer wrote, she starts out as a wounded bird, and ends as tiger.
Was PAPER DOLL well received?
Yes, here are a few of the rave reviews: "Paper Doll is a superbly crafted mystery with an eclectic cast of characters that will engage you and elicit some very emotional responses as you are completely caught up in the events that unfold in these pages. Everyone has secrets and the people in Paper Doll have them in spades!" Fresh Fiction
"If you like novels that are filled with new and old Hollywood, and a range of sub-plots, you are going to love this!" Saguaro Moon Reviews
"I liked that there was enough evidence for each of the suspects to keep me guessing until the very end." Molly Lolly Reviews
"Joe Cosentino knows how to keep his readers' interest with every page." Universal Creativity Digital Magazine
"The setting, the characterization and the plot keep you turning the pages." The Book Mistress
"Joe Cosentino has crafted an engaging tale of secrets, lies and deceit set in that crazy, ego driven scene called Hollywood." Deb Sanders
"Mr. Cosentino has produced a masterpiece of mystery" "The story gripped me from the start and there were enough twists and turns, with a bit of romance thrown in for good measure, to keep hold of me until the end of the book." "Great book, can't wait for book 2." Readers' Favorite
Who is your favorite character in PORCELAIN DOLL? And why?
Jana's agent, Simon, is my favorite character for five reasons. He is amazingly resilient, old world Hollywood, incredibly funny, loyal to Jana, and most importantly, I want to play him in the movie version!
Which one of your characters was the hardest one to write? And why?
Reverend Charlton, the reverend protesting Jana's film, was difficult to write since he is so frightening. I could never understand why some people use religion to try to attack and demonize others.
Do you think Christians would be offended by his character?
I sure hope not. Jana seems like a true Christian to me since she tries to love her neighbor as herself, not judge others, and help the downtrodden and outcasts. Reverend Charlton doesn't seem very Christian to me since he uses his power and wealth to demean others.
Which one of your characters did you enjoy writing the most? And why?
Jana's young co-star, Trevor, was fun since he has such a huge ego and is certainly a rebel without a cause
You've acted with Bruce Willis (A MIDSUMMER NIGHT'S DREAM onstage), Nathan Lane (THE ROAR OF THE GREASEPAINT onstage), Rosie O'Donnell (AT&T Industrial), Holland Taylor (ABC-TV movie MY MOTHER WAS NEVER A KID), Charles Keating (NBC's ANOTHER WORLD), and Jason Robards (Commercial Credit Computer commercial) to name a few. Did you use your background as an actor to write PORCELAIN DOLL?
Definitely! As one reviewer of PAPER DOLL wrote, I used my knowledge of show business to devilish ends. Actually, I used my background in each of the Jana Lane novels, since I know the ins and outs on a movie set. Thankfully nobody was murdered on my sets.
Why did you set the books in the 1980's?
I love the music, hair styles, clothing, and decadence of that era. I had great fun writing about Jana's mansion, wardrobe, makeup, and hairstyles. I was also able to incorporate some of the music, films, television shows, Broadway shows, and political and social events of the era, including the AIDS epidemic. I needed to do my research and remember back (though I was a mere child in the 1980's-hah).
What are the difficulties in writing a series?
On the positive side, the leading characters are so real to me, each book is like visiting with old friends. I love Jana and I enjoy every moment with her. On the negative side, for continuity I need to keep a notebook full of information on each character and the various repeat locations—i.e. every room in Jana's Hyde Park mansion.
How have the reviews been?
Amazing so far. Here are two examples. "Porcelain Doll is Joe Cosentino at his finest. We are drawn back to the fashions and attitudes of the 1980's in a character-driven story full of intrigue and passion." Kirsty Vizard, Divine Magazine
"Beautifully written and intensely detailed, Porcelain Doll is one not to be missed. Flirtatiously decadent with a strong moral undertone, set in a decade of extraordinary social change this is a story of its period that is as poignant today as it was then. Joe Cosentino controlled the emotions that the book encouraged with a deft but delicate touch. Suspenseful and mysterious, Porcelain Doll is a masterful creation, one that was impossible not to be affected by." Carol Fenton, BooksLaidBare Reviews
How are the Jana Lane mysteries different from the Nicky and Noah mysteries?
Each of the Nicky and Noah comedy mysteries published by Lethe Press is loaded with wacky humor and romance in a fast-paced whodunit. Since I am a college theatre professor/department head, and theatre departments are havens of mystery, secrets, romance, and high humor; the series takes place at an Edwardian style New England college. In DRAMA QUEEN theatre college professors are dropping like stage curtains. With the inept local detectives, it is up to Directing professor, Nicky Abbondanza to use his theatre skills (including playing other people) to solve the murders, while he directs a murder mystery onstage. Complicating matters is Nicky's intense crush on Assistant Professor of Acting, handsome Noah Oliver, the prime suspect in the murder. In DRAMA MUSCLE Nicky and Noah have to use their theatre skills to find out why musclemen are dropping like weights in the Physical Education department while Nicky directs the Student Bodybuilding Competition. In DRAMA CRUISE (not released yet), Nicky and Noah go on a cruise to Alaska, and discover why college theatre professors are going overboard like lifeboats while Nicky directs a murder mystery dinner theatre show onboard ship.
Have you written other books besides mysteries?
Yes. My MM romance novellas are published by Dreamspinner Press. They are AN INFATUATION, A SHOOTING STAR, A HOME FOR THE HOLIDAYS, and THE NAKED PRINCE AND OTHER TALES FROM FAIRYLAND. I also have my novels set in a New Jersey beach resort called Cozzi Cove. Though I hide under a beach umbrella due to my fair skin, I love the beach! Nine Star Press is the publisher of COZZI COVE: BOUNCING BACK and COZZI COVE: MOVING FORARD (not yet released).
What are you writing now?
Ragdoll, the next Jana Lane mystery, where Jana stars in a TV murder mystery series. You guessed it! Life imitates art yet again.
How do you deal with bad reviews?
Most of my reviews and reader response have been incredibly positive, which fuel my writing. What a gift it is for a reader to post a positive review on Amazon or Goodreads, relating how something I've written has moved them, made them laugh, made them cry, think about something new, or changed their life. I can't think of anything better. As for the few bad reviews, I don't read them. As my mother always told me, if you don't have something nice to say about somebody, don't say anything. I can't imagine why anyone would continue reading a book after chapter one if he/she doesn't like it. Just put it down and read something else. Why attack a book someone has poured his/her blood, sweat, and tears into? As the saying goes, just say no.
Who is your ideal reader of your books?
My ideal reader is a lover of mystery, romance, and Hollywood. Someone who craves being swept away by a story and becoming part of the novel. My reader loves clues, suspects, and plotlines that zigzag with numerous surprises leading to a shocking yet totally justified conclusion. Finally, my reader relishes in beautiful, lush locations and captivating characters as she/he enters the portal of my book.
How can your readers contact you?
I love hearing from readers. They can contact me at http://www.JoeCosentino.weebly.com.
Is art imitating life in 1982? Jana Lane, ex-child star, is doing a comeback film about murder. When a crew member is killed on the set, it looks like Jana could be next. Thickening the plot is Jana's breathtakingly handsome and muscular leading man, Jason Apollo, whose boyish, southern charms have aroused Jana's interest on screen and off. Will Jana and Jason stop the murderer before the final reel, or end up on the cutting room floor in this fast-paced whodunit with a shocking ending?
Enjoy an excerpt:
As Jana sat waiting for Jack to call for action, she looked up at Jason's encouraging face. She again was taken aback by his incredible beauty.
Reverend Charlton and Gloria reentered the study.
Jack called for quiet and action. Jana and Jason played the scene, where the detective notifies her of her husband's death. Jason delivered his lines with warmth, vulnerability, and obvious affection for Jana. In turn, Jana listened then reacted with deep emotions, conveying shock, loss, fear, and hysteria while being comforted by the man she trusted. Jana clutched onto Jason with such force, her fingernail accidently tore a hole in his jacket.
"Cut!" Jack hollered.
While the wardrobe woman repaired Jason's jacket, Jana noticed Reverend Charlton step out of the study again, this time with Ryan O'Halloran.
After the two men returned, and the jacket was mended, Jack called for slate and action for take two. Jana and Jason did the scene two more times. Each take was more realistic and heart-wrenching than the next, and each appeared as if it were the first time Jana was given the sad news.
After the third take, Jack shouted, "Cut! It's a wrap. Ryan, let's move on to the next location."
Jana wiped the tears from her cheeks.
Jason placed his hand on the side of her face. "You're amazing."
"You're not so bad yourself, partner."
"You make me better," he said with adoration in his true-blue eyes.
They shared a smile as again people hurried around the room like ants after a picnic.
Suddenly, Jana heard a loud crash followed by a scream. Leaping from her chair, she followed the horrified gazes of the others in the room to Ryan O'Halloran lying motionless on the floor with a Fresnel tungsten shuttered light next to his head, and blood dripping from his scalp onto the hardwood floor.
About the Author: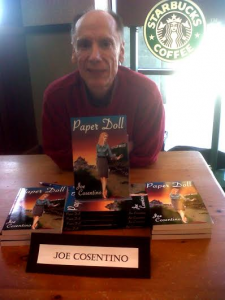 Amazon Bestselling author Joe Cosentino wrote Paper Doll the first Jana Lane mystery (Whiskey Creek Press), Porcelain Doll the second Jana Lane mystery (The Wild Rose Press), Drama Queen the first Nicky and Noah mystery (Lethe Press), Drama Muscle the second Nicky and Noah mystery (Lethe Press), An Infatuation & A Shooting Star & A Home for the Holidays & The Naked Prince and Other Tales from Fairyland (Dreamspinner Press), Cozzi Cove: Bouncing Back (Nine Star Press), and The Nutcracker and the Mouse King (Eldridge Plays and Musicals). He has appeared in principal acting roles in film, television, and theatre, opposite stars such as Bruce Willis, Rosie O'Donnell, Nathan Lane, Holland Taylor, and Jason Robards. His one-act plays, Infatuation and Neighbor, were performed in New York City. He wrote The Perils of Pauline educational film (Prentice Hall Publishers). Joe is currently Head of the Department/Professor at a college in upstate New York, and is happily married. His upcoming novels are Satin Doll the third Jana Lane mystery (The Wild Rose Press), China Doll the fourth Jana Lane mystery (The Wild Rose Press), Drama Cruise the third Nicky and Noah mystery (Lethe Press), and Cozzi Cove: Moving Forward (Nine Star Press).
Website | Facebook | Twitter | Goodreads | Amazon Author Page

Buy the book at The Wild Rose Press, Barnes and Noble, or All Romance eBooks.