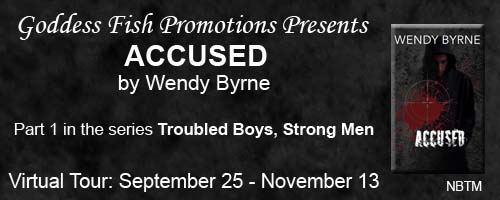 This post is part of a virtual book tour organized by
Goddess Fish Promotions
. Wendy Byrne will be awarding a $20 Amazon/BN GC to a randomly drawn winner via rafflecopter during the tour. Click on the tour banner to see the other stops on the tour.
Pondering the muse
If you are a writer, or have friends who are writers, the muse is that elusive concept that sometimes helps, sometimes hinders production. Early on in my writing career, the muse would visit and I'd write like a madwoman for hours, sometimes the whole day with this fabulous idea that overtook me courtesy of my muse. When my muse was there, I was on fire. I couldn't type fast enough.
Sounds wonderful, doesn't it? It's every writer's dream to have the words flow like a stream of rushing water as you happily move along with your plot. But what happens when your muse leaves and you are left with just you and a blinking screen on your computer? Not so great at all. Can you force that muse to play nice?
Yes and no. If you sit around and wait for it to visit, I can guarantee you'll never get your story completed. Why? Because the muse is a fickle creature and you can't always plan on when they visit, or what they want to muse about. Sometimes it's your work-in-progress, sometimes it plays evil tricks on you and it's about a brand new story idea that grabs you and won't let go.
You see where I'm going with this, don't you? If you let the muse decide when you can get down to business and write, you are letting it be in charge of your destiny. No one should be in charge of your destiny but you. From personal experience I can tell you sometimes the muse decides to visit at times that are very inconvenient—you have a pressing deadline at work, you've got huge responsibilities at home, or you're supposed to be entertaining your mother-in-law while your husband has an unexpected trip out of town. So what do you do—stuff your muse inside its muse box and wait for better timing?
The reality is you are the muse and the muse is you. Controlling it might not be the easiest thing to do, but there are things you can do to help it along in the journey: (1) Write every day—the care and feeding of a writer's imagination is important. Some days you might just jot down a paragraph, or you might write a scene or even a whole chapter. But keeping your characters in your thoughts triggers scenes in your head allowing you to make progress. (2) Give yourself time to reflect and for your mind to wander. I like to walk everyday. The physical activity releases my creativity. Maybe you might want to visit a museum and observe, or something else that appeals to you. This is also called filling the well. (3) Develop relationships with other writers to keep you honest and set goals with them. I have a BFF who is also a writer. When we make a pact it's written in stone. For example, we'll say: Let's stay off the internet for X number of hours and then report on our word count or let's have a short story completed by a certain date. (4) I'm a firm believer in NANO. Every November I make a pledge to write 50,000 words that month. And yes, I know there's a holiday in there, but it forces me to write and reach a goal—I'm very stubborn that way. Now that I've been doing NANO for a couple of years, I've learned the key is to plan ahead, if possible. By that I mean write down plot points for your story. And, above all, remember this is a draft—no rereading and rewriting scenes allowed. And there's tons of support through the NANO community to help you along in your journey. http://nanowrimo.org
So I encourage all of you writers out there to harness your muse and use it to your advantage each and every day.
Spawned from the depths of every parent's worst nightmare, Jillian Beckett's 16 year old troubled son is charged with murder. He's unable to remember what happened and swears he's off drugs, but should she believe him? Her ex-husband doesn't. The high-priced lawyer she hired doesn't. Where does motherly instinct intersect with reality?

Afraid and alone, she reluctantly enlists the help of her son's football coach to find the truth of what happened. As they battle to uncover the guilty party, confidences are shattered, lives are on the line, while her son is one step closer to spending his life behind bars.
Enjoy an excerpt:
Sam spotted Travis sitting with his mother. In a sea of average, Jillian Beckett stood out. With a model's face and body, she drew attention even when dressed in a pair of old jeans and a pink oxford shirt. There was a part of him that found her attractive—okay, a huge part of him—even though it made him feel like shit thinking of her like that. His first priority should be Travis, and it was. It wasn't the kid's fault he had a babe for a mom.
He watched her get up and start to pace while Travis sat at the table looking nervous. Neither one seemed to be talking and Sam could sense tension between them even from across the room. It didn't feel right to interrupt, but he didn't have a choice once Travis spotted him and waved him over.
Jillian turned and stopped her frantic pacing. Hesitation played out on her face once she saw him. Something was going on between her and Travis and she didn't want Sam's interference. Before he could reconsider, Travis walked across the room and ushered him back to their table. "We could use some help, Coach."
Her face was pale as she shook his hand and they both sat down. At least she'd stopped pacing. Still, he fought the urge to touch her as she clasped and unclasped her hands.
"What's going on?" Sam didn't want to linger on thoughts of his past.
Travis looked at his mother, then at Sam, then hung his head. "I am so screwed. The blood on my shirt matches Max Gill's and the gun I had in my room was used in a killing a while back. I swear I didn't do either, but the evidence says otherwise."
About the Author:
Wendy lives in the Chicago area. She has a Masters in Social Work and worked in the child welfare field for twelve years before she decided to pursue her dream of writing.
Between teaching college classes, trying to get her morbidly obese cat to slim down and tempering the will of her five-year-old granddaughter, who's determined to become a witch when she turns six so she can fly on her broom to see the Eiffel Tower and put hexes on people–not necessarily in that order–somehow Wendy still manages to fit in writing. She spends the remainder of her days inflicting mayhem on her hero and heroine until they beg for mercy.
She has written three books in the Hard Targets trilogy, Hard to Kill, Hard to Trust and Hard to Stop. In addition, she has a contemporary romance through Entangled Publishing called The Millionaire's Deception, a self-pubbed Christmas short story called The Christmas Curse and two interracial romances, Fractured and Mama Said.
Website | Facebook | Twitter | Goodreads | Pinterest
Buy the book at Amazon.