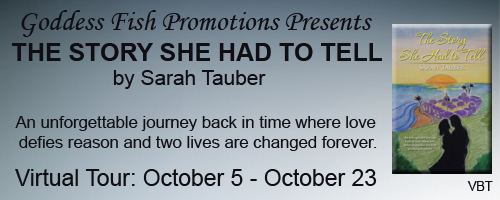 This post is part of a virtual book tour organized by
Goddess Fish Promotions
. Sarah Tauber will be awarding a $40 Amazon or Barnes and Noble GC to a randomly drawn winner via rafflecopter during the tour. Click on the tour banner to see the other stops on the tour.
Pondering the Muse
I sit down at my desk to write. The words pour out of me like a pot boiling over on the stove. I start typing, and by the time I am finished, I notice that I have written 2,750 words. Where did they come from?
I have a muse. Her name is Sadie. I actually have a bust of her on my desk, to remind me that she is around and ready at a moment's notice to fill up a piece of paper. A muse is the antidote to writer's block. If you sit down and nothing is coming to you, perhaps your muse has taken a break or is too tired to pour words into you today. Guess what? You now get to read, or play or doing something practical like grocery shop. What? Shouldn't you sit there like a child on time out until your fingers start moving? I say "No!"
I try to come up with ideas before I even sit at the desk. I remember making my bed one morning, thinking about what I would write for my weekly blog. This was the day I had to write it. By the time the bed was made and I had walked to my desk, the topic was there, waiting to be expressed. Thank you muse!
Sometimes I believe the words in my head that are spilling over are not coming from Sadie. Maybe God? Maybe my father, who is in heaven, who loved to write? In the case of my current book, The Story She Had to Tell, perhaps my mother, who is also in heaven? The story is about an old woman who wants to share her secret past before she dies. She hires a ghost writer to come live with her, interview her and create the book. The story she tells is what happens to her when she travels to Cuba as a young woman with a girlfriend, in the early 1950s. This idea came to me when I awoke one morning with the working title in my head, "A life lived well." When I sat down to write it, the memory of my mother telling me that she went to Cuba before marrying my father, came to mind. Perhaps she put the story in my head? Maybe parts of the story are true?
I only write when I am inspired. That may sound like an excuse, but I get inspired often. While writing both of my books, I would sit and type 2-3 times per week each time creating between 2-3,000 words. This method works well for me. It may not work for others. Whether it be my muse, Sadie, God or my father who inspires my creativity at the computer, I am blessed to be able to write what others enjoy reading. Ideas come into my head all the time. I don't think it matters where they are coming from. As long as I can sort them out and choose wisely which ones should end up on paper, I say, long live the muse!
Madeleine had a secret, a story that happened over fifty years ago in Havana, Cuba. Before she died, she wanted to share her story with the world.

After growing up on a farm in Maine and graduating college, this intelligent but naive young woman traveled to Havana with a girlfriend, looking for adventure. What happened there changed Madeleine's life forever. From the moment she laid eyes on Carlos, she was turning over her fate to a man she barely knew.

This is a heart-wrenching love story that promises to stay with you long after the book is finished.
Enjoy an excerpt:
We continued to dance, and I continued to breathe him in. What are you doing, Madeleine? What do you expect out of this? You have had only one real boyfriend, a guy back home who wanted to marry you, but you felt nothing but friendship for him. And here is this amazingly handsome man with a Spanish accent who has swept you off your feet, but is it real, or am I going to discover later that I've made a terrible mistake? I'll discuss this with Georgiana tonight when we're back at the hotel and see what she says. She's more worldly than I am. She's probably had lots of boyfriends. She'll help me decide what to do. I'm only twenty-three. He must be at least ten years older than I am. Maybe he's a masher! Oh dear, now I am worried!
He walked me back to the table, kissed my hand and said he would see me tomorrow. I watched him leave the club. I sighed heavily.
I came back down to earth long enough to tell her that Carlos had invited both of us to go sightseeing tomorrow. "He said he would pick us up at 11:00 a.m. That will give us time to sleep in and have a late breakfast. Please say you'll join us. I don't really know him and don't want to risk going alone."
"Of course I'll go with you, if only to chaperone!"
About the Author: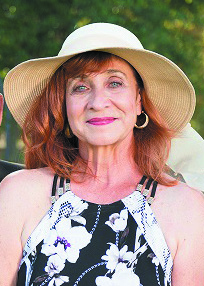 Sarah Tauber is a world traveler who retired three years ago from a corporate job to pursue her passions of dressage riding and writing. Her first book, "For Dear Life", is a memoir covering two years she lived in Tehran, Iran in the 1970's. It is available on Amazon.com, BarnesandNoble.com and Xlibris.com. The Story She had to Tell is her first novel. Sarah lives in San Diego County with her husband of ten years.
Website | Facebook | Goodreads
Buy the book at Amazon.