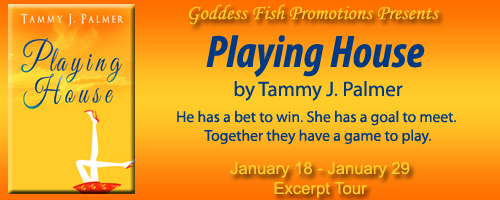 This post is part of a virtual book tour organized by
Goddess Fish Promotions
. Tammy will be awarding a $10 Amazon or B/N GC to a randomly drawn winner via rafflecopter during the tour. NOTE: The book is on sale for only $0.99!

Ginny Cotton, bike riding, chess playing, loan processor, has set a new goal: find someone to have sex with. Soon. As in tonight. It's the only way to finally get over Jason, her best friend, the guy she's been waiting for since high school— the guy who is now engaged to her sister. She's saved her virginity for him since he doesn't believe in premarital sex. What better way to get over Jason than to have sex with someone else? The hot guy Ginny meets through a dating site seems like the perfect choice. There's only one problem. To achieve her goal, Ginny must first overcome the anxiety that has been holding her back her whole life.
Enjoy an exclusive excerpt:
On her hands and knees, Ginny scrubbed furiously at her kitchen floor. Passionate Ginny was trying to convince Sensible Ginny that sending that text was a perfectly logical, rational thing to do. It was a simple route to achieving a goal. Ginny always achieved her goals. Well, almost always. Her plan to cut out all sugar and get super model skinny hadn't happened, not yet anyway. Then, of course, there was the whole marry Jason by twenty-five thing, that wasn't looking good either.
When every inch of her floor had been scrubbed, Ginny got up, washed her hands and sat on the sofa.
She checked her phone, found a text from Steele.
Ginny, I sympathize with your situation. I understand the frustration of pointless first dates, and like you, I'm bored to death by meaningless conversation that leads nowhere, so I'll get right to the point. I'm interested. Give me a call.
Call him? He expected her to call him? She was glad to be sitting down because the idea made her dizzy. Could she go through with this? After waiting all this time for no good reason, since Jason didn't want her, didn't she deserve to have her first time be with a sexy guy who looked like he knew what he was doing?
The idea sent Ginny's heart into overdrive, and her heart was a big part of her problem, not in the romantic sense. She'd only had a couple of anxiety attacks, but they were frightening and memorable. Her heart would beat so fast she'd be sure that death was imminent. Social anxiety is what the psychologist had called it. Fear of rejection was a common problem. It was unpleasant, but not life threatening. Sometimes she could control it with relaxation techniques.
Breathe in, breathe out. Slow, deep breaths. He's not going to reject you. He said he's interested, so quit being a chicken and call him right now.
Passionate Ginny took over. She dialed his number.
"Hello?"
Ginny's mind went blank, completely blank.
About the Author: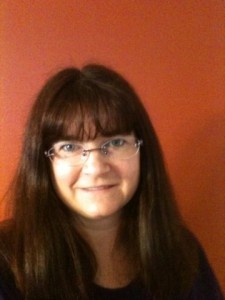 Tammy J. Palmer lives in Portland, Oregon with her husband of twenty-five years and a spoiled cat named Betty Boop. She has two children who turned into pretty darned awesome adults.
Website | Facebook | Goodreads | Twitter
Buy the book at Amazon for only $0.99.