Enjoy these answers from a host of erotic romance authors — then enter the Rafflecopter below for a chance to win a $100 Amazon or BN GC and more!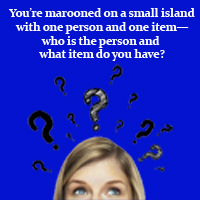 Desiree Holt
Mark Valley and a bottle of viagra.
Melissa Schroeder  My husband Les and a copy of Nora Roberts' Carnal Innocence. I really loved that book and have probably read it more than most of her other books. And Les because he's my best friend and if we haven't killed each other after 21 years of marriage, I think we could handle being marooned together.
Karen Stivali  I can't believe I'm admitting this, but a friend got me started watching that new show Naked and Afraid so I actually have a serious answer to this. My answer would depend a little on the terrain of the island but I think overall the most important thing to have is a machete or some other massive knife. As to who I'd want to be there with? Someone who has some outdoor survival skills (as I have none) and who I can get along with (because I wouldn't want either of us to have the urge to take the machete to the other, and based on the show it seems stranded people can really get on each others nerves).
Heidi Lynn Anderson  My husband and bar of soup.
Erin M. Leaf  My husband. He can build anything we'd need. Toilet paper. I can make do with pretty much anything else, but toilet paper is one of those things I just can't face life without.
Wendi Zwaduk  DH and fresh water. We can catch the rest. 🙂
Sandra Bunino  I should say my husband here, shouldn't I? *cough George Clooney cough* Whoa. Did that just come out??
My item has to be my laptop. Please tell me this island has electricity!
Megan Slayer  With DH and hmm…not sure. Suntan lotion… yep, we'll be very busy. Grin.
Renea Mason  My husband. I'm a pretty practical person. I know I can tolerate him for long periods of time. He's my best friend but he better remember the wine or the island is going to seem even smaller.
Jessica Jayne  My husband. He is amazing in stressful situations and he's a hell of a primitive camper. I'd survive if he were there. The item I'd bring would be a large knife. It would help to hunt and prepare food and there is an element of security if you're carrying a knife around.
Jessica E. Subject  My husband and a steel pot for cooking. I'm practical in that sense.
Adriana Kraft  The person is my husband, because I'm deeply in love with him and he's my co-conspirator writing these erotic stories. If we're sure we're going to be safe, we probably have a laptop with a supercharged battery that will never die (this is a fantasy, right?) and we'll keep churning out the stories we enjoy so much. And probably acting out some scenes to be sure we get them right…
Avril Ashton  I'd have Fyah! my Kindle, fully charged and filled with books. Person…eh, the kid, because I need her near at all times.
Maxine Mansfield  My guy, and a big box filled with a months worth of food. Then, we would no longer be marooned, but on vacation.
Julia Talbot  My girl BA Tortuga and I'll bring matches in a dry baggie. She'll bring the knife.
BA Tortuga  I'd take my girl, Julia, and I want a knife (she'll be bringing matches).
Anya Richards  I'd want to be marooned with my husband, because he's so down-to-earth and reliable. He'd be building us shelter, fishing, making sure we're taken care of! My first thought on the item is my laptop, but it wouldn't last very long and would soon be a footrest. So probably my toothbrush, because the thought of not being able to clean my teeth makes me cringe.
Dee Brice  My husband. Being that he's the most self-sufficient person on the planet, I think all we'd need to survive is a knife so we could build a shelter and forage/kill for food. Some sunscreen wouldn't hurt either.
Diana Hunter  The person is my husband. I had the good fortune of marrying my best friend, so definitely him.
Item I have? An unlimited supply of chocolate. Oooh, the things we could do with chocolate… 🙂
Lynne Connolly  soooo hard! The person is Jeeves who has the answer to everything and the item is a house.
Charlotte Boyett-Compo  Antony Starr and a computer with internet access. We could always download movies or tv shows, books or news articles when we were making wild, passionate love on the beach. I could also use the computer to write my novels, send them in, and get e-mails from jealous women who would be green with envy that I had Sheriff Hood all to myself.
Sharita Lira  I suppose I better say my hubby or else. Only one item? Err… I think we'd have something that played music as long as we had the other necessities.
Shoshanna Evers  I would definitely want to be marooned with my husband. The item would be rope. So many, many uses for rope…. 😉
Cameron D. James  My partner and a scrabble board.
Sabrina York  First of all, the thought of being marooned on an island sounds wonderful, as long as there was food other than coconuts to eat. And if there was power, I would want my computer so I could write. If I could have all that, I'd want my best beta reader, Carmen Cook, with me. Barring that, I'd take George Clooney and an unending supply of bacon.
Lucy Felthouse  The person would be my other half. My item would be a notebook and pen (yeah I know that's officially two!). That way I would have a fun person with me and would be able to carry on writing until we were rescued.
Cassandra Carr  If I say Joe Manganiello do I seem shallow? Eh, I don't care. He's smokin' hot and I'm sure he could keep me entertained. I'd also like to have a full kitchen with an unlimited supply of food. Hey, technically, that's one thing, right?
JB McDonald  MacGyver and my laptop. I figure with those two things, we're set to get OFF the island! Let's be honest: it doesn't matter what one person or one item I have, I would go crazy. But with MacGyver's mad skills and a computer to use, I wouldn't have time to go stir crazy before someone picked us up!
Amanda Young  If my husband and I were marooned on an island, the one thing we couldn't live without would be sunscreen. It protects your skin from the scorching summer sun and can double as lube. ;D
Eliza Lloyd  Well, anyone who knows ANYTHING about me, knows that I adore David Gandy. Not only is he handsome and intelligient, he's humorous and taller than I am. When I see him, I am just in awe. He stops my world and my breathing.
A girl can never leave home without chapstick.
R.G. Alexander  I'm going to say in all honesty that my husband is the person I'd want to be marooned with, because he is obsessed with survivor shows, knows how to make soap and hunt and is already ready for the zombie apocalypse. He even knows about medicinal herbs. The man is a treasure trove of survival info, and he can cook. I would be fine as long as he was there. My item would of course be a kindle full of all the books I've been wanting to read or re-read for years but hadn't had the time because I was on deadline. Cookie would have to make a solar powered charger from a coconut and a piece of glass 😉
Lainey Reese  Since this is make believe any way I'm going with a make believe character. I'll take Jamie Frasier and one of those handy dandy Rambo knives please.
You may be wondering why I didn't pick one of my own leading men. I'll tell you even if you are not. Two reasons. 1) Have you read Outlander? Jamie is HOT!! and freaking perfect in every possible way. Gallant, brave, charming and so devoted. And did I mention HOT?
And 2) Umm…you may think I'm nuts, but all the men I write…well I write all the women too. They are just as real to me and so it would feel like cheating. Or rather NOT cheating cuz no way would they touch me no matter how long we were stranded. My guys are faithful and I'd be left sitting on the sand pouting while they tried to whittle a boat with their Rambo knife so they could get back to their lady love. And where's the fun in that?
Donna Gallagher  My husband, he really is handy to have around in more ways than one. He's quite a hands on kind of guy, you know like MacGyver. The item is easy, a GPS distress beacon of course – what can I say I am a Virgo.
Leah Braemel  As much as I love my city-raised hubby, I'd prefer to take someone who is a bit more handy/resourceful when it comes to survival. Someone who would have the ability to build shelter and find food and water. The item would be one of those big Swiss army knives that has all sorts of tools as part of it. Yeah, practical, not romantic.
Victoria Blisse  Oh, it has to be my husband and if I can't have a magic lamp to wish myself everything I might need or to take me home if I want to I guess it better be a book. Now which one…well, that's going to take me a looooooong time to decide!
Jennifer Leeland  My husband and the Alexandria Library. (what? That's an item isn't it?)
Kate Deveaux  My hubby. And tea.
Sarah Castille  Chris Hemsworth and a phone to order pizza (hold the rescue).
Anna Alexander  Bear Grylls and a sharp knife. He's cute with a sexy accent and could keep us alive. The man rocks.
Cathryn Cade  My husband is one of those guys who can do a little of everything, fish, hunt, build, fix, etc. Plus he's just fun to hang out with.
I would never want to be stranded without him. Our one item would be a water filter for fresh water. Then we'd forage and fish and … you know. Enjoy the ambience.
Luna Zega  That island better have electricity because I'd bring my favorite toy along for sure. Couldn't live without that, carpal tunnel would set in and who would do the surgery?
Person? Well, hmmm…Hugh Jackman and/or Colin Firth come to mind, but I really have no idea if they are interesting or are good conversationalists. It would have to be one of my friends, someone I could talk to, but who would understand when I wanted to be alone. Even on a small island with only one other person on it, I would require privacy.
Wait. Does it have to be a person? Could I bring my dog along instead?
Lila Shaw  I'll take Jason Mamoa and a comfortable mattress. One for awake time and one for sleepy time…and which is for which can vary from day to day.
Heather Long  Hmm…Chris Hemsworth and a water purifier
Jean Hart Stewart  My husband and my computer. Nothing else really matters.
Desirée Lee   Only one person? No fair!
Okay, if I must choose only one, I'd take my husband Scott and probably a Swiss Army knife. Those knives have a lot of handy items.
Charity Parkerson  Chris Helmsworth and a pair of handcuffs. One of us is going to need them.
Bobbi Brattz He's my true love, my husband. Hmmm, the item? It's a machete so he can help me create a home for us. We'd live off the land so to speak.
Kay Dee Royal  My DH and his fishing rod;) He's one heck of a survivalist…but, I'd like the fishing to be a bit easier for him than catching them bare-handed. He'd make us a homestead, light a fire, find water…because he can;)
Tonya Renee Callihan  Item would be my IPad with a battery that never dies, full of 100's of books to read. The person…a hot cabana boy 😉
Gale Stanley  My partner. And a vibrator. Hey being marooned indefinitely, we're bound to fight sooner or later.
Kemberlee Shortland  My hubs. He's the smartest guy I know. He's a mechanical engineer by trade and would be our island McGiver 🙂 What one item would I want? A transportation device to the mainland so I can visit the yarn shop, the ice cream shop, and family/friends. OK, yeah, not exactly marooned. LOL
Hurri Cosmo  Pierce Brosnan and knowing his age, probably Viagra
Lyncee Shillard  Matthew McConaughey and an endless supply of condoms. Getting pregnant on a small island with no to deliver the baby – not even for Matthew. I've been snowed in with my hubby – love the man to death!!! but he'd drive me crazy on a small island within two hours
Sherrie Henry  You have got to be kidding. I'd KILL the one person, regardless of who it is, if we had to spend every single waking moment together on a deserted island. Give me books and music and I'll be just fine.
Elyzabeth M. VaLey  Jason Momoa or Hugh Jackman and a flogger. OMG Excuse me a minute while I swoon.
THIS IS THE RAFFLECOPTER FOR TUESDAY. DON'T FORGET, THERE'S A DIFFERENT RAFFLECOPTER WITH NEW PRIZES TOMORROW.  AND, CHECK OUT THE RAFFLECOPTER ON MONDAY'S ANNIVERSARY POSTS.
a Rafflecopter giveaway