Enjoy these answers from a host of erotic romance authors — then enter the Rafflecopter below for a chance to win a $100 Amazon or BN GC and more!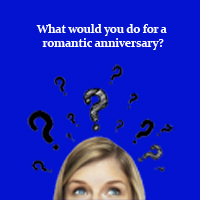 Desiree Holt
  I would set up a table on the beach by the ocean, white tablecloth, silver and crystal, a violinist and a cellist playing romantic music, a waiter in formal attire serving everything from the wine through every course. Until we get to dessert. Then we would take off all our clothes, I would cover my lover with Decadent Chocolate Cake and slowly lick every bit of it from his body before we finish making wild delicious love. Oh, wait! I want that! I must put it in a book.
Melissa Schroeder  I was lucky enough to have a stretch limo and dinner out with my husband on our 20th anniversary last year. It was to make up for the trip we wanted to take to Italy but had to cancel because of his job (he's in the AF). That will be a runner up to when I can spend an anniversary in a villa in Italy.
Heidi Lynn Anderson  Go to a tropical island somewhere enjoy each other… Reconnect.
Brenna Lyons  Just did it this year for my 25th anniversary. I planned an anniversary cruise, with all the bells and whistles (concierge level accommodations, shore excursions in Bermuda, and other perks), and I arranged for our oldest (adult) child to babysit her younger siblings. We had a week in paradise with no kids and severe pampering. I also bought him a new wardrobe for the trip.
My husband did the planning for our 20th. He arranged for my sister and brother-in-law to watch the kids and planned four days for us away together…a day at Adventure Suites, followed by three days at a lovely bed and breakfast. He also got us tickets for a train ride and took me shopping for clothes for the trip.
Basically, we both pool our money to pay for our big romantic anniversary trips away, but we switch off who will do the bulk of planning for the trip, so there are always surprises for the other party.
Marie Tuhart  I'd turn off the TV, Internet and all the phones. Tell all the family that we're going out of town, lock the house down tight after filling up the fridge with food. Then we'd find our own special little piece of heaven in our bedroom.
Erin M. Leaf  I've already done it! We went to Las Vegas for our 20th and it was AMAZING. The Venetian is insanely awesome and the chocolate in bed? Yummy.
Wendi Zwaduk  Hee hee. This is a loaded question. A bucket of fried chicken, Christmas lights and sparkling grape juice. Now, that doesn't sound super romantic, but if you can make it sexy – add naked dancing and whoopie – it can be a lot of fun!
Sandra Bunino  I'd love to spend a romantic weekend at a tucked away island in the Caribbean. Just a weekend or I'd get bored. So would my husband.
Megan Slayer  Go to Vegas and repeat the vows. Something with Elvis, flashing lights and lots of booze. I'm such a sucker for romance.
Renea Mason  The same thing I do every year–make my husband's toes curl.
Jessica Jayne  Sweep my hubby away to a cabin in the mountains in Colorado to go snowboarding. He loves to snowboard and he loves the snow. It would be romantic to be in the snow all day coming down the mountains and then spend the evening getting warm, sitting by the fire sipping "ski slopes" and wrapped in a blanket. There is something about being in the cold and not being able to feel your fingers and toes and in the next instant you are warming yourself up next to your naked partner. It's super sexy.
Jessica E. Subject  Find a sitter for the kids, and fly to Hawaii for a romantic getaway. (I keep dreaming. LOL)
Avril Ashton  Stay in and eat cake. Simple things…
Maxine Mansfield  I like candles 🙂 So, probably a candle lit dinner… in bed, or on the beach, or on top of a mountain, or in the middle of a thunder storm, or in a tent beside an oasis in the dessert, or even in a cave under the sea.
Julia Talbot  Go to Colorado to a hot springs, get a massage, eat at Juicy Lucy's
BA Tortuga  We always travel — usually to the mountains — but there's always a trip involved.
Anya Richards  If I could I'd fly my honey down to an island, rent a small cottage by the sea, treat him to a lovely lobster dinner (his favorite) and then we would make love under the stars (but on a nice big blanket, because no matter what anyone says, sand and sex DON'T mix!!)
Dee Brice  See favorite fantasy. Perhaps without the danger.
Diana Hunter  This one is really hard for me to answer because, in our 32 years together, my husband and I have spent the last 22 anniversaries apart. He is program staff for a wonderful summer camp and the dates always fall so that he's away for our anniversary. As a result, we usually go out to dinner sometime the week after.
But the question is "What WOULD you do…" so let's throw reality to the wind and add in the fact that money would be no object. We can do anything, go anywhere we want, have whatever we want. So…
We'd start with a private jet to NYC. We'd land at Teterboro and our private limo would drive us into the city. We'd be staying at The Plaza on Columbus Circle where the butler would take our luggage and draw our bath while we relaxed.
After a nice, hot bath, we'd dress and go to dinner at Per Se, taking our time and enjoying the service and the food.
From there, the theatre, of course. We'd have 10th row center seats for Pippin! – the show we were on our way to see the night he proposed to me.
The limo would pick us up at the theatre door and whisk us back to The Plaza. The butler would serve us drinks in our room (amaretto and Coke for me, a Merlot for him). And then, when alone, we'd…well, we'd do what we did on our wedding night…only better!
Lynne Connolly  Have dinner at the top of the Eiffel Tower.
Charlotte Boyett-Compo  My husband and I had planned to take a train ride across Canada in the Autumn of our 50th year together. It would have been a week-long trip with several days spent in Vancouver visiting friends and then an Alaskan cruise to see the whales. We had been saving up for that trip since the first year of our marriage. It is a trip I will never make with him except in my dreams.
Cameron D. James  My partner proposed to me on our anniversary. I think it's kind of hard to top that. I could take us for a hot air balloon ride with champagne… but my partner would be terrified of a hot air balloon disaster and us dying… not quite so romantic… 🙁
Christie Butler  Go out for a romantic dinner at a great restaurant, and of course have dessert! Then a walk (in a light rain) from the restaurant to a fabulous hotel. Get some champagne from room service, maybe a couples massage before hitting the bed.
And absolutely sleeping in!
Sabrina York  I love the water, so a dinner cruise or a trip to an island would be super romantic. If there could be diamonds and bacon, so much the better. But mostly bacon.
Lucy Felthouse  My other half and I aren't particularly romantic, it has to be said. But we're going away for our anniversary this year… mainly because it's the same weekend as my birthday. We just like to spend time together, doing what we want to do.
Cassandra Carr  I have an anniversary coming up in a couple of days, as a matter of fact. Hubs and I are going to a lovely little town about forty-five minutes away. It's a tourist area and there are hundreds of bed and breakfasts. We're staying in one for two nights, and we're going to walk around the center street window shopping, eat at some fabulous restaurants, probably do a little wine tasting. I'm really looking forward to it!
Eliza Lloyd The beach seems like a good answer but really, I think I would want to go away someplace that is either rainy or snowy so we would have to stay indoors. I would want to be in a chalet or bungaloo with soaring windows and a huge bed and roaring fire. Maybe with some pelt thrown over the bed and no clothes. For sure, no clothes.
R.G. Alexander  Our first month anniversary, my husband The Cookie and I had no money, barely any furniture, and were in a really bad way. He made me a muffin with a candle in it and sang to me, and we spent the whole night cuddling and talking about our future. He could take me to Ireland someday, to Italy, but I will always remember that as my most romantic anniversary. When he did so much with so little to show me he loved me.
Lainey Reese  I've always wanted to stay at a fancy bed and breakfast by the ocean. We'd have our own private door to the beach from our room. We'd order room service for every meal and make love all day with the waves as our soundtrack. and the only time we'd leave would be to walk hand in hand along the sand to watch the sunset…or rise. That would be perfect.
Katalina Leon We just had an anniversary. I love sharing a great meal, taking a long walk with our dog and having an opportunity to talk and laugh together is better than anything. Fortunately we also like the same shows and movies so we like to cuddle up on the couch and watch Downton Abbey, Mad Men or for an anniversary a favorite movie.
Donna Gallagher Take my husband back to Cape Leveque, a remote spot in the top west corner of Australia. A truly beautiful place where you can watch whales play in the ocean or just relax in the luxurious accommodation of your safari tent – the one with the huge patio and fully enclosed en-suite (I don't like roughing it.) Did I mention there is no internet? No distractions but plenty of together time.
MK Schiller Role play, a bottle of fine wine, Plain White T's on the stereo, and lots of chocolate…
Leah Braemel I'd love to take my hubby on a trip to England–shopping in the morning in London, take the train to York for the afternoon where we could explore the Shambles, then have dinner on the patio of restaurant preferably on the banks of a river, and retire to a lovely old inn for the night.
Victoria Blisse Oh, I always cook something delicious, then spend lots of time snuggling *coughs* with the husband.
Jennifer Leeland  I think I'd like to run away and have full room service. I do a lot of camping so running off to a secluded full service inn sounds like heaven.
Kate Deveaux A bottle of wine, something yummy to eat, and anywhere we can be alone.
Ayla Ruse First, the husband would arrange for an all weekend babysitter for the kids. He'd rent a cozy chalet in the mountains. He wouldn't tell me until the day we leave – with complete assurance that he took care of everything. We'd dine out (or carry in) for every meal, and we'd simply fall in love all over again.
Fiona McGier Every year we pick a romantic get-away and spend at least a night enjoying each other with no interruptions. I can't recommend highly enough the Sybarris chain of romance motels. They have rooms with whirlpools, and rooms with private swimming pools along with saunas. They even have a 3-story chalet with a slide that leads from the top floor down to the pool on the bottom level! They're expensive, but well worth it, since they are scrupulously clean and well-maintained. The whole point is to eliminate distractions and focus only on each other, and the passion that binds you together.
Sarah Castille  Anything that doesn't require clothes.
Cathryn Cade  Definitely travel to Hawaii with my husband. Stay in a little condo on the beach, swim in the beautiful waters and walk on the beach. Drink mai tais on the lanai under the moonlight.
Eliza Gayle  I'm not very typical here. My favorite activities with my husband include things like rock climbing, off road UTV driving, motorcycle riding and so on. It seems we both find sharing an adrenalin rush the most romantic bonding moments in our life.
Luna Zega  Well, I'm an Alaskan so to me a romantic anniversary would be spent in a remote lodge in southeastern Alaska salmon fishing. Yeah, I know Paris or New York would be nice too, but isolation and fishing really brings two people together.
Kate Hill  For me a romantic anniversary would start with a workout together and then a shared shower. After that, we'd get dressed up and go out to dinner. Dessert would be eaten at home, probably something like ice cream with toppings that we could share in bed, preferably eaten off each other. The rest of the night would be spent lounging around, maybe watching a steamy movie in bed.
Heather Long  Hmm, I've done everything from just kick back and watch a movie to recreating a particularly lively memory – like going back to Disney World which is where I was married.
Jean Hart Stewart  Go to the best suite in a luxury hotel and lock myself in with my hunk. Maybe we'd answer the door for room service, and maybe not.
Desirée Lee   For Scott and I, we'd probably start off at a book fair, or a book store! True, many men don't like shopping (though Scott indulges me in it!), but neither of us can pass up books. Once we've sated our literary lusts, a nice, quiet dinner together would be perfect for us. We're easy to please.
Nina Pierce  If money were no object, I'd love to be surprised by Mr. Nina showing up to whisk me away in a jet to some foreign city like Paris or Venice. We'd have a quiet dinner he chose just for us and stay up all night talking, dancing and laughing … just the two of us. We'd enjoy the sunrise as we flew home snuggled in each other's arms.
Bobbi Brattz  I love the Caribbean. My idea of romance doesn't come with roses and chocolates. Well, perhaps some chocolate sauce and a few cherries with long stems to play with.
It's a magical night filled with a web of stars, and Tiki torches surround us..
He takes me by the hand and walks me to the beach under a full moon. At first, he nibbles on my neck, scraping his teeth gently along my shoulder, his thumbs caressing my breasts ever so lightly. I am burning up with heat and full of delicious shivers as we drop to the sand and kiss. I need no gifts when making love with this man. He's all mine.
Kay Dee Royal  Take my DH to a rustic cabin on a lake so we could fish to our hearts content…it would have a fireplace (or place for a campfire) where we could snuggle to stay warm…among other things more sensual and intimatlly inclined 🙂
Tonya Renee Callihan  Surprise my significant other with something he/she has always wanted to do or go.
Gale Stanley  Definitely a romantic weekend getaway to somewhere tropical. Maybe Hawaii. And a chance to earn my wings in the mile-high club en route.
Naomi Bellina  My idea of a romantic anniversary would be a trip to a cozy cabin in the mountains, when there's a nip of cold in the air so we can light a fire and sit in our private outdoor hot tub. I'd like to spend the day shopping at art stores, eat a healthy lunch, get a massage and facial, then read my book and take a nap. After a candlelight dinner, I want to make love to my honey for a nice long time, then curl up with him and eat decadent snacks and drink wine while we watch a good movie in bed. *sigh* Can I go there now?
Kemberlee Shortland  Anniversaries are great and everything, but when you're truly in love with your partner, every day is special. There's nothing extra an anniversary can bring. It's like a benchmark you mark off every year . . . "Well, there's one more year. Now what?" or "We gotta make it to the next anniversary so we can say we made it ten/twenty/fifty years." I rather prefer we wake up every morning saying, "I get to spend another day with you. How great is that?!" And mean it.
Hurri Cosmo  You would have to know your partner and what it is that moves them. I recently heard about a proposal of marriage to a friend of mine where the boyfriend had packed a bag (they lived together) for her, rented a limo and picked her up at her job on a Friday afternoon. They went downtown to a very beautiful hotel where he had reservations for the weekend. He took her to her favorite restaurant, took her on a horse and carriage ride through downtown, took her to a bridge over looking the city and watched fireworks, where he got down on one knee and asked her to marry him.
Unknown to my friend he had also invited her family to witness the event and they had all gathered around them during the fireworks. When she said yes they cheered and she was shocked. They all then went for "celebration ice cream", something my friend always does no matter what goes on, good or bad. Celebration Ice cream is her way of dealing with everything. If you know someone then you pick out those things that matter, in my friend's case, having family around, knowing her favorite things, and, of course, Celebration Ice Cream.
Lyncee Shillard  Share a pizza, watch a movie, drink vodka. I know, I rock here – hahaha. But this is just a keeping it real answer.
Sherrie Henry  I would love to be taken to a bed and breakfast in the middle of nowhere. It would need to be in the fall, my favorite season where we could spend the days walking through a forest or on a farm and the nights in bed … you know.
Trina Lane  I think this is very specific to every couple. For some, a romantic anniversary is dinner away from the kids. For others its a fancy hotel room filled with silk sheets, decadent treats, and unbridled passion. I have some very good friends who think a weekend spent camping and rock crawling in their jeep is the best thing they can experience.
Personally I love spending time in nature. So a romantic anniversary would be a trip to the mountains. Time spent leisurely hiking and sitting by the campfire. Maybe a nice dinner outside watching the sun set behind the mountains.
Elyzabeth M. VaLey  I'd try to do something that combined my tastes with my partner's but it would definitely involve hot, steamy sex. *g*
THIS IS THE RAFFLECOPTER FOR TUESDAY. DON'T FORGET, THERE'S A DIFFERENT RAFFLECOPTER WITH NEW PRIZES TOMORROW.  AND, CHECK OUT THE RAFFLECOPTER ON MONDAY'S ANNIVERSARY POSTS.
a Rafflecopter giveaway