Enjoy these answers from a host of authors — then enter the Rafflecopter below for a chance to win a $100 Amazon or BN GC and more!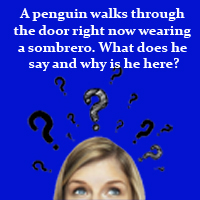 Tasarla Romaney
 Give me the taco dip and dill stuff tuna and no get's hurt 😀
Ash Krafton "Don't even ask," he mumbles, and roots through my medicine cabinet for Excedrine and Tums.
Linda Palmer "I'm totally lost!" He's there because he was en route to the next Happy Feet movie and fell out of his refrigerated train car. He's wearing the hat because he has style.
Debra St. John Where's the taco dip? I've been on the road forever and I heard there was a fiesta going on here. And where's the freezer? It's hot as blazes out there.
Judith B. Glad "Hola, Senora. I come to see you because the albatross on the corner says you have pickled herring in your pantry. I am very hungry, and all they are serving at the albatross's party is bacon maple bars with avacado jelly." After I serve him a good-sized portion of picked herring (in sour cream), he leans back and puts his feet on the table. "Ah, gracias. Now I have the strength to continue with my mission. I am here to sell subscriptions to the Antarctic Digest. Would you like to buy one?"
Kaylie Newell Hola. I am a result of too much caffeine before bed.
Judy Alter Where's the snow? He's lost, hopes he's headed to Antartica.
Linda Rettstatt "Buenos dias. I'm returning to the north after migrating to Mexico where my happy feet learned the Mexican Hat Dance. I'm wondering if you can spare a cup of ice."
Maeve Greyson Pardon me. I seem to have wandered a bit off course while celebrating a wedding in Mexico. Could you kindly direct me to the nearest Pole. Oh…and would you happen to have any ice water? Thanks, ever so.
Niecey roy Let's cha-cha…because he's here to cha-cha.
Tess Morrison Ay baby, want a marguerita? You supply the Cuervo, I bring the ice.
Jana Richards  He says "Where's my margarita?" He's here for the party, of course.
Tina Pollick "!Holai senora. Here is your drink."
I nod and grab the super sized raspberry margarita. "Mmmm this is good."
I reach in my pocket pull out some money and hand it to him.
"I'm so glad Penguins and More delivers." I close the door and go out onto the balcony to enjoy my drink.
Debra Doggett  Hola, amiga. I hear you have the best leftovers in town. I'm one hungry penguin. (all this is said in a really great accent)
Nia Simone "Let's get on that horse, girl! You only live once!"
He's here to remind me to have fun and live fully. Things I forget to do, if I'm not careful, because I'm a workaholic.
Virginia Crane Senor Penguin says "Even though I am from the South Pole and you live in Southern Florida, it is much too warm for me but I heard you have a super swimming pool with a super slide, so start throwing in the ice cubes. I'm ready to enjoy myself on my journey back home.
Graeme Brown I don't think he'd say anything. He'd just look at me the way any animal does when some mean human has dressed them up.
Nancy Fraser  "I thought global warming was making it hot near the south pole, but Mexico nearly fried my flippers! You wouldn't happen to have a deep freeze I can use to take a nap would you?"
Obviously, he's looking to cool off.
Robyn Bachar "There's no time to explain, get in the truck!" He's there to recruit me for a team put together in order to save penguinkind from evil space aliens. I am essential to the team thanks to my superior height and snarky commentary.
Jeanette Baker I'm looking for my lost polar ice cap, but any freezer will do.
Kim Hornsby  Hola, Donde esta Rolando.
My husband Roland has so many Mexican friends because he lived in Puerto Vallarta when I met him. (I lived on Maui and he won a date with me in a contest-long story). It wouldn't surprise me if a penguin in a sombrero walked in looking for my hubby. It would be another one of his interesting friends.

Juliet Waldron  "Let's blow this pop stand and hop a plane to Antarctica." He's come via a Mexican connecting flight in order to accompany me on another of those mega travel adventures I crave.
Mary Jo Burke  "Excuse me, I must have jumped on the wrong iceberg. Could you tell me how to get to the Antarctica's Got Talent tryouts?"
Willa Blair He escaped from the San Antonio zoo and detoured by the Riverwalk for a frozen margarita. He's looking for a ride to the coast to catch the next whale headed south.
Lynda J Cox "Dude, I never should have had that last vodka on ice…What? There's pictures of this?"
Elaine Violette Ola! You been sittin' at de computer too long. Come waddle with me to de ocean and we will Partee!
Lynda Coker  "Is this Jimmy Buffetts' place?"
I'm not sure about this penguin, his hat doesn't fit his formal attire. But if this happened to me, I'd give up on the Margaritas!
Maryann Miller "Hey, Chica, You know the way to San Jose?"
"You want to go to California? I thought you lived at the South Pole."
"Si, Chica. We do normally. But my cousin he invite us to Mexico for a festival. Sigh, I drank too much tequila and I got lost."
"Okay, but why San Jose? It's warm there. Don't you want to go back to Antarctica where you can play on the ice and cool off?"
"I'll confess. I do not really want to go to San Jose. I just like that song. Did you see the movie "Happy Feet"? I think some of my cousins, they were dancing to that song."
"I don't think so, Mr. Tuxedo man. Now you just get along down the road. Take a left at the next corner and you will be heading south. Walk a few thousand miles with your "Happy Feet", and you will end up home. Now get out of here. I'm busy."
Mary Hughes "Where am I?" the penguin says. "Wisconsin," I say. He stares at his map, takes off the sombrero and scratches his head. "Should have made that left turn at Albuquerque."
He got the map from Bugs Bunny.
Lynn Crandall "Wow, I think I took a wrong turn. Where am I? Some crazy truck driver let me out in Se Juan Teneo, Mexico. I had a fabulous time. Even got this hat from one of the locals. But I'm trying to get back to the North Pole. Can you give me directions?"
Carol Henry "Olé. I have come to invite you to travel to my vast continent where you can play with me and my friends. Pack now. We leave tonight." I love to travel, and although we've traveled extensively, I've always wanted to take a nature trip to walk among the animals, and especially penguins. How cool would that be?
Robin Renee Ray LMBO…His words; "Hello Amiga…I told you not to smoke that funny stuff back in 79′." I reply, "Uncle Sam, is it really you?" it's there because I am having a very bad flash back! ; )
Joya Fields The penguin says "It's time for your fifth margarita now. I'm here to get you off your butt, so let's dance."
Annette Bower Hey Annette you forgot your hat at the Penguin Book Awards last week.
Do you know how hard it is for a Gentoo penguin to catch a plane out of South Georgia to Regina, Saskatchewan Canada?
I needed to apply for a passport and because I couldn't wear the sombrero in my passport picture, whenever I checked in through security they made me remove it put it through the carry on scanner. You'll be lucky if your brain doesn't emit rays when you wear it again.
But the hardest thing was trying to tell the officials I couldn't remove my shoes, because I didn't have any.
Finally a kind official gave me some disposable slippers which I put on and removed just to make everyone happy.
Something smells fishy in here. Are you serving my favorite Cataplana with White Wine and Tomato sauce meal?
Hmmm, thank you. May I sit in your bathtub for a while. I need to get this travel grime off before we eat.
Patty Campbell  We don't need no stinking sombrero! Where's the air conditioning here in Florida?
Genie Gabriel I don't think this is the South Pole any more, Dorothy.
Pamela S Thibodeaux "hola mi amor" …. "hello my love, I am here to take you someplace exotic for a romántico interludio "romantic interlude".
Elysa Hendricks "Quack. I'm here to take you to Wonderland. The White Rabbit is busy."
So, of course, I follow him down the penguin hole through the ice and have a great adventure under the sea.
Ryshia Kennie "Hey dude. I heard there's some weird stuff going on so I thought I'd stop by and check it out," the penguin said before I had a chance to do anything more than open the door and remind myself to close my mouth. Not only was there a strange little creature on my doorstep, but there was also a crowd of people on my street – forty deep. They milled around despite the lightly falling snow and sub zero temperature.
Met by my complete and stunned silence the penguin carries on…
"You do know what's going on out there…" he struts into the room. "Of course you do, you have eyes. His stilted waddling walk has almost a strut to it. The door bangs behind him.
I shake my head. What was a penguin doing in my front entry and a talking penguin at that?
"Polar Ice Team – First Division." The penguin sticks out what I want to think of as a hand but is really only a flipper like thing. I want to do the right thing, shake but I can't bring myself to do it.
He leans against the wall, the sombrero tipping dangerously. "Oh, right why am I here at this house." He glances at his watch that I suspect is actually a GPS. "I'm on vacation. Always wanted to see Mexico." There's a rather disappointed look on his face as he seems to collect his thoughts. "Right, Saskatchewan not exactly Mexico but I wanted to check out the global warming situation."
He sank to the floor. "All right, the truth. I couldn't stand another minute on a plane. You know they made me fly cargo? Something about only humans being allowed in the cabin." He looks at me. "Do you know what it's like to fly cargo? I couldn't stand it another minute. When they transferred my crate at Vancouver I unlatched the thing and headed out." He takes the sombrero off. "Didn't have this sweet little thing then." He points to what I am now sure is a GPS.
He shrugs. "Got my directions turned around. And, in case you're interested, transport isn't exactly easy in this country – but the sombrero seemed to help. That's why I kept wearing it, despite the snow. People were more apt to give me a ride. Course, I rode in the back of a lot of semis." He shakes his head. "But this place is unbelievable. I hit town a few hours ago and I've collected an awful crowd of people. I stopped here because I was a little scared I might cause a riot. That and you were the first house with an ice rink in your yard and I'm all about ice." He shrugs. "Anyway, about the crowd, well you never know what might happen and I'd like to get down to Mexico in one piece. Anyway, if you don't mind I'd like to hang here until it cools down out there – figuratively speaking that is."
"Well, that's settled." The penguin twirls his sombrero like we had reached an agreement despite my stunned inability to say anything. "So, any thoughts on driving to Mexico? I'm a great travel companion."
Troy Lambert "I'm headed for Mexico! And the judge thought I wasn't a flight risk!"
Jane Toombs  He says . "Hola, Senora Toombs," and goes on to tell me in English that he's here because he knows I'm waiting for Bride Of The Baja to come out as an ebook and he wants to read it, being as that's where he lives these days as it's too cold in Antartica for him. Where can he get a copy? I tell him to give me an email address and I'll send him a copy.
Jaleta Clegg He says nothing, but begins flapping his flippers. He holds up the right one three times, then mimes a hug. What is he trying to communicate? He repeats the motions. I shake my head in confusion. He fixes his beady yellow eyes on me then repeats the motions slowly and precisely.
Ah! I get it! He wants to watch The Three Amigos with me. Let me pull out my copy and slip it into the Blu-Ray Player. Love that movie…
Beth Trissel He probably wants something to eat again. He's always begging for snacks.
Heather Haven "Is this where they're holding the auditions for the new Taco Bell announcer?"
Gail Pallotta He asks, "Where's the beach?"
He's a penguin who's never liked the cold. He's been waddling for a year trying to get to a warm climate. He knows it isn't going to be easy to fit in with the sea gulls and sandpipers, but he doesn't care. He can't wait to bask on the sunny beaches. He'll make friends, find a bird he can love and settle down by the sea.
Helena Fairfax He says, "Hola chica", and he's here because he's just got off his holidays, of course! And the sombrero is a present. He would have got me a botle of tequila, but he drank it on the plane. It was a dull flight. They were showing March of the Penguins, but he'd already seen it.
Kelly Whitley "Buenos dias. I took a wrong turn on the way to the New Zealand beach."
I'd offer to get on a plane and show him the way home. I could REALLY use a beach vacation!
Laurel O'Donnell "I'm lost and it's hot here. Can you tell me how to get to the South Pole?" But how did the little penguin get here? He says he hitched a ride with a person who loaned him the sombrero so he wouldn't get sunburned. He said the person didn't know north from south and now he was stuck. Poor guy. I could bring him to the zoo… I could buy him a plane ticket to the south pole…
Paty Jager "I think I missed the bus to Tijuana." He is on vacation from the North Pole and looking for some party time in a warm climate. Margaritas and senoritas!
Linda McMaken Is this Miami? I'm so sick of snow. Hey, you got any frozen taco's?
Keena Kincaid Dónde está el polo sur.
Isabo Kelly  Can I get that guacamole recipe, please. Party starts at 3. See you and the boys there!
Melissa McClone "Smile and wave, boys." The penguin pulls out a bottle of Tequila from beneath his sombrero. "Get out the chips and salsa. It's margarita time."
Aaron Speca Funny thing is, I just saw the scene in "Fight Club" where he's having the vision of his "power animal", the penguin who walks in and says "Slide". Now I just can't get that out of my head.
Shirley Martin He's come to wish me a belated happy birthday, which was yesterday (August. 9.) He sings "Happy Birthay" and presents me with a birthday cake. The sombrero is to protect his face from the sunlight.
Amy Corwin:  Hola! Where are the Margueritas? Where's the pool and the ice? It's time to Par-TY!
CHECK TOMORROW'S POSTS FOR A NEW RAFFLECOPTER WITH BRAND NEW PRIZES!!