Enjoy these answers from a host of erotic romance authors — then enter the Rafflecopter below for a chance to win a $100 Amazon or BN GC and more!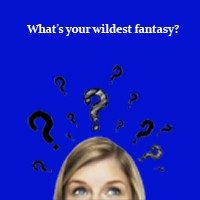 Desiree Holt
I always wanted Sam Elliott to come to my house, sweep me into his arms, take me off on horseback to a secluded spot where he would slowly undress me for a nude picnic and drink champagne from my navel.
Marie Tuhart  To be kidnapped by pirates and the pirate captain falls under my spell and allows me to take over his ship and he becomes my love slave.
Erin M. Leaf  My wildest fantasy is probably not very wild. I would love to be able to take an entire year off work with my husband and spend it traveling to amazing, fun, exotic places. I want to kiss him in the ocean, on top of tall buildings, in airplanes, anywhere fun and exciting. The wild part will take care of itself!
Wendi Zwaduk  Sex on the beach. Really. In the back of my jeep. Muwhahahaha.
Sandra Bunino  My wildest fantasy is to go to a club just like my fictional Satin Rose Experience. It's a place where a person can live out his/her ultimate fantasy.
What would I do? Well, I've always had this thing for tall, dark and handsome strangers…
Megan Slayer Sex with Chris Evans. It'll never happen, but I'd love it. He's hot, sexy, and that voice…shivers.
Renea Mason  As much as I'd love to tell you, this information only my husband is privy to, and since I'd like him to still be my husband at the end of this Q and A, I guess you'll never know.
Jessica Jayne  My wildest fantasy would be to be in a sexual situation with two men… a ménage. There is something incredible about the idea of being taken care of by two men at the same time and taking care of two men.
Jessica E. Subject  Spending a weekend alone with my husband, in the middle of nowhere, so we won't be interrupted. We'd bring our bag of toys and have all kinds of fun.
Adriana Kraft Hmm… trying to think of one that hasn't been fulfilled lol! Arlabian tents turn up a lot in our erotic romance, so that must be it. I envision an oasis, a luxurious tent with mirrors, candles, cushions, and just the right partner (or partners) for a long exquisite Arabian night of lovemaking.
Valerie Twombly I have traveled to Spain and am staying in a villa on a private beach. My neighbor is the sexiest thing God ever created and his accent drives me wild. Of all the beautiful women in his country, he has chosen me. One evening while we are in my villa cleaning up from a meal, he pins me against the counter and kisses me. My veins fill with liquid fire. I grab his shirt and pull, sending buttons scattering. I flick out my tongue and taste his skin, it's like velvet and chocolate. He trails hot kisses along my neck as I grab his belt buckle and…
Maxine Mansfield  To ride bare back on a huge blood red dragon. And, to swoop down and capture myself a hot hunky barbarian, take him back to my lair, and have my wicked way with him.
Julia Talbot Oh, man, it's hard to say. There's not much I haven't done or written…
BA Tortuga  It involves a threesome, a certain hot country singer, and a stage. You're not getting more than that. 😉
Denyse Bridger  I think it would be pretty wild to be lured or kidnapped and taken someplace where a mysterious stranger was waiting. It would be fascinating and edgy if I was blindfolded and the evening was one of seduction and sensuality. Conversation, food from the hand of the captor, soft words, and then being taken to a silk covered bed, tied down, then made love to until there was no energy left… After a few hours sleep, being taken away without ever knowing who the lover was…. that would actually be a very cool story to write, too!
Dee Brice  Hummmm. This is difficult–I have so many. Someplace soft and semi-dark. Just enough light to see my lover(s)' eyes and physiques. Someplace where the scents arouse and tempt. A hint of danger–pain if we are caught.
Diana Hunter  Like most, in my wildest fantasies I'm always the heroine who saves the day. There's always a crowd with someone famous at the center (the hunk changes, the overall events do not).
The person next to me raises a gun. I see it and stop him. Sometimes I take the bullet, sometimes it goes into the air. But I save everyone from the crazed gunman and I get to have dinner (or more) with the hunk of the day. 🙂
Lynne Connolly  To make love with a rock star on stage in the middle of a performance.
Charlotte Boyett-Compo  I would like to have a beautiful home by the sea where crashing waves lulled me to sleep at night and a glorious sunrise over blue-gray mountains in the distance gently wakes me. I would have two roommates…actors Antony Starr and Chris Vance…who do the cooking, cleaning, and ah…taking care of…their landlady. 🙂 Needless to say a good time would be had by all!
Sharita Lira  Um.. I'm married but my fantasy is being with 2 men who also love one another. Yes an mmf with lots of candles, water, hot sex and fruit, yes fruit. Hmmmm
Shoshanna Evers  My wildest fantasy is so wild I had to turn it into a book. Imagine a woman accidentally travels back in time and is held captive by a tribe of super strong, super hot cavemen. And they *all* want her. *fans self* Yeah, so that's how Held Captive by the Cavemen came about. My wildest fantasy in written form, lol.
Cameron D. James  To have a threesome with my partner and a cute Starbucks barista twink. We scope out all the local Starbucks locations — we know which ones have the cutest staff.
Alexandra Christian  I walk into a room, dimly lit with drippy candles in tarnished sconces along the walls. There's an enormous bed, piled with fluffy pillows. Everything is silent, save for the crackling of the fireplace along the wall. As I stand there, waiting with anticipation for something to happen and wondering where I am, a warm body slips behind me and whispers softly against my ear. He smells of leather and incense, slightly tinged with scotch. Pulling me in for a kiss, I barely notice that another man stands in front of me. They vie for my attention, each one pulling me in for another mind-numbing kiss. Soon I find myself blindfolded and lying across the luxuriant bed and being touched and kissed all over. I cannot see and I'm not sure where one man ends and the other begins, can never be sure whose voice is in my ear or whose fingertips dip between my legs. …. but then, I've always been a sucker for a good ménage….
Sabrina York  This is a trick question because every author's wildest fantasy is to write a bestselling book which is then optioned for a movie. Then of course, said author (read: me) writes a Grammy winning score, stars in the film (perhaps opposite Jason Statham) and garners an Oscar as well. Yeah. Every author has that fantasy. Not just me, right?
Lucy Felthouse  Having a week in a remote house with my top ten future husbands. Who are, if you really want to know: Henry Cavill, Dan Feuerriegel, Hugh Jackman, Chris Hemsworth, Taylor Kitsch, Jeremy Renner, Ian Somerhalder, Jensen Ackles, Philip Winchester and Jared Padalecki.
Eden Bradley  Well, I'm pretty open about the fact that I've lived most of my fantasies, so at this point it's all about the people involved. A three-way with Johnny Depp, Lenny Kravitz and me…a little spanking…Lenny singing softly in my ear…
Cassandra Carr Oh gosh…actually I'd say to leave my daughter at home (even though I'd miss her terribly) and tool around Europe with my husband for about a month. Probably not very exciting but I'd really love to do that.
Amanda Young My wildest fantasy would include me, two men, whip cream, and a live chicken. Just kidding…about the chicken.
R.G. Alexander  That is a hard one. Most of them are in my books lol. A menage, of course-m/f/m or m/m/f. I fantasize about being naughty in public, about certain role playing scenes (though hubby still refuses to put on a kilt and talk dirty to me in a Scottish accent). He can do one helluva Scottish accent lol
Lainey Reese  Hmmm….I don't know if I can get that spicy in a public forum. I actually wrote (hinted at) about this in Innocence Defied. I'm a saloon girl back in the wild west. I'm tied standing up on the middle of a poker table while gun slinging cowboys and slick suited gamblers play strip poker. Only, I'm the one they strip. Once the clothes have all been disposed of the stakes get higher and then the fun really begins.
Katalina Leon  My wildest fantasy is that during my ill-fated travels on an exotic planetoid where all the men look like Brazilian male models or Jon Hamm I'm taken captive by a handsome sultan-like war chef as his love prize. Said hunk whisks me away to his luxurious palace where I'm expected to do no cooking, cleaning or driving of errands and then I find out he has a handsome twin brother I must also accept as a mate as well. All tension and cultures differences on this planetoid are settled via male-strip-offs where the men strip and dance their ass off to impress the women.
MK Schiller  Me, a bottle of Merlot, Chris Pine and Ian Somerhalder, That's a party!
Leah Braemel  my fantasy is to have a big house with a cleaning service and my own personal chef. Someone to do all my administrative work so I can just write. Preferably at the side of my infinity pool overlooking the gently rolling English countryside. (Bet that wasn't what you were expecting is it?)
Victoria Blisse  Oh boy, is this a safe question to ask an erotic romance author? In my wildest fantasy I own a huge mansion on cliffs at Scarborough over looking the sea and I have lots of authors over for writing getaways.
Jennifer Leeland  I think I'd love to be tied up and given attention by several men and or women, all under the direction of the man I love. I think we'd both enjoy, but he's a bit too possessive to make that fantasy happen. LOL!
Kate Deveaux  Run away with hubby and live in Provence….write books from a little stone cottage.
Fiona McGier    I love the fantasy of being made love to by multiple men who are all focused only on me. I would be swept along by their raging hormones and satisfying each one of them in turn would bring me to higher and higher ecstasies. I'd have multiple orgasms with such force I could power the nation with the energy I'd release.
Sarah Castille  Unlimited imagination = unlimited fantasies 🙂
Anna Alexander I'm not sure how "wild" this is, but I would love to be a host on Top Gear. Drive fancy sports cars around the world and have a blast while doing it, awesome. If it's the American version then you drive not so fancy cars, but you still have a blast.
Cathryn Cade  I'm a best-selling author, of course! With such fabulous sales that I can write at my own pace, and put out stories that readers cannot get enough of. I live in my little town by the lake here in North Idaho, and ride my bicycle everywhere.  Some of this fantasy is already true!
Lila Shaw   A naughty menage with 2 men who desperately adore me, and poor me…I just can't decide without some indepth, and simultaneous comparative analysis. 😉 One is very tall and lanky; one is medium and heavily muscled. A hairy chest vs. a smooth one. Brown eyes vs blue eyes. My men are a sensual diversity of taste, texture, scent, sound and sight. Perhaps one has an accent–perhaps they both do. Deep and velvety croonings mix with rumbling growls to create a symphonic ode for my pleasure.
Kate Hill   My wildest fantasy is to fall in love with a friendly, adorable alien, have crazy sex and live happily ever after between worlds. That explains why I love sci-fi so much. The more sexy aliens to fantasize about the better!
Heather Long   To be wealthy enough to take impulsive vacations like wanting to spend a week Italy and just getting on a plane and going
Jean Hart Stewart  Visiting a BDSM club to see what really goes on! Lots of stuff there I can't imagine, I'd guess. I'm intrigued by the whole life style, as I imagine many readers are.
Desirée Lee   Good question! This has changed over the years.
Since I have a newborn daughter, I'd say the current wildest fantasy would be to get a solid eight hours sleep. Heck, I'd even settle for six straight hours.
Right now my husband, author Scott Harper (<a href="http://www.scottharper.net">http://www.scottharper.net</a>) is the only person to know my fantasies, and I think I'll keep it that way. Or I may put them into a book later on, who knows?
Nina Pierce  Multiple partners. 'Nuf said.
Charity Parkerson  In my wildest fantasies I'm meeting Alexander Skarsgard and the following things do NOT happen.
1.) I end up divorced
2.) With a restraining order against me that will hold up in 3 countries.
3.) Sitting in jail without my panties because I threw them at him.
Bobbi Brattz  In my books, I live my fantasies with two men vying for my sexual attention on a kitchen island where there are no foods forbidden. Chocolate comes first but it comes with fruit and whipped cream as they lick it away, inch by inch against tender skin. The sensations of taste and touch, smell and sight, all blend together to create the best banana split imaginable. What is it about food mixed with passion that turns one on and heats love up?
Tonya Renee Callihan  I want to meet a guy, who I think is a bartender, hot and sexy. Makes me an Orgasm to drink and then rocks my world while we watch the rest of the club dancing, we can see them, but they can't see us. Oh wait…that's Dazzled by Silver by Lacey Silks
Gale Stanley  Hot werewolf sex with three sexy alphas. You know the type. Sinfully good-looking, a bit arrogant and capable of bestowing multiple orgasms at a moment's notice. These men can be lethal predators one minute and possessive, protective lovers the next. Yep. Fangs and fur make me weak in the knees—in a good way.
Kemberlee Shortland  Besides winning the lottery and using the funds to give out writer grants? Ever heard the saying "I have champagne tastes, but have a beer budget"? That's me. I have all kinds of philanthropic ideas. I just need the cash to make them happen.
Hurri Cosmo  Although I would never actually want this in real life I fantasize about being done by two large police officers having been pulled over on a back road somewhere. I think about being held in position by one while the other is pounding into me while I am positioned on the truck of the squad car. Then they switch positions. I think about them using a nightstick too and maybe a little bit of double penetration.
Lyncee Shillard  It would have something to with Matthew McConaughey, a rooftop hot tub (of course in a bug free part of the world), a chocolate fountain, an endless firework show, and raspberry flavored body lotion 😀
Sherrie Henry  Being kissed in the rain. I know, it's lame, but I've always found that so freaking sexy and romantic.
Angelina Rain  Since I'm an erotic romance author, people assume that I have tried it all. In truth, my love life is almost vanilla. My fantasy would be to do almost everything at least once from ménage to bdsm.
Elyzabeth M. VaLey  My wildest fantasy is —CENSORED—
THIS IS THE RAFFLECOPTER FOR MONDAY. DON'T FORGET, THERE'S A DIFFERENT RAFFLECOPTER WITH NEW PRIZES TOMORROW.
a Rafflecopter giveaway