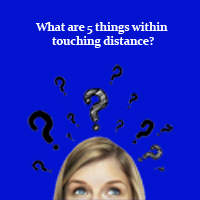 Desiree Holt
computer, television, printer, coffee mug, notebook
Melissa Schroeder  Coffee cup
Cell phone
Pictures of my two girls
Pens
Mel's Militia promo magnets
Karen Stivali  My idea book, cell phone, nail file, BadKitteh(my naughty 20lb cat) and a measuring cup.
Heidi Lynn Anderson  Computer, pen, notebook, bottle of water, and my cat.
Brenna Lyons  Of my chair?
1. The shelf full of my longhand writing that's not in the computer yet, complete with the mug of pens.
2. My headphones.
3. The entertainment center.
4. The A/C unit in the window.
5. The 25th Anniversary picture collage of my husband and myself.
Marie Tuhart  Glass of water, my computer keyboard and mouse. Pen and calendar.
Erin M. Leaf  My keyboard, a candle, dark chocolate, a book about birds in Pennsylvania, and a hilarious card my best friend sent me.
Wendi Zwaduk  Lotion, the PC, a notebook, a pen and a painting by the tot.
Sandra Bunino  A bottle of sangria, an almost empty grande Starbucks cup, a vase filled with summer flowers, a box of Cheez-Its and a Rachel Gibson paperback.
Megan Slayer  The remote, the couch cushion, the cat, DH and a basket of laundry.
Renea Mason  A screwdriver, a can of Trader Joe's Espresso pillows (AKA orgasm in a can), my iphone, large glass of iced water and a credit card
Jessica Jayne  My husband. My cell phone. My Nook. A cup of orange tea. My favorite pillow.
Jessica E. Subject  My tablet, my bicycle helmet, my son, my laptop case, and my schedule.
Adriana Kraft  My coffee, my laptop, my thesaurus, a book titled "Roadside History of South Dakota" (we're traveling South Dakota in our motorhome), a basket of fruit.
Valerie Twombly   My laptop, a checkbook, nail polish, hand lotion and phone. Wow, that is boring!
Amber Green  Besides the laptop, I'd have to mention the laptop cat, a longhaired calico with a black nose. I picked up her and her sister in the Year of Four Hurricanes. We'd decided the house needed a kitten and, luckily, a friend's cat in Jacksonville had spit out two large litters in very short order. We arranged to pick a kitten while handling other business there. Just as we hit the road, my friend called and asked could we wait a week? I said okay, if she'd promise not to give away all the kittens by then. Amid what sounded suspiciously like choking noises, she assured me that she would not run out of kittens before next weekend. The next week's trip was stymied by a hurricane warning. The next chance was blocked by another hurricane warning. So was the next. Finally, we brought home our two calicoes who, as it turns out, don't like one another at all. And in the time it took to type this, she moved on and was promptly succeeded by a startlingly heavy tabby who was abandoned at a student housing complex a couple of years ago, and who has the most expressive face I've ever seen on a cat. Other than cat and laptop–that's two, right? A now-cold cup of coffee, a stack of work for the day job, and the miniaturized sewing kit that's going with me to Dragon Con.
Avril Ashton  My daughter, the remote, a pen, notepad and hot sauce.
Maxine Mansfield  Well, I'm in my office so….. A phone, my keyboard and computer of course, my fav. coffee cup, my desk, and last but certainly not least Tug McGroin, my blow-up doll and writing partner who sits in the widow seat dressed in an Ohio State sweatshirt and black pj bottoms with big red lips all over them. I know, I know, don't ask don't tell 🙂
Julia Talbot  2 basset hounds, my girl BA, a pen, my iPhone
BA Tortuga  My coffee. My camera. My phone. My sewing machine. A hank of antique lace.
Kayelle Allen  My water bottle (always), an emery board, my computer, a tiny ceramic mouse who looks up at me with a sweet smile, and an inlaid marble box with colored stone in the shape of a tulip (to store paperclips).
Diana Hunter  My mouse, a bottle of water, notes on my current wip, my Hobbit calendar, and my mug of pens and pencils.
Lynne Connolly  keyboard, mouse, monitor, filing cabinet, meerkat, new headphones.
Charlotte Boyett-Compo  A bottle of Lipton White Tea Raspberry, a spray bottle filled with water as a deterrent to any of my cats who think to hop up on my desk, two autographed photos (Anson Mount and Eric McCormack), and a snow globe my sons and grandson gave me for Christmas a few years ago.
Sharita Lira  The computer, a calculator, my writing journals, a bottle of Coke, and pens
Shoshanna Evers  1. My electronic cigarette, for my vaping pleasure. (I know, I know, bad habit!)
2. A Photoshopped printout of the New York Times Bestseller list, with my book Enslaved in the top slot (Hubby made it for me as inspiration!)
3. My gemstone Chakra bracelet, for balance
4. the synopsis for my WIP, printed out for reference.
5. A huge pile of paperbacks I got at RWA13.
Cameron D. James  1. My laptop computer.
2. My water bottle.
3. Some homework.
4. A very smutty book.
5. Vaseline.
(Items 4 and 5 are in no way connected.)
Christie Butler  My remote, my laptop, my phone, glass of wine, and of course my dog
Sabrina York  My doggie, my coffee, my lap blanket, remote and a chocolate bar. 🙂
Rory Ni Coileain  Computer (no, really??), bag of dark chocolate peanut M&Ms (remember the Greek stories about ambrosia? Forget 'em — this is the real deal), my son's junior prom picture, Cafe du Monde coffee mug, and a cat who lives to "help" me write.
Lucy Felthouse  Laptop, pen, paper, drink, diary.
Eden Bradley  Right now? It's morning, so my cup of Earl Grey tea. A bottle of water (always). My favorite pen-I got it at the last RT Convention. It's sleek chrome with a nice rubber grip from author Cat Adams (I'm a total pen whore-lol!), lip balm (I'm never without it), and my stuffed Skelanimals bunny given to me by my BFF R.G. Alexander-he's black with white bones and a skeleton face with a red heart on his chest-he's adorable and he lives on my desk.
Cassandra Carr  I'm doing this while at my aunt and uncle's cabin, so the answers are different than if I was at home – somewhat, at least. Right now, Diet Raspberry Snapple (which I drink at home too), my Kindle Fire, my new cell phone, the notebook my uncle keeps his passwords in (eek!) so I could get on his wireless, and a boombox. My uncle is HUGE into music and it's almost constantly playing when he's awake.
JB McDonald  1. My king shepherd, Cash, is lying at my feet curled as small as he can make all 100 pounds of himself. His long coat is extremely soft on my toes.
2. Gracie, one of the dogs who's being boarded for training, is curled up at my elbow. At about 7 pounds, she's much better at being smaller. Every so often she makes these little dreaming noises.
3. My laptop is on my lap, and starting to warm. I keep shifting it to make sure the vent is clear…
4. There are two bills sitting nearby, to remind me to pay them or at least write down that I need to pay them some time in the next month. Renter's insurance and car registration. To get a personalized plate or not? That is the question…
5. An Amazon gift card, given to me from a client who's as excited about the African Grey parrot I brought home in mid-July as I am!
Savanna Fox  My Audubon appointment calendar with the lovely photos (purple columbine this week), which no smart phone can ever replace. My Kindle Paperwhite, plugged into my netbook and charging its battery. My "do list" for the week, printed out on turquoise paper so it can't be overlooked. An orchid plant that once flowered and may do so again. My USB drive, as a reminder to back up every night.
Amanda Young  Five things within touching distance of me right now are my laptop (touching it right now *wink*), a big mug of french vanilla coffee, my electric cigarette full of menthol juice, and my dachshund Dive, who's lying on the sofa beside me and snuggling up against my hip as I type this.
Eliza Lloyd  Cell phone, Ipad, Tums, hand lotion and a history book I'm currently reading called The Clubs of London, 1828. I could move to a different room and my answer would be much more interesting. As it is, I'm writing today, so it's everything I need to get through the next few hours. Except snacks. I make myself get up for those so I don't stay glued to the chair too long.
Tracey H. Kitts  Roscoe (my fat little dog), an elaborate mardi gras mask, scissors, thumb cuffs, Dracula and Joker pez dispensers.
R.G. Alexander  Water, coffee, iced tea (I usually have 2-3 beverages around me lol-hydration is important) my phone and my husband Cookie…he's working on the computer across from me laughing at my answers.
Lainey Reese  My puppy Pippin. My dog Wookie. My cat Mojo. My phone and my iced tea…it's the status qua for a day at the computer writing.
Katalina Leon  I have so much stuff in front of me! My writing space is filled with pretty things that create a nice mental "green belt" for my imagination. I have a turquoise glazed oblong dish in front of my keyboard filled with crystals I've received as gifts or collected over the years. I have a casting of griffin to my left that my husband gave me as an anniversary gift and symbol of eternal love and loyalty. I have an as yet unopened bottle of Absinthe that I'm saving for release of "Fairy In The Flesh", which feature time travel and enchanted absinthe. I also have a large abalone shell filled with rings, watches and little gifts my son has given me.
Donna Gallagher  My computer, scanner, a coffee mug, iPhone and my pet turtle.
MK Schiller  My computer, mug of coffee (my morning ambition), sticky notes, swag for my book, and a bottle of cleaner (shoot, I brought it to my office to clean off my desk and forgot it was there!)
Leah Braemel  my cell phone, my mouse, my coffee cup, my laptop, my puppy Seamus
Victoria Blisse  My husband, the remote, my laptop, phone and a cushion.
Jennifer Leeland  My water bottle, my phone, my computer, a tree (I'm outside at the moment" ) a copy of "Persuasion" by Jane Austen.
Kate Deveaux  Computer, flowers in a small vase, i phone, rhinestone tape dispenser and a rhinestone calculator.
Ayla Ruse  My writing calendar, nail polish in jade green, dental floss, a blue sharpie and a pad of orange sticky notes.
Sarah Castille  Stickie notes, owl stuffie, calendar, cork from champagne bottle from my first sale, pen from my first law firm partner
Cathryn Cade  computer, keyboard, day planner, flower pen from a Montana writing conference, a coffee cup that says 'To Imagine is Everything' and a rock engraved with the word 'Imagine'.
Sensing a theme here?
Eliza Gayle  My mini iPad, the remote control, my little green alien from Area 51 in Rachel, Nevada, my cellphone with more ebooks and apps I can count, and the adorable star baby made for me by the awesome Bronwyn Green.
Luna Zega  Computer, Diet Coke, my dog, telephone and a book on farming.
Kate Hill  My highlighters, my MP3 player (can't write without it!), free weights, a Basset Hound figurine (the real one is asleep in the living room), and the window (through which at the moment I can hear lots of bugs chirping outside!).
Heather Long  Laptop, cell phone, iPad, water bottle and sunglasses…one of these things is really not like the others
Jean Hart Stewart  A table lamp, my printer, books (About ten), my coffee cup, my password reminder book, and of course my computer.
Desirée Lee   A camera, a letter opener from the CIA (long story), a vampire piggy bank, a tube of lotion and a bat preserved in resin.
Nina Pierce  Camera. Tissue box. Cell phone. Pad of paper. Pens (and more pens).
Bobbi Brattz  My computer, my puppy, my blanket, my pillow, and a dish of creamy peach yogurt.
Kay Dee Royal  My dog (Sheltie), laptop, coffee, pen, notepad;)
Tonya Renee Callihan  My laptop, water, notebook and pen, book I'm reading, and my yarn and crochet needle.
Gale Stanley  My iPhone, iPad, Kindle, cats, and hubby.
Naomi Bellina  My camera, a flash drive, a crystal, my ginormous pen and marker collection, a bottle of aromatherapy mist, watercolor bookmarks, an amethyst heart, a calculator…sorry, did you say five? My desk is rather cluttered.
Kemberlee Shortland  Assuming you're not including the keyboard and mouse . . . a bunny screen duster, water bottle, smartphone, orchid, desk fan shaped like a Sumo wrestler 😉
Hurri Cosmo  My cat, computer, coffee cup (with coffee, cold now) unfortunately bills, and lotion. (I use the lotion a lot but mainly I put the bottle on top of my closed computer so the cat stays off of it)
Lyncee Shillard  a can of diet coke, peanut M&M's, a coffee mug of pens, a green, purple, and yellow stuffed Moose, and a bottle of be Enchanted body lotion by bath and body works
Sherrie Henry  Oh boy, let's see. Paperclips, a stapler, tape, address stamper, martial arts belts and certificates, cellphone, calculator, folders, scissors, pens, junk mail … you know, I really need to clean my desk!
Tracey Steinbach  Ink pen, keyboard, cellphone, file folder, bottle of Diet Dr Pepper
Trina Lane  I'm actually at my office for my EDJ. Shhh don't tell 🙂 so my answers are all professionally related.
1. Cell Phone
2. Diagnostic equipment
3. Kindle Fire
4. Hand Sanatizer
5. Informational Brochures
Elyzabeth M. VaLey  My mp3 player, my Thematic Descriptionary, my book on the middle ages (Medieval World Complete), my water bottle, and my pen drive.
THIS IS THE RAFFLECOPTER FOR FRIDAY. DON'T FORGET TO CHECK OUT THE RAFFLECOPTER ON MONDAY, TUESDAY, WEDNESDAY, AND THURSDAY'S ANNIVERSARY POSTS.
a Rafflecopter giveaway