Enjoy these answers from erotic romance authors then enter the Rafflecopter below for a chance to win a $100 Amazon or BN GC and more!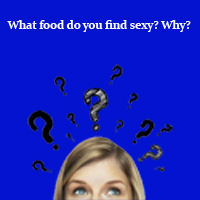 Desiree Holt
Chocolate cake. I have used it a lot in stories. The lush richness just somehow seems to be perfect with sex.
Melissa Schroeder  Strawberries with chocolate. Well, I am not sure we have to have a reason for chocolate. I mean…it's chocolate. But I love strawberries dipped in chocolate. I think it would be amazing to have them fed to me by hand.
Karen Stivali  Chocolate. It tastes good. It smells good. Eating it puts you in a good mood. You can melt it and make it all liquid and shiny and dip things in it or drizzle it on things…or people… It's a very sensual food. I love the way it melts on your tongue (if you have the discipline to leave it there instead of gobbling it down). I love the way you can still taste it on your lips after you've finished eating it. Even the anticipation of eating a piece is sexy. Your mouth waters, your heart rate accelerates, you want it. It's the food equivalent of a first kiss.
Brenna Lyons  Chocolate, especially chocolate fondue.
Beyond the fact that chocolate releases warm feelings, the idea of painting each other with something warm and yummy has always been preferable to me to doing the same with something cold and yummy…like whipped cream.
Erin M. Leaf  Avocados. They're so beautiful on the inside and so hideous on the outside. They remind me to never judge a book or a person by their cover. The mind is the sexiest part of any man or woman.
Wendi Zwaduk  Chocolate. I ask you, why not?
Sandra Bunino  Avocado! It's all dark, shiny and sexy on the outside and smooth and creamy on the inside. If you want to get creative, avocado can take the place of whipped cream in the bedroom.
Megan Slayer  Beef and noodles. If I get beef and noodles from DH, then I know I'm going to get some, too. Grin.
Renea Mason  Ice and chocolate syrup. Infinite possibilities. Oh, don't forget honey. It's great because it's hard to get off–requires extra effort.
Jessica Jayne  Strawberries. You can feed them to a lover. Chocolate. It tastes wonderful, especially when you like it off a lover's lips.
Jessica E. Subject  Any food can be sexy depending on how you eat it. 😉
Adriana Kraft  I've always thought of those caramel-filled Lindt chocolates as sexy – intense wonderful flavor, and just the right creaminess and ribbons of filling to get the fantasies going. Alas, I'm allergic to chocolate…but not to the fantasies!
Amber Green  Fried green tomatoes, sliced a bit thick and served all hot and aromatic. The crust is salty and a bit sweet, perfectly crunchy, while the insides are tart and rich and melting soft. Costoluto Genovese, a big lobey fruit with strong old-fashioned sharp tomato flavor, and Ponderosa Pink (with its small seed pockets) make really good fried tomatoes even when breaking ripe.
Avril Ashton  Ice cream. It's cold, it's sweet, it's all good.
Maxine Mansfield  Chocolate! How can any other food in the history of food be as sexy as chocolate. It is so very versatile. Chocolate forgives almost any transgression, puts you in the mood for all manner of naughtiness, and is so very fun to find and devour in games of …umm… hide and seek. 🙂
Julia Talbot  Food is sensual. Fun, Joyful. Rarely sexy
BA Tortuga  I think that the act of cooking and providing food is way sexier than the food itself.
Kayelle Allen  Chocolate. It not only tastes wonderful, it also makes great body paint. In at least two of my books, the characters melt it and slide it onto each other, and then lick it off. There's no way you can go wrong with that! Milk chocolate melts faster than dark chocolate, but dark chocolate remains thicker, so it takes more licks to remove.
Dee Brice  Chocolate. Because it is what it is. I prefer milk chocolate, and adore Lindor bonbons where the centers are caramel. Those are especially good spread and licked.
Diana Hunter  In case you couldn't tell from my answer about what I'd want on a deserted island, my favorite food is also the sexiest…chocolate.
First of all, the taste is sexy to me. A good piece of dark chocolate triggers a relaxation in all my muscles. The day's cares slide away and I go all gooey inside.
Second on the list, it comes in so many flavors and textures, just like a man's cock.. You can shape it into anything and eat it hard, or have it as a liquid and drink it down. It's incredibly erotic!
Third and last, pair a good dark chocolate with a glass of Tawny Port and you have the recipe for a very sexy evening…
Lynne Connolly  I don't find food sexy. Maybe a good steak, because it keeps up his strength!
Charlotte Boyett-Compo  Creme Brulee. I love the taste, the texture, the way it is prepared and served and it always comes after a very enjoyable meal. My husband used to love it and I once brought an extra one home from our favorite restaurant for later. I served it to him on my bare tummy. A bit sticky but he cleaned it all up.
Sharita Lira  Strawberries. The color and they might be sweet and a little bitter. 😉
Cameron D. James  There's a giant zucchini in the fridge right now. It gave me some ideas for my next book.
Christie Butler  Strawberries- they are so sweet and luscious, juicy. I love the way your mouth looks when you bite into one
Sabrina York  Obviously bacon. And chocolate. And coffee. And why? They all feel good going down…
Lucy Felthouse  I'm not really a foodie. I like eating food, but I'm pretty boring in my tastes, so I don't associate food with being sexy.
Eden Bradley  Chocolate! It really is an aphrodisiac-there's scientific proof that the chemicals in chocolate mimic the ones released in the brain when we're in love-and love is sexy for most women. And there's a lot of things you can do with chocolate syrup-just sayin'. ; )
Cassandra Carr  Wine, because it makes me giggly. So maybe not so much sexy for me as it is for my hubs. 😉 I don't tend to think of food items as overly sexy. Maybe it's the pragmatist in me.
Eliza Lloyd  Gourmet meals of any type and flavor. When I get a plate set in front of me that is colorful and different and drizzled with pretty liquids, my eyes have a food-gasm. I like that the plate isn't crowded and that it enhances the look of the prepared food. Sometimes I just want to stare at it…but then I devour it.
R.G. Alexander  Chocolate of course. Dark in particular. There is science to back this up, it definitely gets the juices flowing. Also sliced mozzarella and anything you can eat with your hands that needs to be dipped in butter. Or anything you can share. I find tapas wildly erotic.
Lainey Reese  Lemonade. I made a pitcher of homemade lemonade once where I sliced the lemons in rings. That sultry afternoon I sipped my lemonade from my husband and he loved what I did with the rings.
Katalina Leon  Every now and then we have a cold supper of finger foods, fresh fruit, cheese, hummus, crackers etc.. We sit on the floor at our coffee table and treat it like a picnic. My husband loves to eat this way, seated like a pasha on a cushion with a begging dog at his side. (Not me! I'm not the begging dog. We have a border collie who begs like crazy).
Donna Gallagher  Strawberries dipped in chocolate and a glass of champagne is always a winner in my opinion.
MK Schiller  For me, it's all about the sweet things so I'd say chocolate, caramel, and strawberries. They are the perfect aphrodisiac.
Leah Braemel  chocolate. Because, well, it's chocolate! You can melt it and drizzle it, you can spoon it and offer it to your partner, or you can nibble it while you're curled up with a good romance…
Victoria Blisse Oh, food is fabulously sexy, I write about it a lot there's a particularly sexy scene in my story Gluttony in Seven Deadly Sins which involves a chocolate fountain. Mmmm chocolate.
Jennifer Leeland  Berries are sexy because they're sweet and a finger food so you can feed them to someone. I love to feed my husband strawberries. And whipped cream. But that might just be the way I use it. LOL!
Kate Deveaux  Peaches in champagne….The bubbles mingling with the sweet smooth fruit slices…
Ayla Ruse  Just about any kind of fruit is sexy to me – eating wise at any rate. It's sweet, a lot of times juicy, sometimes tangy to the tongue. Eating fruit is simply put – an experience. It's more than filling your belly. And the really great pieces – whatever your favorite happens to be (mine: peaches, pineapple and oranges) you can't help but savor and moan and smile.
Fiona McGier  Dark chocolate mousse with raspberries and whipped cream on top and a hot-chocolate syrup. We had that once while staying at a romantic inn that had a gourmet dining room. We tried to figure out a way to sneak it back to our room so we could paint each other with it before licking it off, but alas, we had to merely lasciviously lick it off our spoons while watching each others' lips. Makes me feel all warm and tingly just remembering it!
Sarah Castille  Chocolate. So many things you can do with it in so many forms.
Cathryn Cade  Ha! Anything with alcohol in it. That makes anyone feel sexy.
Eliza Gayle  I don't think there are too many foods I don't find sexy. Well, maybe Sushi isn't sexy because I don't like it. But I rarely write a book without some food. I will say I think anything sweet is probably the sexiest to me. Not only do I have a crazy sweet tooth but sugary sweets seem so decadent.
Luna Zega  The usual suspects: chocolate mousse (I have a delicious recipe available on my website,) whipped cream, mushrooms (just kidding.) I think there are many ways to incorporate food into a romantic interlude. Of course, licking chocolate off your lover's body is the obvious way, but you can use aphrodisiacs to enhance an evening. Try a vanilla bean in your next glass of champagne–talk about making things interesting.
Lila Shaw Truffles. They are nuggets of luxurious discovery. You know it's chocolate, but the treasure your first bite will yield is a naughty secret. It's dark and decadent, creamy, silky, melts to the contours of your tongue and whispers its fingers along the sides of your throat as it slides down.
Kate Hill  Strawberries or any small fruit that you can bite and suck the juice. I like to watch the lip motion when someone I find attractive eats strawberries.
Heather Long  Chocolate cake because it's practically an orgasm waiting to happen.
Jean Hart Stewart  Wine. Can always picture a Parisian café and aproned waiters. What isn't romantic about wine?
Desirée Lee   Strawberries and champagne. I love slicing a strawberry partway through, sliding it on the rim of the champagne flute, then pouring the champagne over the strawberry so it mixes the flavors as it goes. The whole act seems rather alluring, watching the bubbling liquid caress the ripe, juicy berry – plus it's delicious to drink.
Nina Pierce  Strawberries. Because you can dip them in so many things and feed them to your partner or have them fed to you.
Bobbi Brattz  CHOCOLATE! It's creamy, smooth on the tongue, sweet and sensual to play with. Is it a food? Perhaps not, but I can't imagine life without it.
Kay Dee Royal  Stemmed marachino cherries…because one can prompt all kinds of things with those between the lips and still pop all of it (not stems) inside the mouth without drooling fruit juice and seeds;)
Tonya Renee Callihan  Strawberries are very sexy. Wrapping your mouth around an object, taking a bite and sucking the juice off…sexy as sin!
Gale Stanley  Finger foods are sexy – sushi, fruit… You can hand feed your partner and look into their eyes as you feed them. Maybe even nibble on their fingers when they feed you.
Naomi Bellina  Oh heaven help me, I love slurping raw oysters. The texture along makes me think of slippery sex. The smell, the taste, how can anyone not think of sensual delight when eating oysters?
Kemberlee Shortland  Peaches — sweet, juicy, tender. I *really* love snuffbox peaches. OMG are they good. Greatest scene was in City of Angels with Nicolas Cage and Meg Ryan where he gets her to describe a eating a peach because he doesn't have any human senses. Love it!
Hurri Cosmo  Whipped cream. I love the way it melts on the body.
Lyncee Shillard  Lasagna. The layers… it's sort of like having sex. The noodles are layered in like kissing. The cheese and the sauce is the foreplay between the kissing. Any extra's like peppers, mushrooms, etc are the sex toys…
Sherrie Henry  Oh wow, sushi, for sure. It's great finger food for feeding each other. The colors and textures make it very sensual.
Angelina Rain  Whipped cream. It's really fun to use that in bed.
Tracey Steinbach  Ice cream sundaes are sexy, in my opinion. They're gooey and soft and can be smeared for licking off. Or one person can take a bite and then french kiss his/her partner, making it the best ice cream they ever ate.
Trina Lane  Hot fudge sundaes with cherries on top. There's something so decadent about licking ice cream, fudge, whip cream, and cherries. Plus you can either sex it up and tease someone or simply enjoy the rich flavors. Its a win-win!

THIS IS THE RAFFLECOPTER FOR FRIDAY. DON'T FORGET TO CHECK OUT THE RAFFLECOPTER ON MONDAY, TUESDAY, WEDNESDAY, AND THURSDAY'S ANNIVERSARY POSTS.
a Rafflecopter giveaway