Enjoy these answers from a host of erotic romance authors — then enter the Rafflecopter below for a chance to win a $100 Amazon or BN GC and more!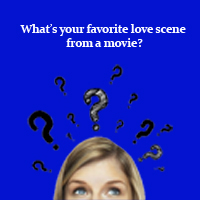 Melissa Schroeder
  I think it would have to be Top Gun. I am not the biggest Tom Cruise fan, but the scene itself was an amazing blend of sensuality and romance. It probably has something to do with the fact the movie came out my senior year in high school 😉
Karen Stivali  I was trying to think of something more obscure but my brain kept coming back to The Notebook. The scene where Noah and Ali make love for the first time, after so many years of longing, and so much misunderstanding and heartache just gets me every time. There's heat and desire (not to mention rain) and they can't wait another second to have one another. It's steamy and sexy and so full of emotion. It's a totally swoonworthy scene.
Heidi Lynn Anderson  The scene in Top Gun when Tom Cruse and Kelly Mcgillis go at for the first time.
Brenna Lyons  The scene from the uncut version of the original Terminator movie. Why? There's something inherently touching about how desperate Kyle Reese is to touch Sarah Connor. He's crossed through time to not only save her but to meet the woman he's obsessed over for so long. When pressed about his relationships, he admits to her what he feels, expecting that she will rebuff him, and when he learns Sarah wants him, he's completely unrestrained.
Erin M. Leaf I recently watched Friends With Benefits and nearly died laughing at one of the love scenes: the hero and heroine are having fun, but suddenly he jumps out of bed and runs for the bathroom. He needs to pee. It takes a while. The heroine makes funny faces, but the funniest part is listening to him complain as he tries to go with a serious, um, mechanical issue. 🙂
Wendi Zwaduk I love the scene in The Goodbye Girl when Elliott and Paula are laying in bed and she asks him what color to paint the bedroom. He replies, Successful. I love it because it's not overtly sexual, but you get the idea these two people are totally invested in each other.
Sandra Bunino  I love the rowboat rain scene from The Notebook. Allie is all made up in the rowboat with Noah. The rain comes and soaks them both. Her hair falls wet over her shoulders and washes away her make up. They look at each other and laugh… bam, the chemistry is back.
She gets out on the dock and says it wasn't over for her. Then Noah says. "It wasn't over, It still isn't over." And they kiss. Gah! It gets me every time. *dabs eyes*
Megan Slayer I'm not sure that I have one. I love when Harvey Milk (Sean Penn) and Scott (James Franco) hook up in the beginning of the movie, Milk. So cheesy, but romantic.
Renea Mason I don't watch a lot of movies so I'd have to go with the pottery scene in Ghost. So sensual. So tender. The movie encapsulates so many emotions–love, fear, grief, longing, desire.
To contrast this, even through it might be cheating since it's a TV show and not a movie, I'd have to say it's tie between the graveyard scene with Bill in season one and the scene when Eric and Sookie finally get to it on True Blood. Both scenes are red hot scorching!
Jessica E. Subject Neytiri and Jake Sully in Avatar.
Avril Ashton  The piano scene in Pretty Woman
Maxine Mansfield The scene in the pouring rain from the movie The Notebook. It never gets old. Every time I watch it, I still feel that moment of surprise when they first kiss.
Julia Talbot The Big Easy. Dennis Quaid convinces Ellen Barkin she can have an orgasm.
BA Tortuga The fight scene between Brad and Angelina in Mr. and Mrs. Smith — hot and funny and a little violent. 😉
Kayelle Allen I loved the scene in Last of the Mohicans when the hero picks up the heroine and slides her down the front of his body, into his arms, and kisses her. She reacts to him with abandon, and throws her arms around his neck. It's such a sensual, sexual kiss that if they didn't have their clothes on and weren't standing up, you'd think they were actually having sex. It has to be the hottest sex scene ever filmed with two characters who were fully dressed.
Denyse Bridger I have to go back to my all time favourite movie for this, and it's a classic scene… in Gone With the Wind when Rhett is drunk and Scarlett comes into the room – the undercurrents are tension laden, and seductive, there's something raw and sensual because it's the first time they are so truly honest in their responses to each other… then when he finally snaps and carries her up the staircase and into their bedroom – you just know that was an amazing night of intense passion and discovery.
Anya Richards  There is a scene that has stuck with me over many, many years and it was the first one that came to mind when I saw this question. It was in the movie "The Turning Point", with Mikhail Baryshnikov. It was erotic and athletic and graceful and I remember being completely enthralled…and left wishing I was far more nimble than I am in reality!
Dee Brice  In the Big Easy, when Ellen Barkin goes absolutely nuts while Dennis Quaid seduces her. Of course, at that point, we have coitus interrupts.
Diana Hunter The final scene of The Secretary – after they're married and he takes her while she'd tied to a tree. Why is it my favorite? Have you read my books????
Lynne Connolly The final scene from "Casablanca" when he says "We'll always have Paris."
Charlotte Boyett-Compo Not a movie but a television series: Banshee, episode 8. Our soul-wounded hero has been betrayed by the woman he loves more than his own life…a woman he spent 15 years in prison to protect…has betrayed him to her father, a Ukranian mobster intent on torturing our hero to death. He manages to escape and when he returns to his home, he finds her waiting for him. The subsequent love scene is filled with such sadness, angst, pathos and sensuality, it will bring tears to your eyes. No one does sad eyes and a wounded expression as well as Antony Starr.
Sharita Lira Fave love scene? One of them is the scene with Akasha and LeStat from Queen of the Damned. I know, the movie isn't all that great but the two of them in the tub of floating roses, biting one another… ohh… *shivers*
Cameron D. James  This isn't a movie, but the first sex scene between Nathan and Stuart in the UK Queer As Folk was smoking hot. It had the enticing age difference and Stuart taking Nathan's virginity. There was lots of nudity and sensuousness… it was hot.
Christie Butler  It's not really a love scene, but my favorite romantic scene is from The Year of Living Dangerously when Mel Gibson goes to the party at the British Embassy to steal Sigourney Weaver away. At first she refuses, but then she goes with him and they drive through a check point and their car gets shot up and then they can't keep their hands off each other. Hot
Alexandra Christian For a romance novelist, I'm probably not the most romantic of all people. I don't like what you'd call "date movies" and therefore, sweet love scenes bore me. However, I do have an extensive list that might be a bit odd. Probably the best one, the one I go back to over and over again when I'm thinking about putting together a scene, is from 1939's"Gone With the Wind." Scarlett is home from a party after being caught kissing her best friend's husband. When she arrives, her husband Rhett is waiting for her, drunk and angry. He's desperately in love with Scarlett, but knows that she only has eyes for Ashley. The two engage in a heated, but passionate argument over a bottle of brandy and finally Rhett grabs her and says "This is one night you won't shut me out." He picks her up, kicking and screaming and carries her off up the stairs. I saw that movie the first time when I was eleven years old and even then I could see the sexiness of that scene. In fact, I'm getting hot just thinkin' about it….
Sabrina York I don't know if it counts as a love scene (coming from an erotic author) but my favorite love scene of all time is from the Princess Bride, when Buttercup shoves Wesley down the ravine, snarling "You can die, too, for all I care!" And he responds with, "As you wish!" She realizes the Dread Pirate Roberts is her one true love and flings herself after him. To me that is the most romantic moment ever. Also, it's funny. I find funny sexy.
Rory Ni Coileain  I can't choose between the love scenes in Rob Roy. There's one where Rob and Mary are trying to have some husband/wife time in the one-room cottage they share with their kids, very quietly so as not to wake the young'uns, And there's one under a standing stone, not far from the cottage… sweet and hot and two people totally in love with one another.
Lucy Felthouse Hmm, it's not a movie, so I'm breaking the rules already, sorry! But there's an episode of Supernatural (my favourite show) where Sam Winchester (my favourite character) has extremely hot, forbidden sex with a demon, Ruby. I'm not sure if it was because the two actors had real-life chemistry (they're now married with their second kid on the way), but I thought it was super hot and imagined myself in Ruby's place many a time!
Eden Bradley One of my favorites(I have a LOT!) is from the movie Love and Other Drugs with Anne Hathaway and Jake Gyllenhaal. It's the first time they have sex-one of those scenes where they're so hot for each other they can barely wait until they get in the door-they do it on her kitchen floor! It was the first time I got why Jake is sexy-and boy, is he sexy!
Cassandra Carr  It's not because it's ultra-romantic or anything, but I find it hilarious. The love scene near the end of One Fine Day with Michelle Pfeiffer and George Clooney. He looks absolutely flummoxed when she runs away from him and goes into the bathroom, where she's seen shaving her legs, brushing her teeth, and then going to her room to change into something sexier. By the time she comes out, poor George is asleep.
JB McDonald  Honestly? I hate love scenes in movies. Usually all I can think is, "His lips look so puffy," or "Ouch, that nose squish looked painful," or, "I've tried kissing under the shower spray and I HATED it. I wonder if her face is too hot/too cold or if she feels like she's drowning right now, too?" or some other such thing.
No, give me a written scene where I can mentally make it as awesome as I want, and the bits I would find uncomfortable are shown to be fantastic for that character. I much prefer that!
Savanna Fox  The first love scene from "The Big Easy," with Dennis Quaid and Ellen Barkin. She's a buttoned-up lawyer and he's a charming, sexy, bad-boy New Orleans cop. The love scene is steamy, fun, and tender – and oh man, did he have a great body! She says that she's never had much luck with sex and he says, "Your luck's about to change." Can any woman watch that scene and not want to be her?
Amanda Young  My favorite sex scene in a movie is from the film Shortbus. Rather than naming one scene in particular though, I'd have to recommend watching the entire movie. It's so evocative, thought provoking, and titillating. Knowing the actors aren't faking the sex is pretty inspiring as well. 😀
R.G. Alexander  Despite all the profoundly dirty scenes I have written-many of them menage…sexy love scenes in movies occasionally make me blush and hide my face in my pillow. It's true. My husband and family tease me about it all the time. But if we're talking about LOVE, then I have tons. I used to cry when I watched the end of An Affair to Remember "It was the nearest thing to heaven, you were there."
And I love that scene from the most recent Pride and Prejudice "You have bewitched me body and soul and I love, I love, I love you" *sigh*
I love the horrible singing in public at the end of Matchmaker, and the running and nearly dying to jump on the trolley in Defending Your Life (I'm a sucker for people who make fools of themselves for love) I also always loved While You Were Sleeping, and Love Actually-not any one scene as much as the entire movie. I'm a fool for love…which, I think, means I chose the right profession. *G*
Lainey Reese Viggo Mortensen in A History Of Violence. The scene on the stairs. Wow. It's so full of passion and anger and desperation. It churns up my insides every time.
They love each other so desperately and when he thinks she is going to leave him…the caveman in him rears up, he chases her down and reclaims her right on the stairs. All fire and fury and hard pounding…Mine, Mine, MINE. I like.
There are so many beautiful love scenes, Shakespeare in Love, Pretty Woman, The Notebook and Dirty Dancing. They all move me and make me breathless. But…the one that sticks with me. The one scene that makes me squirmy…it's that one. What can I say? I'll take a cave man over a poet any day.
MK Schiller  It has to be 'you had me at hello' – Jerry Maguire. The reason I love this is because of the redemption of the main character. I love it when guys get makeovers in movies and he got a huge internal makeover for sure!
Leah Braemel  The scene in Ghost that starts with Patrick Swayze joining Demi Moore at the clay wheel. OMG I love that scene. The tenderness that Patrick Swayze shows, neither caring about the messiness of the clay, the sheer passion between them.
Victoria Blisse  Oh, I absolutely adore the scene in City of Angels…mmm, half naked Nicholas Cage…*drifts into a daydream*
Jennifer Leeland  I think my absolute favorite love scene in a movie is "Persuasion" with Amanda Root who plays Anne. The scene where she is speaking to Captain Harville and says the best line ever "If I may, so long as the woman you love lives, and lives for you, all the privilege I claim for my own sex, and it is not a very enviable one – you need not covet it, is that of loving longest when all hope is gone." and Captain Wentworth, the man she's loved for years, listens intently. He quickly writes her a letter, an impassioned plea that declares his love in the MOST BEAUTIFUL WAY. I love that scene. The emotions are off the chart.
Kate Deveaux  Cosmos making love to Shirley Valentine when he kisses her stretch marks, it is so realistic it is erotic and funny!
Ayla Ruse  No, not one. Two come to mind and they both rank high for me: Pretty Woman – where Richard Gere and Julia Roberts kiss for the first time then make love. The second is Dirty Dancing – where Patrick Swayze and Jennifer Grey dance then make love for the first time. Hmm, seems I have a thing for firsts.
Fiona McGier   I love the scene from Mr. and Mrs. Smith where Brad Pitt and Angeline Jolie are fighting, beating the crap out of each other, trying to prove who is better. The next minute they're devouring each other, having sex on the broken glass, because they can't fight their attraction for one more second! Phew! What passion! What intensity! And I do love me some Brad Pitt (before he started wearing his hair so long.)
Sarah Castille  Bridges of Madison County – The scene with the cars in the rain. Sob.
Anna Alexander The one I remember most is the one from Top Gun. I was a kid going, "Oh my god! I see his tongue going into her mouth!" Blew my young mind.
Cathryn Cade  Oh, that would be The Last of the Mohicans. Hawkeye (Daniel Day-Lewis) and Cora (Madeleine Stowe) are in a crowded fort on the American frontier, crammed with refugees from the French & Indian Wars. They are mad with love and passion, but the only way they can be together is against a wall in a dark corner of the stockade, because no one must discover them. At daybreak they may die a horrible death, so they have only this moment. So intense!
Luna Zega  The Big Easy—one of the scenes between Dennis Quaid and Ellen Barkin. They are making out and he slips his hand up her skirt. They don't actually get anywhere because he gets called out to a grisly murder or something, but the heat and passion in the scene makes my heart palpitate.
Lila Shaw  I love the unexpected displays of passion, when hate / disdain / aggravation does an unexpected U-Turn…like when Mr. Darcy suddenly shows up and declares his love for Lizzy Bennett when previously she thought he disliked her … George Bailey grabbing, shaking and kissing Mary Hatch in It's A Wonderful Life after he's told her to get lost… Ethan Hawke kissing Winona Ryder in Reality Bites after they bicker when she returns from her date with another man. He's raking her over the coals for her behavior one second, pouring his soul into that first stolen kiss the next.
Kate Hill  Definitely the love scenes in Role/Play. That movie was a truly great romance. Tender and sexy with some funny moments as well as serious ones. The sex scenes were hot but emotional as well. That's what made them my favorites.
Heather Long Tequila Sunrise – Mel Gibson and Michelle Pfeiffer in the steam room. Yowza.
Jean Hart Stewart  Love the last scene of a Summer to Remember, where Cary Grant finds out why Deborah Kerr has been avoiding him. He's sees her wheel chair and realizes she's been loathe to have him care for her out of pity. The look on his face is wonderful.
Desirée Lee  Oh wow, my mind totally drew a blank on this one. Is it weird that I can't remember any off the top of my head? I guess I need to watch more romantic movies.
If we can count a TV show though, I loved the scene in Game of Thrones where Daenerys Targaryen finally took the upper hand with Khal Drogo during one of their sexual encounters – and he found having her be the dominant one enjoyable.
Nina Pierce  I think my favorite romantic comedy of all time is "50 First Dates" with Adam Sandler. I love the part where they show them falling in love and he gets a "first kiss" every night. I know it's more than one scene, but it's so sweet and romantic.
Bobbi Brattz  There are too many erotic scenes to choose from, however, in the movie 'Ghost', Patrick Swayze and Demi Moore made clay into a hot and steamy lava. I only imagined it was hot fudge…honestly!
Tonya Renee Callihan  The Notebook! When Noah and Allie make it back to the deck, there is anger, confusion and want. And it's sexy and passionate. And I love the rain!
Gale Stanley  Bangkok Love Story. A hitman falls for his target. The setting is beautiful, the men are eye candy, and the love story is heartbreaking. There's a bath scene on a rooftop that leads to sex. OMG! So HOT!!
Naomi Bellina One of my absolute favorites is from A Fish Called Wanda. Not really a romance movie, but I love when John Cleese starts speaking Russian to Jamie Lee Curtis. She gets turned on by foreign accents and up to this point has had to do with a cheesy imitation Italian from her latest lover. You can see the spark in her eyes when John starts to speak the real thing. She ends up crawling on the floor with lust. It's a delightfully hot, funny moment.
Kemberlee Shortland It's not from a movie but an episode of Hell on Wheels. When Cullen and Lily finally make love. The expressions on each actor's face looks genuine and believable. It felt almost sinful to watch them. The music (Annabel by The Duhks) was perfect for this union. Gives me chills every time I watch this scene —
<a href="http://www.youtube.com/watch?v=bNwKel1A2UA">http://www.youtube.com/watch?v=bNwKel1A2UA</a>
Hurri Cosmo  It's not necessarily a making love scene but the one that comes to mind first is the scene from Ghost at the potters wheel.
Trina Lane  I have to only pick one?! So the part of me with a twisted sarcastic sense of humor wants to say the sex scene from "Team America: World Police" because what's better than two puppets getting it on. In every position, in every way. And some I didn't need to see on a big screen. 🙂
Now the more romantic side of me would choose the scene from Latter Days. There was something completely sensual and freeing about when those two men finally gave into their attraction. I probably hit rewind on my netflix control a dozen times.
Elyzabeth M. VaLey  Mmmm… I think I'm going to go with the first kiss between the characters. That first touching of lips always holds a special significance 🙂
THIS IS THE RAFFLECOPTER FOR MONDAY. DON'T FORGET, THERE'S A DIFFERENT RAFFLECOPTER WITH NEW PRIZES TOMORROW. 
a Rafflecopter giveaway