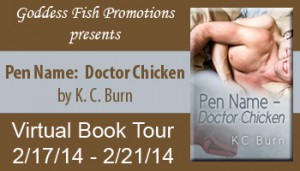 This post is part of a virtual book tour organized by
Goddess Fish Promotions
. The author will be awarding a $20 Amazon Gift Card to one randomly drawn commenter and a $20 Starbucks Gift Card to a second randomly drawn commenter during the tour. A randomly drawn commenter at each stop will be awarded an autographed copy of the book (international giveaway).
Guest Blog by K.C. Burn
So, here's a little story about how
Pen Name – Doctor Chicken
came about. This was the first time I've ever had a book develop in this way. I was trying to come up with the name of a gay bar for my previous book,
Cast Off
. I started out by Googling "penis euphemisms. By all that's holy, if you're faint of heart or weak of stomach, don't do it! I mean, some of them were hilarious, but I have two words for you "mayonnaise cannon". Yuck, right? Although I did enjoy "Beefy McManstick". That may appear in a book sometime in the future.
Anyway, I decided to leave the penis euphemisms for some sort of alliteration and shortly thereafter I found this random two-word phrase generator . I played around with it, and it paired Doctor Chicken together. That was it. All of a sudden a number of idea snippets I had coalesced into one single, solid idea, based around a character idea I'd had for a writer or journalist who kept getting into trouble with almost innocuous typos. I played around a little more, getting some inspiration for some of Doctor Chicken's story names.
One of the idea snippets that I was able to incorporate was "a cat named Bob Marley". That phrase got stuck in my head while grocery shopping one day, and I knew the person who owned the cat didn't know why the cat had that name. Everyone assumed he either liked reggae or weed, but of course he likes neither.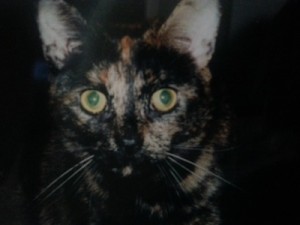 I jotted that idea down, and forgot about it until I decided Stratford Dale needed a cat. No reason for Stratford not to have the above mentioned Bob Marley. And if I was going to have a cat take as prominent a role as Bob Marley does, then I decided to base him/her on one of my cats. My sweet Isis, who we had to put down a couple of years ago, was one of the best cats I've ever come across. She was just adorable, and every time I'm describing Bob Marley, it's all Isis.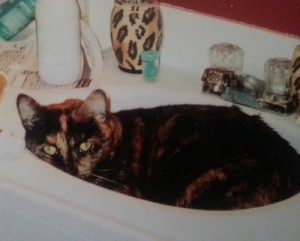 You could pick this cat up and do anything with her. Hubby used to turn her upside down and make her dance on the ceiling (we lived in a basement apartment at the time). Of course, she would often wake us by licking our eyelids or the inside of our noses, which hurts like crazy with that sandpapery tongue. Alternatively, she'd stand on our throats, putting all 15 lbs to good use. But we knew it was all done with dopey affection, occasionally with her tongue sticking out just a bit.
I've added a couple of shots of the fat cat (one of her many nicknames) so that when you read Doctor Chicken, you'll know what Bob Marley looks like.
Thanks for having me!
About the Author:

KC Burn has been writing for as long as she can remember and is a sucker for happy endings (of all kinds). After moving from Toronto to Florida for her husband to take a dream job, she discovered a love of gay romance and fulfilled a dream of her own – getting published. After a few years of editing web content by day, and neglecting her supportive, understanding hubby and needy cat at night to write stories about men loving men, she was uprooted yet again and now resides in California. Writing is always fun and rewarding, but writing about her guys is the most fun she's had in a long time, and she hopes you'll enjoy them as much as she does.
Website ~ Twitter ~ Facebook
Sometimes Stratford Dale feels like Doctor Chicken consumes his life. It's his pen name for a series of wildly popular children's books. They were his brainchild; he meant for them to be a way to pay his many bills while he pursued his dream of publishing graphic novels. But the Doctor Chicken contract was a raw deal. Instead, he churns out book after book for a pittance, leaving him broke and no closer to his dreams.

Stratford's dreams of love have fared no better, but he's still trying. After yet another disastrous date, he's intrigued by a man going into a cooking class—so he takes the class too. Vinnie Giani is a successful, self-made man who is charmed by Stratford's bow ties, sharp humor, and clumsiness—which leads to an opportunity to take Stratford in for stitches. Vinnie is, above all, responsible, having taken on the care of his mother and sisters from a young age. Perhaps it's natural when he begins to treat Stratford more as a child who needs a parent than as an equal partner. But when Vinnie tries to "fix" Stratford's career woes—including the Doctor Chicken problem—and ends up making the situation worse, their fledgling relationship may not withstand the the strain created by blame and lies.
Buy the book at Amazon or Dreamspinner Press.