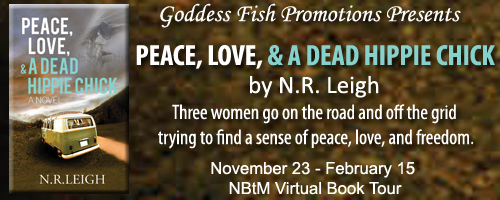 This post is part of a virtual book tour organized by
Goddess Fish Promotions
. N.R. Leigh will be awarding $20 Amazon/BN GC to a randomly drawn winner via rafflecopter during the tour. Click on the tour banner to see the other stops on the tour.
Peace, Love and a Dead Hippie Chick Character Interview by N.R. Leigh
I first wrote my debut novel Peace, Love and a Dead Hippie Chick as a screenplay in 2009 titled Run Away Girls. Dabbling in Indie film production at the time, I was trying to get a feel for the behind the scenes process in an effort to hone my screen writing. After I finished the script, I optioned it to several producers—all who encouraged me to adapt it into a novel—to further develop the cast of colorful characters. Here are some character interview questions from author Marcel Proust, which I used to get inside the three Hippie Chicks' heads…
KARA
What is your idea of perfect happiness?
Kara: Living unencumbered by others ideals and judgments, with a family that I love.
What is your current state of mind?
Kara: Scared, in defensive mode, and constantly on the move.
What is your greatest fear?
Kara: Being a slave to others' wants and desires. Being forced to do something I refuse.
What is your greatest regret?
Kara: Letting him get into the car on New Year's Eve.
AMY
What do you consider your greatest achievement?
Amy: Graduating high school a half year early so I could take over Angel Wings Cleaning Service for Mama until her back heals up.
What's your most treasured possession?
Amy: My Bible.
Which talent would you most like to have?
Amy: At this point I'd take any, but if I had to choose, it would be the ability to talk to God.
What or who is the greatest love of your life?
Amy: I haven't had a true love yet, but I'm hoping it will be Jimmy!
NATASHA
What is your greatest extravagance?
Natasha: Walking away from the privilege I was born into. I could have anything that money could buy, but all I wanted was what it couldn't: my escape.
What is your most marked characteristic?
Natasha: I guess others would say my beauty.
What do you most value in your friends?
Natasha: The ability to let loose and explore.
What is the quality you most like in a man?
Natasha: There are too many to list…
What do you consider the most overrated virtue?
Natasha: Prudence.
Ultimately, I'm happy I took the producers' advice and got to know the Hippie Chicks deeper than the screenplay would allow. I plan to option the novel again in the near future. There's plenty of talk and criticism in Hollywood about the lack of leading roles for women. I could see AnnaSophia Robb as Amy, Dakota Johnson as Kara, and Odeya Rush as Natasha. Not to mention the three supporting male characters Jimmy, Rock-n-Roll, and Ian who would be a dream to cast; and the multiple villains who would not.
Peace, Love, and a Dead Hippie Chick follows the intertwining journeys of three young women in the mid-1990s who go on the road and off the grid, and leave their worlds behind. Each woman falls into a dangerous subculture of sex, drugs, and rock and roll in an attempt to attain her own sense of peace, love, and freedom.

KARA, a middle-class Midwestern girl, flees her painful past after a tragic accident claims a loved one, only to learn—after a violent attack—that there's no safety among friends or strangers. Survival rests in her hands alone as she escapes into the wilderness of New Mexico.

NATASHA, born into privilege, rebels against her family's expectations as she follows the Grateful Dead concert tour circuit, selling contraband and exploring her sexual freedom.

AMY, an impoverished Southern belle, becomes love-struck when an exotic drifter passes through town, deciding to leave home and follow him.

This intricately interwoven coming-of-age tale delves into the connection between strangers and the premise that the grand orchestration of life goes well beyond chance.
Enjoy an excerpt:
Grae
Friday, April 13, 2012
Eighteen Years Later
I've heard it said that Volkswagen buses choose their owners and not the other way around. Some believe they're engineered and built with a secret mojo that allows this to be true. Ask anyone who's ever owned one, and they'll tell you it's so. I wonder whom this one chose. During my entire life, it's been sitting like a convict on death row, imprisoned in the rear corner of our jungle property next to our dog Parker's grave—over eighteen years now, grass growing over its wheel wells and tropical foliage climbing onto the windshield, awaiting execution by vegetation. I hadn't paid much attention to it until this morning. My parents had never spoken of it.
***
Daylight broke through the fronds of the areca palms as I stepped onto the sod—the lawn was wet with morning dew—and began to dribble my soccer ball along the length of it. I drilled the ball, sending it sailing across the yard and directly onto the van's back door, popping it open. Cursing my crooked instep kick, I pushed through the tangled waist–‐‑deep flora in an attempt to close the hatch but climbed inside out of curiosity. The license plate reads New Mexico, Land of Enchantment. Although born in Arizona, I've never technically set foot in the United States. We moved here when I was an infant.
About the Author: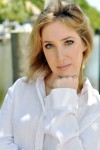 N.R. Leigh began her writing career in 2007 as a featured columnist for the guerrilla newspaper The Uncommon Sense. She since has written books as an expert on personal health and wellness under the pseudonym Nicci Leigh.
She was inspired to write her debut novel, Peace, Love, and a Dead Hippie Chick, by a conversation with a friend, who described a newspaper article regarding the events that surrounded a group of hippies' visit to her small town and the havoc they caused. This crazy, fascinating account, coupled with N.R.'s experiences traveling the United States in her early 20s, gave birth to her story.
N.R. has a background in education and teaches aesthetics, yoga, Reiki, and related holistic modalities. Born and raised in Flint, Michigan, she currently lives in a rural coastal community in southwest Florida with her family and their Australian Kelpie, Sydney, who believes she's a Tasmainian Devil.
N.R is inspired by funny people and those who create positive change and peace. Her friends and family describe her as driven, strong, silly, and independent. Something most people don't know about her is that, at age eighteen, she aided police in the capture of a team of bank robbers.
N.R. is working on her first fiction series, Imagine Yasmin.
Please visit her website to connect.
Website | Facebook | Twitter | Pinterest | YouTube, Goodreads
Buy the book at Amazon.