Long and Short Reviews welcomes Mary Hughes, who is here with us to celebrate the release of her newest book Passion Bites. Enter the Rafflecopter to win one of five $10 Amazon gift cards.
*****
My thanks to Long and Short Reviews for inviting me today!
Who am I? A lover of stories that crackle with action and love. A mother, a flutist, a binge-TV-watcher of NCIS, Sherlock, and Agents of SHIELD. Most of all, a believer in grand passion.
Ah, yes. Love that lasts forever.
That's why I normally write first meets, quivering with anticipation for that glance across the room. Heart racing with the electricity singing between hero and heroine, charging two souls, annealing them into one—with plenty of friction, snappy banter and sizzling hot vampire sex along the way.
Except for this book, Passion Bites.
I wasn't sure I was going to ever write Luke Steel's story, actually, because the graceful, insouciant blond, twin to Logan from Biting Me Softly, is a widower.
Yes. Three hundred years ago, Luke's wife died in a tragedy that scarred him permanently. How did I deal with that honestly, and yet give him his grand passion, his happily-ever-after?
Strangely, it was a woman whose own emotions are clogged who finally emerged from the pages as Luke's savior. But just because physician Alexis Byornsson is nicknamed Dr. Frozen doesn't mean she doesn't have feelings, quite the opposite! Though she does her damnedest to deny them.
Bringing these two together was the hardest and yet most beautiful and fruitful thing I've ever attempted. Luke's agony is emotionally gripping, and his story brings heartbreak and finally tears of joy.
Though there's the usual Meiers Corners laughs and sizzling sex too.
Have I succeeded in giving Luke his happily-ever-after? Please read Passion Bites for yourself and let me know.
Dr. Alexis Byornsson has her hands full in the ER when her patient's uncle blows into the exam room. Stitching up a five-year-old's cut is hard enough without a blond god distracting her all to hell.
To say she's furious is putting it mildly—not that anyone would notice. Not with the legendary control that's earned her the nickname "Dr. Frozen".

Luke Steel never knew a woman chastising him could be so sexy. But for the first time in three hundred years, passion stirs in his gut—along with panic. Since his wife was taken before his eyes in a brutal attack, he's sworn he'd never feel that powerless again.

Almost before either Luke or Alexis realize what's happening, they're sharing a blazing kiss that shatters her logical armor and unleashes his wholly unwanted mating instinct. And spurs a closer-than-skin enemy to put into motion a devastating plan for revenge.

Warning: This book contains a hot doctor and a hotter vampire messing up sterile surfaces. The usual rogue shenanigans, but this time covering deeper motives. Hang on to your stethoscopes at what's revealed!
Enjoy an excerpt:
"You are not taking my townhouses." I glared up into Julian's blue eyes…no, actually they were a distinct shade of peeved violet.
"They're not your townhouses." The lawyer gritted the words around canines a mite longish, and his tone promised death and dismemberment, not necessarily in that order.
Anybody else would've been crapping pants' loads of bricks.
But those voice and eye tricks reminded me of hospital administrators, focused on the almighty bottom line instead of patient care. I'd battled enough of them who'd wielded tone and expression like blunt swords. I wasn't that impressed.
Besides, I'd had a trying night, and though I ate healthy and exercised, at thirty-nine the little aches and pains of aging were knocking at my muscles and joints.
If he was cranky, I could be cranky right back.
I kicked up my jaw and met him stare for stare. "Yes, they are. Those townhouses are mine."
"They're not yours until you pay for them."
"I put down earnest money plus a security deposit. Ten thousand dollars." My throat thickened on the words. That ten thousand was all I had. As a physician I made a fair amount, but hefty school loans and a somewhat open hand with my patients, shelters and other charities insured I'd hemorrhaged most of my savings. Yet when the opportunity came, I had to jump on it with everything I had left; Lizelle needed me. "Those buildings are as good as mine, and you'd better back off."
"You dare to tell me I should back off?" Julian surged forward—not a psychological trick this time, but real emotion goosing him.
I flinched away.
Before he could force me off the stoop with his sheer presence, long male fingers curled around his biceps, slim but insanely strong because they immediately checked him.
My body stirred at the strength in those artistic fingers.
The face belonging to the fingers appeared in the doorway a moment later, a movie star's gorgeous close-up framed by hair of sunshine—and eyes glittering red-gold in the electric light.
Luke Steel.
My body rose up and shouted halleluiah. I gave it an annoyed whack. Sputtered, "What are you doing here?"
Luke slid past Julian onto the stoop, a lazy smile curving his lips. "Saving you from a tongue lashing."
Tongue lashing? If it were Luke's hot tongue…argh. "I can hold my own in an argument."
"Even with a lawyer?"
"Especially with a lawyer." I glared around him at Julian.
Julian glared back, violet eyes shading angry red—until Luke popped an elbow back into his gut.
"Oof." Julian's eyes cooled to blue. "I don't have time for this. Steel, deal with her." He spun and stalked off.
Leaving me face-to-face with six-three of graceful power.
About the Author: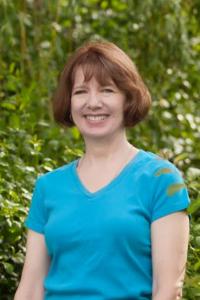 As a girl, Mary Hughes spun romantic, happily-ever-after stories to get to sleep. A husband, family, two degrees and a blackbelt later, she's delighted to spin them for readers.
She's lived with love and loss, in bright times and dark, and learned we can all use a break from reality every now and then.
So join her for action, sparkling wit and red-hot love. Strong men. Stronger women.
Website | Facebook | Goodreads | Twitter | Pinterest | Amazon
Buy the book at Amazon, Barnes and Noble, All Romance, iTunes, or Kobo