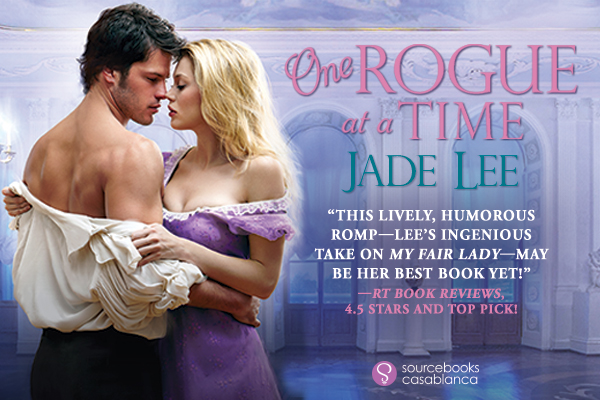 Long and Short Reviews welcomes Jade Lee, whose newest book,
One Rogue at a Time
, was just released. Enter the Rafflecopter at the end of the post for a chance to win a print copy of the book (US only please).
Enjoy an exclusive excerpt:
A Word From Jade Lee: Our poor hero Bram has been wounded in a fight defending the heroine (nicknamed Bluebell) from the villain. She's a matter of fact kind of woman, and as usual her words just blurt out as she tends to his wound. But she doesn't expect his response…
One of his hands slid down her side, cupping her bottom before squeezing it. But then he broke away from her. He tore his mouth aside, his breath heaving in and out.
"Bluebell," he said. "We can't."
Oh, they could. They most definitely could. But she didn't say that aloud. Instead she nodded. "Lie back. Let me wash the cut."
"No—"
She glared at him. She knew her cheeks were flushed and her nipples tight. Lord knew she was all liquid inside when it came to him. But she made sure she appeared much stronger than she was.
"Take off your shirt, and lie back."
"It's nothing." But when she did not change her expression, he sighed. He pulled off his ruined shirt, and the candlelight cast his hard muscles into a golden relief.
"Lie down," she said, her mouth dry.
He did as she bid, the mattress creaking slightly under his weight. She wrung out a cloth in the basin, and she sat on the bed beside him as she gently wiped away the blood.
"I love you," she blurted out. Then she froze. Lord, she hadn't meant to say that yet. She hadn't meant to confess it so baldly. But there it was. She'd said it, and so she was forced to continue. "I don't know when it started. It was a quiet thing, growing from something so tiny that I didn't even notice. Like spring, when suddenly you look around and everything's blooming, and you hadn't even realized."
She watched him swallow. His eyes were shadowed and his body completely still. He was holding everything inside, and she'd never know his thoughts. So she focused on her task as she cleaned his wound.
"It happened yesterday," she continued, purposely keeping her tone light. "I hadn't heard from you in days, and everything was awful. I missed you. I wanted to talk to you. I wanted…" Well, there were many things she wanted from him. With him. "And then today you were here, and it was spring."
She set aside the cloth, hardly daring to touch him again without knowing what he was thinking.
"That's gratitude, Bluebell," he finally rasped. "It's not love."
She twisted his nipple hard. She hadn't intended to, but she'd been looking at that brown flat disk with the tight bud. She'd been seeing the golden hair that whorled around it, and then he'd made that stupid comment. So she'd pinched him, except she'd been looking at his nipple so she pinched that.
"Ow!" he cried out, gripping her hand as his belly jerked, and his legs lifted off the bed.
"Don't tell me what is and isn't love. Do you think I haven't felt thanks before? Do you think I don't know when my heart is given to a man? I'm a woman grown and—"
He jerked her forward. A heave from his hands, and she landed flush on his chest. Then his mouth was on hers. She was greedy as she lay on top of him. She thrust her tongue into his mouth and felt him groan as the sound rumbled from his body into hers. He let his hands roam, caressing her back and bottom. And there, hot against her private parts, was his organ. Big and rock hard, even through their clothing. She rolled her pelvis against him, and once again, felt that low rumble between them.
But then he held her back. His expression was tortured as he pushed her up. "I've lied to you," he said.
USA Today bestselling author Jade Lee continues her saucy, vibrant Rakes and Rogues Regency romance series with a high-society outsider who may have met his match…

A brown-eyed bastard with nothing to lose

As the illegitimate son of a duke, Bramwell Wesley Hallowsby grew up tough, on the fringes of society, learning to hide his hurt and cynicism with charm and Town polish. He's carved out a place for himself as a mercenary, serving as bodyguard and general strong arm for the peerage. Bram has nothing to lose… and he's exactly what Maybelle "Bluebell" Ballenger needs.

Meets his match in a blue-eyed beauty with everything to hide

Maybelle needs a mentor to teach her to speak and act like a lady, so she can claim the place in society she was denied. As they team up to take on the ton, Bram knows she's hiding something even from him. Despite the deception he sees behind those sparkling blue eyes, Bram wants to believe that Maybelle's love is no lie. But it seems fate has served him up his just desserts in the likes of this determined damsel.
About the Author: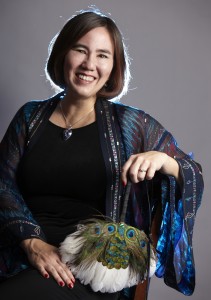 USA Today bestselling author Jade Lee has been crafting love stories since she first picked up a set of paper dolls. Ballgowns and rakish lords caught her attention early (thank you Georgette Heyer), and her fascination with the Regency began. An author of more than 40 romance novels and winner of dozens of reader awards, she brings laughter into the sexy nights of England's elite. Quirky characters and sexy banter are her hallmarks. Find out more at her website or check out her wild contemporary half.
Buy the book at Amazon, Apple, BAM, Barnes and Noble, Chapters, or Indiebound.