This post is part of a virtual book tour organized by the publisher. Enter via the Rafflecopter below to win one of five digital copies of
One Last Song
which released this week.
Top Five Presents You Regret Getting
by S.K. Falls
A mega-bar of Toblerone. It's quite possible I'm now a diabetic.
One year I got dish towels from an acquaintance. And dish soap. No kidding. I didn't know whether to laugh or be seriously offended.
A giant pink fleece blanket. It's gorgeous and warm, but it makes me want to never get out of bed on cold winter mornings.
A recipe for a coconut milk hair mask. The recipe didn't mention it was meant to be refrigerated, so I made it and left it on the windowsill in my bathroom. The entire bathroom smelled like vomit for two days before I finally figured out the coconut milk had gone rancid. Ew.
A Sephora gift card. Such an awesome gift at first glance, but the insidious makeup addiction that creeps up on you is the worst side effect ever.
I was seven when I swallowed my first needle.

My mom freaked out and rushed me to the emergency room.

She stayed by my side all night.

I never wanted it to end.

When you spend your whole life feeling invisible-when your parents care more about deals and deadlines than they do about you-you find ways of making people take notice. Little things at first. Then bigger. It's scary how fast it grows. Then one day something happens that makes you want to stop. To get better. To be better. And for the first time, you understand what it's like to feel whole, happy . . . loved. For the first time, you love someone back.

For me, that someone was Drew.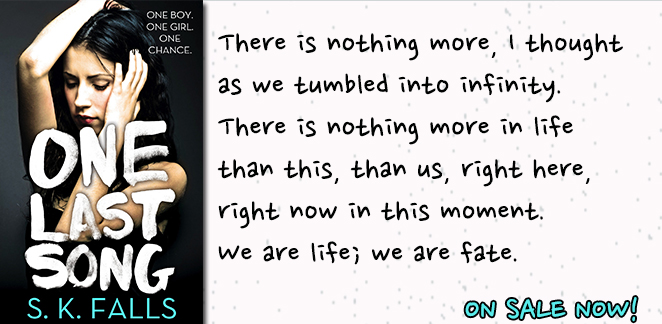 About the Author: 2014 IPPY award-winning author S.K. Falls believes a degree in psychology qualifies her to emotionally torture her characters in an authentic fashion. When she isn't writing her twisted love stories, she can be found gallivanting around Charleston, SC with her family.
Buy the book at Amazon, Barnes and Noble, iBooks, Kobo, or Google Play.