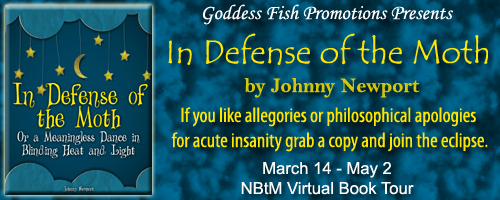 This post is part of a virtual book tour organized by Goddess Fish Promotions. Johnny Newport will be awarding a $15 Amazon or Barnes and Noble GC to a randomly drawn winner via rafflecopter during the tour. Click on the tour banner to see the other stops on the tour.
On the Ironies of the Universe
What is the most amazing thing to me about our material universe is not that only a relative handful of people can make heads or tails from the hodgepodge of astrophysical knowledge we've managed to cobble together, but that nobody in existence—right now in this moment, in this space and time—understands it fully.
At the risk of digressing into a blog of cosmos mania (the gravitational waves news of a month ago has really thrown me for a loop and I've yet to fully recover), allow me to jump straight to the point:
My book, In Defense of the Moth or A Meaningless Dance in Blinding Heat and Light is (or was, I should say) for me a treatise on the nobility and honor of being an alcoholic, a drug addict, or someone otherwise afflicted with acute insanity. It was written by me as a grand justification to a code of ethics and behavior and is a Platonic (from the school of Plato, I should make clear) apology, or apologia, for my own particular flavor of hedonism (though I left the allegory vague for each individual to make their sense of their own flaws).
The great irony in all of this is not that though this book was written in the throes of my insanity and darkness, if not a critical darling, is being at least acknowledged for strong writing harkening the insanity of others predisposed with afflictions (e.g. Kafka, Camus, Hunter S. Thompson, DeLillo), for I think that is probably more luck than irony, but, that this book got its legs and publication post rehab and therapy, at fourteen (14) months sober.
True, even in sobriety, I must admit I posit a serious and sound philosophy worthy of consideration and discussion. But does that mean I advocate for a man to die in his cups? Good Question; I'll let you decide.
What does that mean for the book and for me, its author, and its purpose? Good Question; I'll let you decide.
Is my book, then, dangerous and something which vulnerable man should avoid? Good Question; I'll let you decide.
Does the Universe, the indomitable and unrelenting power all around us, allow us from time to time some really humbling ironies? Hell yea!
The Moon…

It is said the moon's spell can move us and nobody understands her pull like Johnny Gomez.

Johnny, a devil-may-care and fatalistic salesman, remains tethered to his privileged life by a love for his children, his career and the moon—and not necessarily in that order. In fact, it's Johnny's lifelong passion for the moon, through both obsessive, independent study and a communal involvement in an astronomy society, that serves as the only outward distraction as a life of standard struggles waxes into a burgeoning crisis.

Until one night Johnny finds that the moon—his preferred method of self-medication– no longer exists…but for him only and not anyone else.

Or so it seems, leaving Johnny's continued marriage with reality to hinge on his rediscovery of the moon!

If you like allegories and/or philosophical apologies for acute insanity, grab "In Defense of the Moth or A Meaningless Dance in the Blinding Heat and Light" and join the eclipse.
Enjoy an excerpt:
"I walked past a block of shuttered buildings. Most I noticed had been shuttered for a long time, but the last office was a more recent failure. It was a beauty salon last I remembered. I reached the street corner where the tall street lamp was planted in the sidewalk and I gazed upward. A flutter of moths danced to the low hum of energy the light created. It wasn't much and it wasn't for long as they would be dead soon, but at least without the light of the moon they had the luck of having a substitute for their meaning, even if artificial, through man's production.
They owe us one, I thought."
About the Author:
Johnny Newport (The Moth) is carrying the consciousness of the oft-failed man native to 2016. Strictly from a visual standpoint he looks like he may be kept in a nice package, but this is not so. Johnny Newport has two feet on the warpath and probably smells like last night's street tacos.
Johnny knows that his devil-may-care attitude is unfair—to himself and to others—but this is precisely the origin for the voice of an unbridled generation of privilege; the 21st-century-livers that intimately know they have squandered (squandered what? How can we say definitively and with any assurance despite knowing that a squandering has, indeed, befallen?), and will continue to do so, happily.
Otherwise about me, I studied at the University of Texas at Austin, have spent the last two years in The Writer's Path program at SMU (Southern Methodist University, Dallas) and have applied to a handful of low-res MFA programs for fall of '16.
Short story publications in 2015 were:
* Mr. Franklin's Heartbreaking Sympathy (The Speculative Book, anthology)
* La Tortuga, (Limestone, University of Kentucky MFA journal)
* He, Who Controls the Spices (Euphemism, Illinois State University graduate journal)
* I Blame Lolita (Moth magazine, Ireland's premiere literary review)
* Letter to the Jew's Mom (The Vehicle, Eastern Illinois University online journal)
Goodreads | Twitter | Website
Buy the book at
Amazon
.