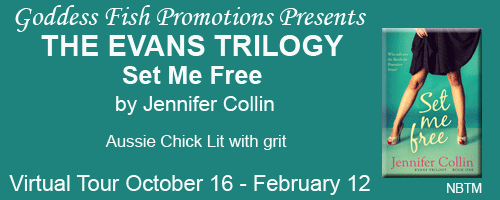 This post is part of a virtual book tour organized by
Goddess Fish Promotions
. Jennifer Collin will be awarding a $25 Amazon or Barnes and Noble GC to a randomly drawn winner via rafflecopter during the tour. Click on a tour banner to see the other stops on the tour.
On the Grapevine
Seems obvious, right? I mean after all, how dull would the world be if we all had the same tastes and opinions? Everything would be a special kind of vanilla-flavored B.O.R.I.N.G.
Writers know this, and they know their work won't appeal to everyone, but knowing it isn't enough to take the sting out of that first bad review. Nor the ones that follow.
I don't mind admitting I've had my share of bad reviews. One of the reasons I wrote my first book, Set Me Free, was because I was struggling to enjoy the books the publishing houses were offering. At the time I felt like I was drowning in vanilla. I wanted to write something different, the kind of book I wanted to read.
Inevitably, what I want to read is not everyone's cup of tea. Many readers like vulnerable heroines and alpha-males. Others prefer their romance clean. My heroines are strong, confident women who've been knocked sideways by unexpected circumstances. They're scrambling to get back on their feet rather than finding them for the first time. My heroes are "guys next door" who are just as vulnerable to those sideways knocks as their heroines. And my romance is hot and steamy.
We all pick up books we like the sound of, only to find we don't like the way the story rolls out. Reviews are an important place to acknowledge this. By leaving reviews we provide sign posts for our fellow readers, readers who might have similar or opposite tastes to our own.
Unfortunately, we writers can be a sensitive bunch and the bad reviews can stick, cutting deep into our self-assurance if we let them. Although we might have hundreds of fans gushing about our work, begging for more, it's the one or two bad reviews that can eat away at us and have us questioning our existence.
Someone recently gave me a great piece of advice I'd like to share. I think it's something everyone can apply, not just writers struggling with a poor review. We all come up against moments when someone else's opinion stops you in your tracks. You know, that time you showed something you were really proud of to your boss and s/her told you it's not what they were looking for. Perhaps they weren't that nice about it. Or that time you gave someone special a gift you thought was just perfect, and they were all "meh" about it. It hurts, huh?
I've decided I'm not going to let this stuff get to me anymore. Instead, I'm going to remember I am a grapevine. That's right, a grapevine.
You see, if you leave a grapevine to its own devices, it grows wild and unwieldy and bears sub-standard fruit. I don't want to bear sub-standard fruit, I want my fruit to be sweet enough to make wine. I want it to be lush, juicy, and irresistible.
They only way to get this fruit is to prune the grapevine and keep it in check.
The pruning process isn't without pain. You might bleed a few litres of sap, but eventually the wound will heal and the scar tissue will make that part of you extra tough.
We needn't let bad reviews or negative feedback bring us down. The next time someone tells you they don't like something you've done, remember you too are a grapevine. Allow yourself to feel the sting of the pruning shears, but don't forget to celebrate the cut as something that's keeping you in check, something that's going to sweeten your fruit and make you stronger.
Bring it on, I say.
Disastrous love life aside, Charlotte Evans is rather content with her life. Her quaint little art gallery is plodding along nicely, and her sister Emily's artistic career is about to take off, thanks to her tireless promotion. She even gets to see her best friend every day and drink his delicious coffee in the café next door.

But when dastardly property developer Craig Carmichael comes along, threatening to demolish her gallery and take everything away, Charlotte has an unexpected fight on her hands. Not only is she battling to stop Craig's development, she's also struggling against the mysterious magnetic pull that has her on a collision course with Craig himself.

Craig Carmichael is fighting the Battle for Boundary Street on more than one front. The tenants of the building he wants to knock down are mounting a strong case against him and in a hot-headed moment he put his career on the line for a project that is threatening to fail. If the project doesn't succeed he will lose everything, but for some reason he's having trouble maintaining his focus.

As their worlds begin to unravel around them, anyone could win. It's what they might lose that has Charlotte and Craig wondering what it is they really want.
Everything happens for a reason, they say. And sometimes the reason is you're stupid and make bad decisions. Sleeping with her sister's best friend is one of the dumbest things soon-to-be divorcee Emily Evans has ever done. But she's determined to put it behind her and move on. She's walked away from her cheating husband, managed to make a new friend, and found herself a real job and somewhere to live so she doesn't have to couch-surf any more. Everything should be falling into place but for one problem – there are some mistakes from which you can't move on.

Meanwhile, Ben Cameron is getting on with his life. After all, it's the only thing to do once your heart has been stomped on by the woman of your dreams. Expanding his business and getting cosy with the girl next door are proving welcome distractions. He's even happy to babysit his nephew, as long as he can to hand him back when he's done! And thankfully, Emily Evans, the woman with the heavy boots, is avoiding him like the plague.

But Emily can't avoid him forever, and when she drops a bombshell that turns Ben's world upside-down, suddenly, getting on with his life takes on a whole new meaning.
Andy Evans is on the move. For six long, lonely years, he's been running from his past, leaving his family and his life as a drug-addicted rock star far behind. His latest move takes him to the sleepy seaside town of Oamaru, New Zealand, to sell cigar-box guitars to tourists. The only running he'll need to do will be training for the half-marathon in nearby Dunedin. But when Andy sets eyes on Steampunk HQ, Oamaru's main tourist attraction, he realises his days of running might not be over, especially if a certain Steampunk fan from his past catches up with him.

Annie Martin is on the cusp of great success. Her career as a Steampunk academic is about to take off, as long as she can convince one disagreeable, New Zealand-based Professor to sign up to the anthology she's putting together. Thankfully, Annie is a master at maintaining her poise and few people, no matter how nasty, can rattle her. Not any more. In fact, it'd been a good six years since anyone had gotten under her skin, after her best friend's brother had vanished into thin air.

When Annie finds her future career on a collision course with her secret past, Andy Evans is the last person she expects to find tangled up in the mess. With a vengeful drug-dealer or two hot on his heels, and a vindictive academic determined to ruin her credibility, can Annie bring Andy back to his family before it's too late? Annie and Andy are used to being alone, but if they don't work together, there'll be much more at stake than her livelihood and his sobriety.
Enjoy an excerpt from Set Me Free
The Evans Gallery was his last stop before he called it a day.
A little golden bell above the door tinkled daintily as he walked in. He noticed two things immediately: the intriguing painting on the wall to his right and the beguiling woman smiling lazily at him from behind a sleek-looking asymmetrical 1960s Danish-styled desk. Unsettled by the pair of slightly smoky grey eyes that came with the lazy smile, he moved directly toward the painting to take it in.
The canvas was large; it took up almost a quarter of the wall. The image was a view down a narrow alley corralled by stark grey skyscrapers that, thanks to the wash of the paint strokes, appeared to be crumbling. At the end of the alley, a small dog with a broken tail lay beside an old-fashioned dustbin, chewing a small, bright red ball.
'Hi,' welcomed the woman behind the counter. Her voice was as tired as her eyes and smile, but there was still something smouldering under the surface, like a combusting rain cloud. 'Can I help you with anything in particular or would you just like to browse?'
'Can you tell me anything about this piece?' he asked, unwisely. She stood up to join him, swinging her hips as she walked, subtly but hypnotically. This might turn out to be the hardest conversation of them all; particularly given he was struggling to keep his eyes on her face and off those swinging hips. He looked up. Nope, no respite there.
About the Author: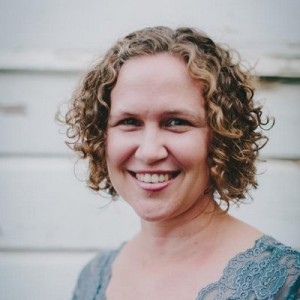 Jennifer Collin writes quirky, and sometimes gritty, love stories about ordinary people dealing with what life throws at them.
She lives in Brisbane, Australia, with her husband, two noisy children and a cantankerous cat.
She used to party, but now her idea of a good time is an uninterrupted sleep. These days, her characters do her partying for her, and she doesn't necessarily let them sleep.
Website | Goodreads |
Facebook | Twitter
Buy the books at Amazon.