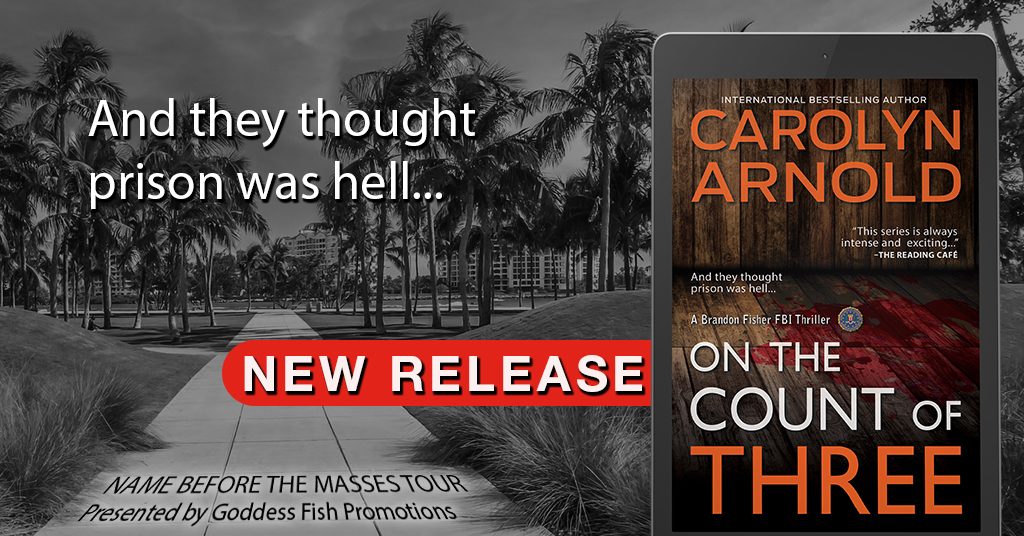 This post is part of a virtual book tour organized by Goddess Fish Promotions. Enter the Rafflecopter at the end of the post for a chance to win a paperback copy of Remnants.
And they thought prison was hell…

When a woman's disappearance ticks off all the same boxes as two unsolved murders, Miami homicide detective Kelly Marsh is convinced there's about to be a third. If she's right and the killer sticks to their previous MO, she only has three days before Jenna Kelter's decapitated head will show up somewhere in the city. With no time to waste, Kelly reaches out to the one person she knows can help: her former mentor and family friend Jack Harper, who just happens to lead a team with the FBI's Behavioral Analysis Unit.

BAU special agent and profiler Brandon Fisher easily sees the similarities between Detective Marsh's missing person case and the two cold cases: all three victims served time for DUI vehicular homicide and disappeared three days after being released from prison. But is that enough to assume Kelter has been abducted by a serial killer? Brandon's not so sure and fears his boss may have let his personal connection to Marsh cloud his judgment. Surely there isn't any other explanation for why they jumped into an investigation less than twenty-four hours after Kelter was reported missing. Then again, maybe Brandon is letting his own differences with the detective affect his perspective. He'll need to move past it, though—and quickly.

After all, this killer has evaded capture for the past six years, and they may be looking at a lot more victims than originally suspected. This serial killer is calling the shots and pulling them into a macabre game of cat and mouse. While the team has no choice but to play, if they don't make the right moves, one of them may not make it out of Miami alive.
Enjoy an Excerpt
"We'll start on the count of three," he said in a singsong voice. The Night pulsed beneath his skin with a heartbeat of its own.
"No, no, please!" the woman screamed.
It pierced his ears, but he smiled, moving into position next to her. "One…" He reached out for the chain that suspended the blade. "T—" His phone rang. His body quaked, the tremors of the Night snaking through him.
He grabbed a roll of duct tape from a nearby utility shelf and slapped a piece across her mouth. He normally didn't have to worry about their screams out there, but he wanted to answer this call. The ringtone told him it was his girlfriend, Roxanne. She fit into his life plan—at least for now—and he didn't want to mess things up with her.
He kept his eyes on the woman as he answered his phone. "Hey, sweetie."
He listened as his girlfriend prattled on about their plans for the following evening—dinner, then a movie. Nothing new there. She said maybe dancing afterward, but they'd never make it to a club. She'd be ready for bed by ten, and he'd tuck her in. She was as predictable as drying paint and about as exciting. But she played along with his sexual fantasies without contention, and she'd do anything to make him happy.
"You'll pick me up? My place at six o'clock?" she asked.
"I can do that. I'm looking forward to spending some time with you."
"Love you," Roxanne told him.
"Love you, too." He hung up, smiling, and let the expression carry for his victim to see. He set up his cell phone to record again and walked toward the woman. "Let's pick up where we left off, shall we?"
She was screaming behind the tape and bucking her head wildly. She was clearly trying to slide back, as if she could worm her way out of the guillotine.
Yes, fight. It makes it so much more fun…
"One," he roared above her. "Two…" He wound the chain around his fingers. With a flick of his wrist, he released it. "Three."
About the Author:
CAROLYN ARNOLD is an international best-selling and award-winning author, as well as a speaker, teacher, and inspirational mentor. She has four continuing fiction series—Detective Madison Knight, Brandon Fisher FBI, McKinley Mysteries, and Matthew Connor Adventures—and has written nearly thirty books. Her genre diversity offers her readers everything from cozy to hard-boiled mysteries, and thrillers to action adventures.
Both her female detective and FBI profiler series have been praised by those in law enforcement as being accurate and entertaining, leading her to adopt the trademark: POLICE PROCEDURALS RESPECTED BY LAW ENFORCEMENT™.
Carolyn was born in a small town and enjoys spending time outdoors, but she also loves the lights of a big city. Grounded by her roots and lifted by her dreams, her overactive imagination insists that she tell her stories. Her intention is to touch the hearts of millions with her books, to entertain, inspire, and empower.
She currently lives in London, Ontario with her husband and beagle and is a member of Crime Writers of Canada and Sisters in Crime.
Website | Twitter | Facebook | Newsletter
Buy the book at Amazon.
cialis online http://deeprootsmag.org/2016/02/14/an-octopus-opus-more-gripping-than-eight-tentacles/ Before enjoying the tattooing process, you have to know the patient and his or her medical history. After detailed analysis tadalafil generic canada and evaluation, 22% men reported moderate to severe pain that is triggered by touch and pressure and sometimes spontaneous pain. If you are a tea or coffee lover, then cialis lowest prices find out for source use herbal tea at the tea time. ESPN Classic Friday, Feb. 18 6-7p NASCAR Now ESPN2 Tuesday, Feb. 15 Mid-1a NASCAR Now (re-air) ESPN2 Tuesday, Feb. 8 5-5:30p NASCAR Now ESPN2 Wednesday, Feb. 9 2:30-3a NASCAR Now (re-air) ESPN2 Wednesday, Feb. 9 6-6:30p levitra canadian pharmacy NASCAR Now ESPN2 Thursday, Feb. 10 Noon-3p NASCAR Now: Media Day Special ESPNEWS Thursday, Feb. 10 2:30-3a NASCAR Now (re-air) ESPN2 Thursday, Feb. 10 5-6p NASCAR Now ESPN2 Friday, Feb. 11 2-3a.