A special welcome to Louise Lyndon, who is visiting with us at Long and Short Reviews. Her debut novel, Of Love and Vengeance was released in December. Enter the Rafflecopter at the end of the post to win a digital copy of Of Love and Vengeance.
I asked her a little about her new release.
"My newest release, Of Love and Vengeance, is about a few things really. Firstly, it's about prejudices, mainly about how we can tar an entire group by either misconceptions or by the behavior of a few. Both the hero and heroine are guilty of doing this, so we get to see how they deal with this. It's also about acceptance, not just of each other, but of yourself as well. Laila, the heroine has a birthmark that covers one side of her face, and she really struggles with loving herself because of it. So we also see how she learns to love herself."
Louise does most of her writing at her local library, and we asked her why.
"Because if I'm guilty of anything I'm guilty of procrastination! If I didn't go to the library straight after my day job then I'd watch an episode of Dr Phil first. After I would log on to my laptop to write and then first quickly check my emails. You get the picture! The library offers me no distractions and I actually manage to get a lot of writing done. I enjoy going there."
She's not a linear writer, instead she writes scenes as they come to her, likely with no idea about what happened prior or what will happen next. Then she asks herself "what just happened to the characters to get them to this point?"
"I always know how my story will end, as I need to know where it is I am going. I just don't always know what happens at the start or anything in the middle!" she confessed.
When she's not writing, she enjoys series binging. At the time of the interview, she was re-watching Without a Trace. She also loves How To Get Away With Murder and Scandal.
"But, I can actually drag myself away from the TV and I like to hang out with my niece and nephew," she told me. "They are twins. Two very active eight year olds who keep me on my toes."
"What did you want to be when you grew up?" I asked.
" I always wanted to be a sound engineer. You know, one of those people who records music in a studio or sets up audio equipment at a concert. I even did a course in it, so technically I can say I am a qualified audio engineer. But, as soon as I finished studying it I realized that it was perhaps not what I wanted to do. Aside from wanting to be a sound engineer, I've never really been one to think about 'what I want to be win I grow up'. I have friends who knew from an early age exactly what they wanted to be and they went out and did it. Me, I knew it wanted to do something creative. I was told to have a 'back up plan' you know 'just in case' but I never did. Thank goodness, because it left me time to be able to write!"
"Where are you from and what do you love best about your hometown?"
" I'm from Australia. I grew up in the state of Victoria. Then when I was seventeen I left home and moved to the state of Queensland. I stayed there for about five or six years. Then, I moved to England – London – and I was only ever supposed to stay there for two years. But two years turned into sixteen. I loved London. It was vibrant and you could be anyone you wanted to be and no one cared. I moved back to Australia a little over two years ago – and I have to say I now have a much greater appreciation for Melbourne, which is where I now live. I never realized just how nice the city was. I often walk the streets after work just soaking things up. It's a great place to live. It's been voted the most livable city in the world several years in a row."
If Louise could go back on her publishing journey and do things over again, she told me the main thing she would do is not waste so much time.
"There was a period when I would call myself writer but I actually wasn't writing! Not a single word. I felt like a fraud. Sometimes I regret those wasted years, but I can't get them back, nor would I want to. I believe everything happens for a reason – perhaps I wasn't supposed to write during that time? If I did, would I have ever written, Of Love and Vengeance. Apart from that, I don't think I would change anything else. Oh, wait, yes I would – be a faster writer! I'm such a slow writer."
About the Author: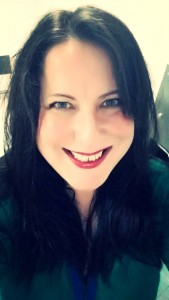 Louise grew up in country Victoria, Australia, before moving to England, where for sixteen years she soaked up the vibrancy of London and the medieval history of England. She has since returned to Australia and now lives in Melbourne.
In 2013, Louise won first prize in the historical romance category of the Crested Butte Sandy Writing Contest for her story, The Promise, which has since been retitled and is now known as, Of Love & Vengeance.
On December 19, 2014, Louise's debut novel, Of Love & Vengeance, a historical romance set in medieval England at the time of the Norman invasion, went on world wide release. It is published by The Wild Rose Press. On January 1, 2015, Of Love & Vengeance, hit the paid best seller list on AMAZON UK. Louise is currently working on her second novel.
When not writing, Louise can be found covered in mud, crawling under barbed wire and hoisting herself over twelve foot walls!
Website | Blog | Facebook | Twitter | Pinterest | Goodreads
Buy the book at Amazon US, Amazon UK, The Wild Rose Press, Barnes and Noble, Kobo, iBooks, or Google Play.