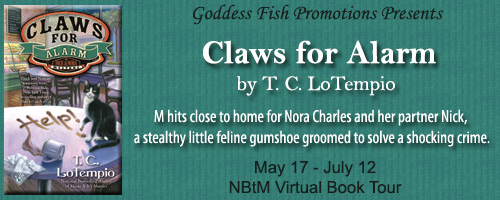 This post is part of a virtual book tour organized by
Goddess Fish Promotions
. T. C. Lotempio will be awarding a $25 Amazon/BN GC to a randomly drawn winner via rafflecopter during the tour. Click on the tour banner to see the other stops on the tour.
Of Cats and Cozies…..
Most of the mysteries on my bookshelf, I confess, are cozy mysteries. For those of you who aren't familiar with the genre, cozies are a subgenre of crime fiction where the crime and the detection takes place in a small town. Remember the old Murder She Wrote series? That's a good example of a cozy. The detectives in such stories are nearly always amateurs (cue JB Fletcher) sometimes retired lawmen or women. The majority of the detectives are of the female persuasion, and often hold jobs that bring them into contact with the other residents of their town. More often than not they'll have a contact on the local police force who'll help them out with a clue or two.
The killers aren't usually hard boiled serial killer types, and once unmasked, are most often taken into custody with little or no violence. If there is violence, it happens off-screen…no grisly murder scenes depicted in any cozies! Foul language is also kept to a minimum. The murders are generally members of or related to someone in the town wherein the murder occurs and the motives – greed, jealousy, revenge – often are deep rooted.
Cozies frequently revolve around a theme – for example, Diane Mott Davidson's revolves around cooking, Parnell Hall's around crossword puzzles, Monica Ferris' needlework…you get the idea. Animal lovers are also well represented, as well, which brings me to my cozy mystery series, debuting in December from Berkley Prime Crime…..think Jessica Fletcher with a cat and you've got it!
My series is the Nick and Nora mystery series. Nora is Nora Charles, ex-crime reporter turned restaraunt entrepreneur. She's returned after a 12 year absence from reporting on crime in Chicago back to her hometown of Cruz, California, to take over her deceased mother's sandwich shop. Shortly thereafter, Nora finds a surprise waiting outside her door – a stocky, black and white cat. She takes the cat in and names him Nick (after Nick Charles, the Thin Man, of course). She later finds out that the cat did in fact belong to a PI, Nick Atkins, who is currently MIA – she also finds out that Nick has many talents, among them the ability to spell out words with Scrabble tiles – plus, he's got a nose for scenting out crime.
Here's the teaser, taken from the back of the book:

Nora Charles doesn't believe in fate, even if she is a crime reporter who shares a name with a character from The Thin Man. In fact, she's moving back to Cruz, California, to have a quieter life. But after finding an online magazine eager for material, and a stray cat named Nick with a talent for detection, Nora's not just reporting crimes again. She's uncovering them…

Back in her hometown, Nora reconnects with old friends and makes some new ones, like Nick, the charming feline who seems determined to be her cat. But not everything about Cruz is friendly. Writing for a local online magazine, Nora investigates the curious death of socialite Lola Grainger. Though it was deemed an accident, Nora suspects foul play. And it seems that her cat does too.

Apparently, Nick used to belong to a P.I. who disappeared while investigating Lola Grainger's death. The coincidence is spooky, but not as spooky as the clues Nick spells out for her with Scrabble letters—clues that lead her down an increasingly dangerous path. Whether fate put her on this case or not, solving it will take all of Nora's wits, and maybe a few of Nick's nine lives.
The saga continues in Book 2, CLAWS FOR ALARM, with Nora's search for Nick's missing owner derailed by her sister's getting jailed for the murder of her art professor. But, who knows what will happen in book 3, CRIME AND CATNIP, due out this December?
I hope you'll join Nick and Nora on some of their adventures, but even if a crime solving cat isn't your cup of tea, I'm sure that there are many other cozies out there that are. Sample the genre today – I think you'll be very pleasantly surprised!
Enjoy an excerpt:
Nick trotted along beside me as we made our way deeper into the warehouse. Suddenly, he froze, tail upright, the hairs puffed and fluffed out like a giant fan.
"What's wrong?" I whispered, even though I knew he couldn't answer. We stood in silence for a moment, and suddenly, I did hear something. A very faint sound, from far away . . . like a door closing.
"Come on," I hissed. I lifted my head, sniffed at the air. It smelled pretty stale, but there was another scent, cigarette smoke. I racked my brain, trying to remember if I'd seen either Julia or Samms smoking.
Nick's tail swished, and he pawed at arrows painted on the ground. He trotted ahead of me at a brisk pace, and I fell into step. We followed the painted arrows along a white-tiled hallway down to a door with a shade pulled all the way down. A sign placed haphazardly in the window proclaimed it CLOSED.
I tried the door, which seemed to be stuck. I looked at the doorframe, which appeared to be less than sturdy, and checked it for alarm wires. Seeing none, I raised my leg and gave the door a swift, hard kick. It clicked open an inch, and I pushed it all the way open. We walked into a tiny office not much bigger than a postage stamp. A large metal desk and battered file cabinet took up the majority of the space. Another door at the far end stood partway open. Nick suddenly tensed, and I saw the hairs on his back rise. His tail fluffed out, and he started to growl, deep in his throat.
I frowned. "What's wrong? What do you sense?"
Nick reared up on his hind legs and then shot through the partially open door. I had no choice but to follow. The room I now found myself in appeared to be a slightly larger version of the previous office. Nick crouched in front of a large metal desk, and as I entered, he shifted his body slightly. I caught a glimpse of two feet, very still, shod in the pair of eggplant Louboutins I'd admired earlier in the evening.
"Oh crud," I cried. "Please tell me that's not what I think it is." I walked around Nick and peeped around the edge of the desk. I saw a twisted figure in a white raincoat bunched up around shapely legs, a tumble of dark hair covering its face, the neck bent at an unnatural angle.
"Shoot," I said.
"MA-ROW!" Nick yowled.
I heard a sound behind me as Nick dived under a nearby chair. My heart started to beat wildly in my chest. The last time he'd pulled something like that I'd been caught next to a dead body and hauled off to the police station. His fat rear had barely wiggled out of sight before the door slammed back and I found myself looking first down the barrel of a .45 and then, as I raised my gaze, at the grim, unsmiling face of Detective Leroy Samms. He looked at me, then at the feet, then back to me again. He lowered his arm, slipped his gun back into his shoulder holster. "Well, well. Look what the cat dragged in."
I responded almost automatically. "He didn't drag me. I walked in on my own."
One eyebrow quirked. "Pardon? It's an expression, Nora."
"Oh, sure. I knew that." The queasy sensation in my stomach was getting stronger, and I really felt like gagging. I started to push past Samms, but his strong fingers reached out and encircled my elbow in a grip of steel.
"No need to run off."
I pressed my palm against my cheek. "I—I'm not. I just felt a little . . . squeamish."
"Of course you do," he said, still not cracking a smile. "I've got some Pepto back at the station. Fix you right up. Then we're going to have a chat, you and I." His grip on my elbow tightened. "Ms. Charles, you've got some explaining to do."
About the Author: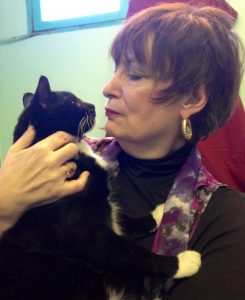 Born in New York City, T. C. LoTempio is the national bestselling author of Meow If It's Murder, the first in the Nick and Nora Mystery series. She has been a staff reporter at the young adult magazine Susabella Passengers and Friends for more than a decade. When she isn't reporting or writing novels, she and her cat Rocco fundraise for Nathan Fillion's charity, Kids Need to Read.
Blog | Website | Facebook
Buy the book at Amazon or Barnes and Noble.