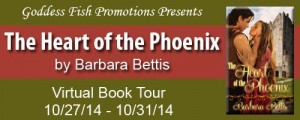 This post is part of a virtual book tour organized by
Goddess Fish Promotions
. Barbara will be awarding a $25 Amazon Gift Card to a randomly drawn winner via rafflecopter during the tour. Click on the tour banner to see the other stops on the tour.
October 31 in the Medeival World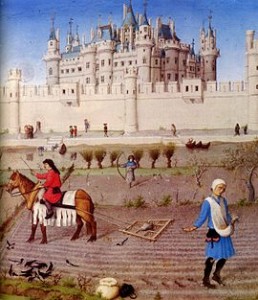 Here it is, the day before Halloween. Have you stocked up on goodies for the little goblins? Got your costume ready to party? Sir Stephen and Lady Evelynn may not don costumes, but three months after their wedding, they are all set to party—to celebrate the traditional end of summer with their people in Nottinghamshire. Oct. 31 was a major holiday in the medieval world.
In one of the early Christian church's ubiquitous moves, sometime in the 9th Century the celebration of All Saints Day officially was moved to Nov. 1, the day after the Celtic end of year. That's Summer's End, also known as Samhain (pronounced "Sah-win"). Samhain, Oct. 31, was to become known as All Hallow's Eve or as we call it, Halloween.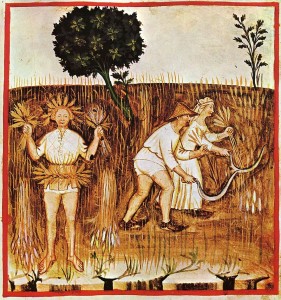 Medieval England's Midlands celebrated the end of harvest at this time, and likely some of the old traditions crept in even through the area wasn't primarily Celtic. In the "old" religion (before Christianity), a commonly held belief was that on this night, the curtain between Earth and the spirit world was thinnest. Mortals had to be wary of mischief from restless spirits.
As Dr. Madeleine Pelner Cosman writes, "More Halloween divinations ask[d] spirits about love and life than on all other holidays together" (81). Masked children would roam from home to home "singing and begging for soul cakes for wandering spirits" (82). And if no food was forthcoming, "beggars or souls [would] play pranks" (82).
That sounds an awfully lot like some of the Trick or Treat tales from my childhood. At least one home in our rural community had windows soaped or trees T-P'ed every Halloween.
But back to the 12th Century. Many of our other traditions are marked from that time: apple bobbing, music, dancing, bonfires. Lights welcomed good spirits and discouraged bad ones, so tables contained the medieval version of Jack o'lanterns carved from turnips or squash. (Pumpkins came from America, so weren't known in medieval England.)
Spirits or not, the partying also was considered a celebration for the end of harvest. October saw the end of ploughing, planting, and harrowing of fields for winter crops. It saw the pigs loosed in the woods to fatten up on nuts for six weeks until mid-Blood Month, or November, when animals were slaughtered for the winter.
So whether people were celebrating spirits or winding down a long, hard, year of labor, Halloween was a party. And if things got too out of hand, the church had it covered. Folks could look forward to two days of intense prayer: All Saints Day, Nov. 1 and All Souls Day, Nov. 2.
European Farming During the Middle Ages to 1800s. http://historylink101.com/lessons/farm-city/middle-ages.htm
Cosman, Madeleine Pelner. Medieval Holidays and Festival: A Calendar of Celebrations. New York: Charles Scribner's Sons, 1981.
Staples, Andy. http://www.penultimateharn.com/history/medievalfarmingyear.html
Halloween. http://en.wikipedia.org/wiki/Halloween
Some call him a ruthless mercenary; she calls him the knight of her heart.

Memories

Lady Evelynn's childhood hero is home—bitter, hard, tempting as sin. And haunted by secrets. A now-grown Evie offers friendship, but Sir Stephen's cruel rejection crushes her, and she resolves to forget him. Yet when an unexpected war throws them together, she finds love isn't so easy to dismiss. If only the king hadn't betrothed her to another.

Can be cruel

Sir Stephen lives a double life while he seeks the treacherous outlaws who murdered his friends. Driven by revenge, he thinks his heart is closed to love. His childhood shadow, Lady Evie, unexpectedly challenges that belief. He rebuffs her, but he can't forget her, although he knows she's to wed the king's favorite.

And deadly

When his drive for vengeance leads to Evie's kidnapping, Stephen must choose between retribution and the love he's denied too long. Surely King John will see reason.

Convict the murderers; convince the king. Simple. Until a startling revelation threatens everything.
Enjoy an excerpt:
"You were able to find a ship?" she asked.
"Yes." He gestured with the empty wooden spoon. "We won't be alone. An emissary for King John bespoke it, but he agreed to share quarters with us."
Her head tilted to one side. "How did you manage that? I can't imagine a knight with such authority condescending to share anything with strangers."
"I told him your brother had ordered you home and would be furious if you delayed. You and the maid will share a small cabin, while the lord occupies the captain's quarters. I have no idea how large your chamber will be, but we'll make the best of it."
"We?" She didn't look up as she took another bite.
Damn her, what did she find amusing in what he'd just said, for there was no mistaking the humor in her voice. She looked up as he stalked toward the bed. Yes, a mischievous light glimmered in her eyes. He loomed above her and slowly leaned in.
"You'd best try to appear the anxious maiden, in fear of her brother," he warned. "Or questions might arise that none of us want to answer."
The amusement faded. "What questions?" Her breath caressed his cheek.
He reared back. "Just behave yourself during the passage."
"This is the second time you've warned me about my conduct. Do you fear I will ride off with one of the guards?"
He clenched his teeth to hold back a retort. Let her have her say. She'd be easier to deal with on the morrow if all her complaints were aired.
"We both know my behavior has been perfectly appropriate. And I've accepted each of your edicts calmly." Her gaze flicked away, as if she knew that statement stretched the truth.
"But that's not the problem, is it?" she added, her voice low, intent. "Why are you really on this journey, Stephen? We both know it's not to protect me."
About the Author: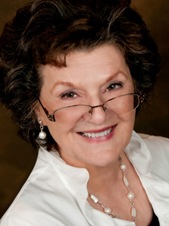 Award-winning author Barbara Bettis has always loved history and English. As a college freshman, she considered becoming an archeologist until she realized there likely would be bugs and snakes involved. And math.
A former health insurance claims adjuster, a former journalist, a former journalism teacher, Barbara Bettis plans never to be a "former" author. Currently, she supports her writing habit as an adjunct English instructor at a community college near her home in Missouri.
She now lives in Missouri, where by day she's a mild-mannered English teacher, and by night she's an intrepid plotter of tales featuring heroines to die for—and heroes to live for.
Website ~ Blog ~ Facebook ~ Twitter
Buy the book at Amazon or The Wild Rose Press.