Do you own one of those cloth book covers that allow you to read a steamy romance without other people seeing the title? Do you have books with covers so unabashedly erotic that you face the spines inward on your bookshelf so guests don't see? Are you ever afraid the privacy settings on your Amazon account will get changed automatically and leak the titles and covers of your last 20 purchases to the potential employer who is Googling you?
I never considered revealing to strangers and relatives what I read until a certain book was suddenly…everywhere. Last fall I sat on planes and in airport terminals with women who were unashamedly reading that book with its intriguingly minimalistic cover, and I realized that what I had been reading for decades had gone mainstream. What I really wondered was why these women were so brave about revealing their curiosity and interest when I'd been stuffing Harlequins into cloth covers for thirty-five years.
It's not like my friends don't know what I write and I'm not ashamed of it. I enjoy exploring relationships and writing realistically unrealistic sex. Yet, there's this line. Do you know the one I'm talking about? The one where you don't want your co-workers to think just because you read about being tied up with satin ribbons that you actually want someone to offer to tie you up with satin ribbons? Or maybe you do…just not the guy in the next cube over.
So, I took a deep breath and started telling people the titles of the books on my Kindle when they ask what I'm reading in the doctor's office. I don't just talk about my writing to people who know me under my pseudonym any longer. I'm still not going to reveal my reading preferences at the water cooler, but I've discovered quite a few new friends, and become closer to some old friends, as a result of my newfound openness. Reading, for me, is no longer a guilty pleasure. It's just…pleasurable.
*****
Leave a comment to win your choice of any book from Tibby's backlist, in print or ebook. Her print books are Undercover Lover, No Apologies, and Acting Out. This giveaway is open internationally.  Readers can find her backlist on Barnes and Noble (as well as other etailers). For a full list, please see http://www.barnesandnoble.com/c/tibby-armstrong. Include which book you would like in your comment.
*****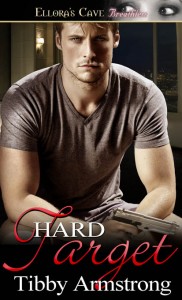 Tibby's newest Ellora's Cave release, Hard Target, is set in the glamorous world of the 5-star Whipped Cream reviewed Sheet Music, and 4.5-star Whipped Cream reviewed Undercover Lover.
With a body hot enough to inspire a second Trojan conquest—of the latex variety—FBI agent Alexandra Valentine could be Simon Jakes' match made in heaven. If only she weren't the reason his career as a CIA hacker ended in a pile of ash.
When Alex returns after six years, it's with a proposition he can't refuse. Work with her or return to prison. Compared to negotiating the powder keg of their relationship, the job should be simple. Take down a criminal organization run by one egomaniacal billionaire and try not to get killed along the way. The problem is, with a woman as sexy as Alex by his side, Simon has trouble keeping his mind on the mission and out of the bedroom.
At their darkest hour, each has a decision to make. To trust despite the fog of lies and deception being spun around them, or to fail because a second crack at love proved the hardest and most impenetrable target of all.
A Romantica® erotic romantic suspense from Ellora's Cave
 About the Author: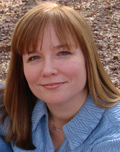 Tibby Armstrong is an erotic romance author with a lust for books and a love of travel. On the terrestrial plane, she dreams of springtime in Paris, and has journeyed to Oxford, London, and Bath, England. She travels more extensively, through worlds both strange and familiar, via science fiction, urban fantasy, mystery, romance, biography, and travel memoirs.
Tibby's favorite authors include Connie Willis, Elizabeth Moon, Maria V. Snyder, Karen Marie Moning, Jane Austen, and Charlaine Harris, to name a few. To see the rest, and read some reviews, find her extensive reading list on GoodReads.
Having recently completed her MLS, when she's not writing, Tibby works toward defying librarian stereotypes; yet, she lives with four cats, two computers, and enough books to collapse a poorly engineered house.