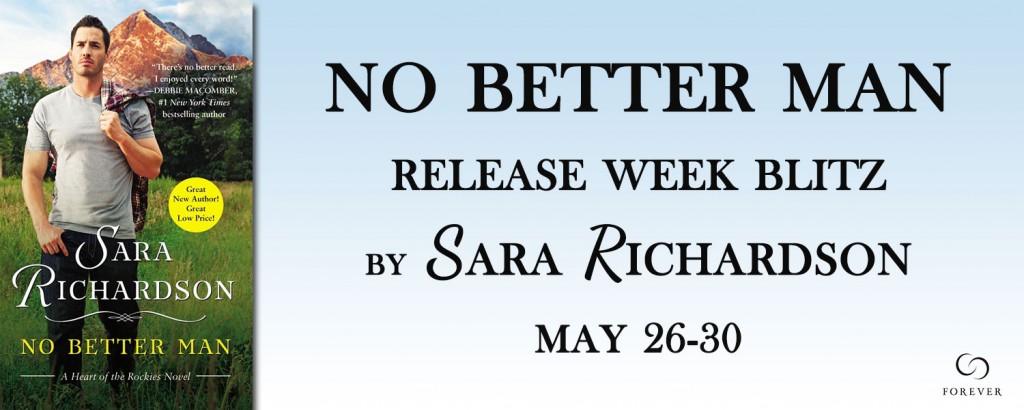 This post is part of a virtual book tour organized by the publisher. Enter the Rafflecopter for a chance to win a print copy of
No Better Man
.
Favorite vacation destination
Aspen, Colorado (of course!): Living in Colorado, I've traveled to Aspen for years and it's still one of my favorite places in Colorado. When most people think of Aspen, they think glitz and celebrities, but there's this cool rustic vibe that gives the town a unique personality. It also has some of the best hiking in the state. Oh, yeah. And the skiing is pretty good, too. 🙂
Nassau, Bahamas: I just experienced the Bahamas for the first time in February and I'm hooked! While we were there, a friend took us out in his boat to Rose Island, which was quiet and secluded and had some of the best snorkeling I've ever experienced right off the shore. As someone who's not a big crowd person, it was the perfect escape!
Kauai: When my husband and I went on a babymoon to Kauai before our first child was born, I learned that this beautiful island has the best of both worlds—incredible beaches and incredible hiking. To me, that combination is pure heaven.
Lake Louise, Canada: Banff National Park holds a special place in my heart because that's where my husband and I went on our honeymoon fourteen years ago. Even after we flipped and crashed our ATV, it's still one of my favorite vacation destinations.
Alaska: What could be more romantic than the last frontier? Mountains, glaciers, quaint little towns, whales… those were my favorite things about Alaska. It's probably the wildest and most pristine place I've ever been. Just don't forget the bear spray! Due to my intense and irrational fear of bears, I took it with me wherever we went.
A Daring Proposition

When it comes to business, Avery King always comes out on top. So after a very public breakup, work is the perfect excuse to flee the Windy City for the gentle breezes of Aspen, Colorado. Her mission: acquire the land of a rundown mountain ranch. Avery expects an easy win . . . until she meets the rugged and irresistible rancher who won't give up his property without a fight. Bryce Walker is stunned by the stubborn beauty determined to get what she wants. But what she wants is his last connection to the life he used to have. Bryce has plans to return the ranch to its former glory and no way will he sell his family home. Yet the more time he spends with Avery, the more her sweet touch makes him forget his painful memories. Now Bryce must decide whether living in the past is worth losing his future . . .
Enjoy an excerpt:
Ah, hell. Not this. What was it with women, anyway? Why'd they have this burning desire to get to the bottom of absolutely every feeling they had? Why couldn't they sit in silence, enjoy the scenery? "I don't know you well enough to be upset with you," he finally said, increasing his pressure on the gas pedal. The cops were notorious for pulling over speeders on this section through town, but tonight he was willing to risk it.
"Look." Avery's hands sliced the air in front of her. "I understand why you don't want to sell. Trust me. I get it."
Ha. Trust her. He didn't trust her any more than he trusted her father. At the end of the day, she worked for the infamous Edward King. She might be smokin' hot and nice, and, like she insisted, a good person, but she still had a job to do. He wouldn't forget that.
Instead of answering, he leaned over and flicked on the radio. Nothing like a little Brad Paisley to tune out a woman.
Avery shot him a fiery look, topaz eyes blazing, lips thinned into a warning that tempted him to test her.
That didn't help things. She looked even better when she got mad. His grip on the wheel tightened until his knuckles ached. Mom was right. He had to get out more. Start dating again. Any woman besides Avery King…
She hunched forward and fiddled with the radio until he could hardly hear Paisley. Fine. That was fine. Five more minutes and they'd be back at the ranch anyway. He'd be free of her.
"You need to listen to me, Bryce. Please." She launched into yet another impassioned monologue about how selling the ranch could change his life.
Yeah, well. He'd had enough changes in his life over the last few years. So sue him if he wasn't interested. She didn't seem to pick up on his lack of concentration, though. She went on and on until he pulled the truck into the driveway and parked in front of the office.
"Are you listening to me?" She leaned over the console between them and got in his face, close enough that he could smell oranges, that he could trace the sexy curve of her upper lip with his tongue if he'd wanted to.
"Have you heard anything I've said?"
The throb started again, deep in his chest, invading his body until it occupied all of him.
"Seriously, Bryce this is—"
Screw it. He cupped his hand around the back of her head and roughly brought her lips to his, totally unprepared for the impact it would have. Shock waves coursed through him, unleashing a craving stronger than he'd ever felt.
Avery squeaked in surprise but he didn't let up. Need thundered through him and it was a helluva lot louder than the logic he'd spent the last several hours beating into his thick skull. Her lips were soft and moist and everything he'd hungered for during the last three lonely years. He gentled a hand up into her hair. It felt like silk against his skin.
A small moan purred in her throat and her upper body relaxed, lips melding to his in a pulsating heat. She ran her hands up his chest, and that was all he needed. He bent forward, halfway over the console, gathering her closer, kissing her harder, deeper. If it wasn't for that console, he'd pull her right into his lap…
"Wow. Just…wow," she whispered against his lips.
He answered by parting her lips with his tongue. There. That'd take care of her chatting problem.
Avery gasped a sharp intake of air, her chest rising against his.
Taking it as an invitation, he commanded her with his lips, opening and closing them in a sensual rhythm. A dull ache resounded in his chest. God, he'd forgotten the depth of a kiss…
He shifted to get a better angle, more access, but that console…
She pulled back with a small smile, lips grazing his in a tease, then she pressed in again and proved that she could make out as well as she could talk.
A scratching sound scraped the window. Moose whined, then barked.
Great timing, as usual.
About the Author: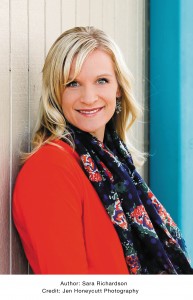 Sara Richardson grew up chasing adventure in Colorado's rugged mountains. She's climbed to the top of a 14,000-foot peak at midnight, swam through Class IV rapids, completed her wilderness first-aid certification, and spent seven days at a time tromping through the wilderness with a thirty-pound backpack strapped to her shoulders.
Eventually, Sara did the responsible thing and got an education in writing and journalism. After a brief stint in the corporate writing world, she stopped ignoring the voices in her head and started writing fiction. Now, she uses her experience as a mountain adventure guide to write stories that incorporate adventure with romance. Still indulging her adventurous spirit, Sara lives and plays in Colorado with her saint of a husband and two young sons.
Goodreads | Facebook | Website |
Twitter
Buy the book at Amazon, Barnes and Noble, iBooks, Google Play, Kobo, BAM, or Indibound.
Rafflecopter giveaway: a Rafflecopter giveaway