Long and Short Reviews welcomes Terri Austin as she promotes her newest book, His Every Need, the first book in The Beauty and the Brit series. Leave a comment or ask Terri a question for a chance to win a print copy of the book (US/Canada only please).
New-To-You Author
So you're cruising the shelf at a bookstore, or more likely skimming a page on Amazon or Barnes, and you run across an author you've never heard of. It's always a gamble, isn't it, picking up a new author? Risk and reward. You weigh it carefully.
If you're like me, maybe you look at the "other people who bought this book have also purchased this book" list and scroll across the long horizontal line of delicious covers. Crack for readers. A gateway glance. The first look is free, kid. I've spent a lot of hours perusing those lists.
My name is Terri L. Austin and His Every Need is my first erotic romance, so you probably haven't heard of my Beauty and the Brit series. Books are plentiful these days. There are a lot of great writers and great stories to choose from. But let me tell you why you might like His Every Need.
A fun twist on a classic tale. Set in Las Vegas, this is Beauty and the Beast for grownups—because of the crazy hot sex, of course.
Do you like a British hero? Trevor Blake is sarcastic, funny, and so sexy, he'll leave you breathless. He's posh and proud of it. So if you're a fan of the Brits, this book might be a good choice for you.
If you're looking for a strong, capable heroine, Allie Campbell fits the bill. Although she's made a deal with Trevor, agreed to become his mistress, she's not a pushover. She doesn't let him walk all over her, and she doesn't back down.
Maybe you want a dash of humor with your romance. We are dealing with the British, after all. Dry wit is their forte. And when Trevor's estranged parents show up—well, Nigel and Mags are in a class by themselves. You'll fall in love with them. Trevor calls them barmy. I call them delightful.
Need deep, raw emotion with your sexy novel? Allie is devoted her to her family and is determined to uphold the promise she made to her dying mother. She'll do whatever it takes to keep her family together. And if it means she has to make a bargain with Trevor Blake, so be it. The emotional impact these have on each other is strong, their chemistry is instant.
I hope you'll give His Every Need a try. And if you do, I wish you Happy Reading.
Allie Campbell is determined to take care of her family, no matter the cost. But when her father loses their home to British tycoon Trevor Blake, Allie finds herself forced to plead for more time to pay off the loan…and if she has to use her own body as collateral, then so be it.

Trevor isn't moved by Allie's story. But when Allie impulsively offers to do anything to keep the house, he's intrigued enough to raise the stakes: for the next two months, she must cater to his every need, no matter how depraved. To his amazement, she agrees.

Allie has no intention of enjoying her time with the arrogant, domineering Brit, but it doesn't take long before he's got her aching for his touch-and he'll do whatever it takes to make her beg…
About the Author: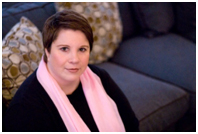 As a girl, Terri L. Austin thought she'd outgrow dreaming up stories and creating imaginary friends. Instead, she's made a career of it. She met her own Prince Charming and together they live in Missouri. She loves to hear from readers. Drop her a note at TerriLAustin.com.
TerriLAustin.com, Twitter, FB, Goodreads
Buy the book at  Amazon, Amazon Print, Barnes and Noble, Indiebound, or Powells