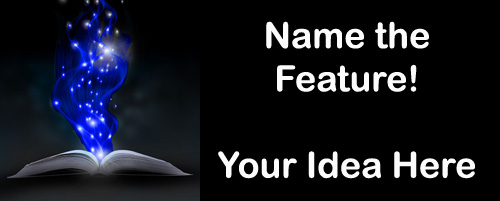 We so excited! Starting next Saturday, we will have a weekend feature here on Long and Short Reviews.  This weekly blog post will not just feature books– believe it or not, Marianne and Judy (and our reviewers) like other things as well!  So, we'll be chatting about some of our other interests … and we'd love to have you visit with us as well, if you want to guest post here.
One issue — we don't know what to call it!  So… here's your chance to help us choose the name for our new weekend feature.  It's going to be miscellaneous offerings on things we happen to be thinking of, movies we might have recently seen, music we like (or don't), something goofy (or frustrating or edifying) that happened to us, pet stories, kid stories, interesting tidbits we discovered during the week …the sky is pretty much the limit. One thing we will not be talking about is politics, so if you want a politics-free zone, come hang out with us on the weekends and chat with us!
So…what do you think the name for the new feature should be?  Leave your thoughts in the first entry on the rafflecopter, below, and be entered into a drawing for a $10 Amazon or Barnes & Noble GC! The drawing will be held on Friday, September 2nd and will announced on Saturday during our featured post!
And, hey … leave a comment about what you think of this new idea, and maybe even ask Judy, Marianne or our reviewers some questions or give us ideas about what you'd like us to talk about.  Thanks and good luck!