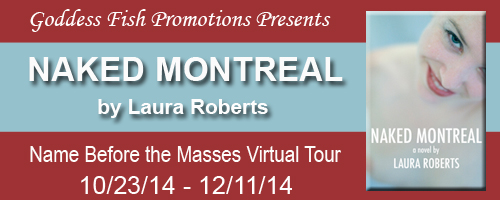 This post is part of a virtual book tour organized by
Goddess Fish Promotions
. Laura will be awarding a $25 Amazon gift card + free ecopy of Naked Montreal to a randomly drawn winner via rafflecopter during the tour. Click on the tour banner to see the other stops on the tour.
Business is pleasure for Francesca "Frankie" Parker, Montreal's go-to guide for all things seductive in the Underground City. "Sexy Tourism for Canada's Fetish Capital" is what her card promises, and mon ami, she delivers. So toss the travel pamphlets and enjoy your tour as Frankie leads you deep into the Sin City of the North and all your wildest fantasies. If you haven't developed a fetish yet, don't worry – by the time Frankie bids you adieu, you may have a hard time choosing a favorite!
Enjoy an excerpt:
My date for tonight, an overstuffed businessman with slicked-back hair in a greasy little ponytail and a vaguely Bronx accent, is so chuffed to be here with a beautiful woman that he's practically salivating over my white flesh, my smooth black hair, my pouty red lips.
Little does he realize, I'm just the appetizer. The main course is on her way, ready to beat him into submission. She goes by the name Lady Evelyn, but I've never seen any evidence of her title's origins. I keep getting texts from her that say she's on her way, which usually means she'll be fifteen minutes late. I've got to keep the Catch wriggling on the line for a few more minutes, until she shows.
I finally receive a text from Lady Evelyn announcing her arrival, and swiftly draw our meal to a close as the Consultant inhales the last bits of mungfish left on the plate. I casually gesture for the check, and he signs off on our decadent feast with a look of pure evil in his eyes. I stand up, as if headed for the ladies' room.
"Meet me in back in five minutes," I whisper in his ear.
His eyes widen, and a smirk creeps across his face. Showtime.
About the Author:
Laura Roberts writes about sex, travel and ninjas. Because what's better than hot sex on a dream vacation while dodging shuriken?
As the author of the "V for Vixen" sex column, Laura began her career writing about Montrealers' sexcapades, which have been collected together for her book, The Vixen Files. Blending real-life observations with fictional fantasies, she's penned parts 1 and 2 of her serial novel, Naked Montreal, along with the short story collection The Montreal Guide to Sex, saucy poetry volume 69 Sexy Haiku, and satirical novella Ninjas of the 512. She's currently hard at work on a sexy murder mystery entitled The Case of the Cunning Linguist.
Laura lives in an Apocalypse-proof bunker in sunny SoCal with her artist husband and their literary kitties, and blogs regularly at Buttontapper.com.
Facebook | Twitter | Goodreads | Google + | Blog
Buy the book at
Amazon
,
BN.com
,
iTunes
,
Kobo
,
Smashwords, or signed by the author via
Authorgraph
.