This post is part of a virtual book tour organized by the publisher. Enter the Rafflecopter below to win a Red Adept Publishing T-Shirt, tote bag, can koozie, or magnet. Click on the link to see the other stops on the tour.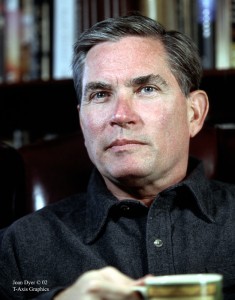 If you like mysteries, check out these authors recommended by Russ Hall, author of TO HELL AND GONE IN TEXAS.
Ten mystery writers worth rereading
James Burdett
Robert Campbell
Raymond Chandler
Colin Cotterill
Dashiell Hammett
Stuart Kaminsky
Elmore Leonard
Ed McBain
Ross Thomas
Rex Stout
Five Innovative mystery writers worth checking out
Colin Cotterill – introduced 72-year-old Dr. Siri, the reluctant coroner of 1975 Laos. This is a master series in the category of "geezer fiction," which is sure to delight baby boomers and anyone who is cool with the detective not being cut and under thirty.
Janet Evanovich – who dares open her High Five book in the Stephanie Plum series with: "When I was a little girl I used to dress Barbie up without underpants . . .and being a bail enforcement agent is sort of like being bare-bottom Barbie. It's all about having a secret." Page-turning fun.
Carl Hiaasen – who took mystery writing all the way out to the edge of wackadooble, but entertains and delights all the same.
Alexander McCall Smith – who is often shelved under M since his last name is "McCall Smith" and not just Smith. He sweeps the reader off to Botswana to meet Mma "Precious" Ramotswe, who founded the #1 Ladies Detective Agency. Delightful and relaxing reading in a faraway place.
Spencer Quinn (actually Peter Abrahams writing under a penname) – brought us a mystery series told entirely from the point of view of a dog, Chet the Jet, who works with his P.I. sidekick Bernie Little. It is a daring task, and the author pulls it off and entertains!
Trouble big as all hell.
Retired sheriff's detective Al Quinn hasn't spoken to his brother, Maury, in twenty years. When Maury lands in the hospital under suspicious circumstances, though, Al reluctantly abandons his quiet country seclusion to look into the matter. A second attempt to take Maury out drives the brothers back to Al's lakeside home, where Al knows the territory, but they're not alone for long. ICE agents demand that Maury rat on his silent partner, city cop Fergie Jergens comes investigating the murders of Maury's lady friends, and someone takes a match to Al's house.

Al soon learns his problems are only getting started—his brother's in trouble on both sides of the U.S.-Mexico border. Caught in a ruthless power struggle between the ICE and Los Zetas, a vicious Mexican mafia bent on ascendancy, Al learns the hard way who he can trust—and who's willing to do whatever it takes to succeed.

With everything he loves on the line, Al will learn just how far he'll go to protect his own.
Buy the book at Amazon, Barnes and Noble, Kobo, iTunes, or Google.
Goodreads: https://www.goodreads.com/book/show/22538055
Author page on RAP: http://redadeptpublishing.com/russ-hall/