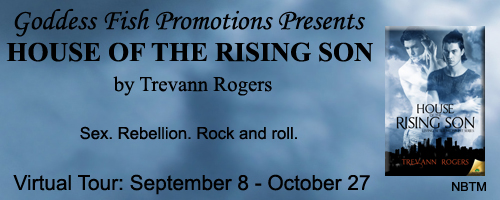 This post is part of a virtual book tour organized by
Goddess Fish Promotions
. Trevann Rogers will be awarding a $20 Amazon or Barnes and Noble GC to a randomly drawn winner via rafflecopter during the tour. Click on the tour banner to see the other stops on the tour.
My Writing Quirks
Everything about how I write is quirky. Or plain old ridiculous. But you tell me:
• I have to "see" a scene or chapter before I write it. Sometimes, this means I lie down in the dark and let my imagination play. This allows me to vividly describe important details while also reminding me to not overdo it, so that the reader can fill in her or his own particular preferences.
• The television must be on. I have no idea why I need this sort of distraction to do my best work. It might stem from childhood—I always sat in the kitchen with my mom, doing my homework while she watched TV and cooked dinner. Today, I usually play a DVD or watch something "on demand". A few all time favorites to write to are Storm of the Century, Starship Troopers, and Chopped. I know, crazy, right?
• I snack. Constantly. Potato chips are usually on hand (and much to the dismay of my keyboard, I mean that literally), as well as nuts, olives, pickles…Hmmm. It seems my writing requires salt.
• I cannot write in short spurts. I have to devote HOURS at a time, so that, I suppose, I can also watch television. (See above.)
• I often have to escape from home. My two dogs, Molly and Chloe, seem to think that my writing time is their opportunity to go out, eat, or bark/whine/talk to me. I've rented hotel rooms to get away from them, but please don't let the cat out of the bag. I don't want to hurt their feelings. I love them!
• My most creative hours, the time of day I feel most alive is after the sun goes down and the moon and stars come out. I suppose I have this in common with Cheyenne and Alexander—sometimes, being myself means Living After Midnight.
Cheyenne is a half-human incubus whose star is on the rise in the Unakite City rock scene. His father, the leader of the supernatural races, would prefer he keep a "low profile", but screw that. Cheyenne has as much music in his veins as royal incubi blood.

Alexander's future is all set—finish law school, join the family firm, and marry someone who'd be good for business. Not that he has a say in any of it. He's barely met the woman his father expects him to marry.

As Cheyenne's musical career takes off, his carefully constructed life begins to unravel, exacerbated by an ex-lover who can't let go, a crotchety barkeeper with a dirty mind and a pure heart, a drag queen who moonlights as a nanny, and Alexander—who's not sure if he's falling for the incubus or the rocker.

Cheyenne denies who he is, while Alexander hides what he wants. Together, they learn that getting what they truly want means being who they truly are.
Enjoy an excerpt:
While waiting for their drinks, Alexander studied the deep grooves carved into the table, trying to ignore the friction of Cheyenne's thigh rubbing against his as the musician tapped a heel to the thump of the DJ's music. Once the drinks arrived, Alexander downed half the bottle before he realized Cheyenne's large green eyes were staring at him.
"So where's your girl, Prudhomme? I mean, Prune Danish. No, wait…"
"Prudish. Shit, Prudence," Alexander sputtered.
Cheyenne's eyes sparkled. "No, you got it right the first time. Where is she?"
He shrugged. "Home, I guess."
Cheyenne cocked his head. "Oh, really?" He put his hand on Alexander's leg. "What's up? You can tell me."
"It's not working out." Alexander dragged his teeth over his lower lip. "It's my fault." He couldn't keep his attraction to Cheyenne out of his voice. "I don't know what's happening to me."
Cheyenne put his thumb to his lip and paused. "It's like the drink."
Alexander tilted his head, not sure he heard correctly. "The drink?"

"Yeah, that nasty ass bourbon. I bet your father drinks it. Your uncles. All your friends. Everybody, right?"
He didn't answer, but waited for Cheyenne to continue.
"It was just expected that you'd drink it too. So you did." His hand moved up Alexander's thigh. "But now, maybe it's okay to drink what you like. A different brand, a better vintage. Because you want it. Because it tastes better." Cheyenne licked his lips. "Because it feels right."
Alexander cleared his throat and brushed his lap, pushing Cheyenne's hand away. "I can't."
"If you change your mind, let me know."
"You don't understand. It's not that easy. My whole life will change."

"It already has."
About the Author:Trevann Rogers is a writing pseudonym. She is two authors with day jobs, living in the wilds of Connecticut with Molly, a chubby rescue mutt who'd rather eat and snuggle than just about anything else, Chloe, a tough as nails terrier mix who never met a pillow she didn't want to kill, and Lil Monkey, a sock monkey who thinks he's real and hopes no one catches him sneaking out of the window in the middle of the night to live his own adventures. (He claims, among other things, to have written several SyFy movies and had a gig as a male stripper at one of the local establishments. Who knows?)
Apropos for writers, the two women met as pen pals and stayed connected through their love for words and an unquenchable addiction to music. They use a pen name to spare their families questions regarding why their relatives write about gay male rock stars, incubi, attorneys, Were's and vampires.

Okay, that's not true. But it could be.
Social worker and executive by day, their hours to write are long after the sun goes down and the creatures who live in the shadows come out to play. Between day jobs and other obligations, they learned long ago that being themselves means living after midnight.
Website | Facebook | Pinterest | Twitter
Buy the book at Amazon or Barnes and Noble.