This stop is part of a book tour organized by the publisher. Enter to win your choice of Red Adept swag or a $5 Amazon GC.
My Writing Process
Writers often talk about their 'process' and I bow to those who can actually define one. I've thought long and hard about what my own process for writing is, and I've come to the conclusion that the best way to describe how I write is to talk about my first paintball experience.
When my sons were in high school, I tried to be the 'cool' mom and was willing to try anything at least once. I discovered I'm pretty good at laser tag, terrified of SCUBA and can still throw a mean left upper cut. But, typically, these activities weren't necessarily planned well in advance, it was more like, "What should we do today? Go for a hike? Rollerblade? Try out the new boxing gym that opened downtown?" And soon, we were in padded helmets, boxing gloves and mouth pieces, punching bags and showing off our fancy footwork. That's how we ended up at paintball.
I have to say I was uncomfortable at first. The gear can be heavy, the mask is designed for protection, not necessarily sight, and the gun full of paint was not something I was used to carrying around. But I soon got used to all of this and became somewhat comfortable with the restrictions. I started to gain confidence and began to formulate a plan of attack.
I found myself becoming frustrated quite often, as I would have what I considered a great hiding spot but was soon discovered by one of my sons who was more than happy to stealthily sneak up from behind and unload his purple paint on me while the other stayed at a safe distance and sniped me with green. I looked like Barney the Dinosaur, and, yet, no-one had a trace of my yellow paint on them. But frustration be damned, I was determined to make something happen.
I decided that hiding and playing it safe was not necessarily the best strategy. So I went rouge. I ran through the paintball court, shooting left, then right, behind me, above me, at anything that appeared to be moving. I even tried a fancy roll, which was much more graceful in design than in execution, but came up shooting.
I got slaughtered. I couldn't have been more covered had I climbed in a barrel of paint. When the alarm sounded, indicating the session was over, I ran to the exit. I was a mess, exhausted and a bit humiliated by my performance.
But as we took off our gear, I noticed that there were splatters of yellow on my sons: a knee here, a butt cheek there and a few chest shots. Regardless of the pain and frustration I had experienced, I had managed to make a half dozen shots stick and some of them were expert in placement. In my mind, all of the mediocre could be deleted, leaving nothing but the perfect yellow circles.
My writing process is a lot like this. It begins with spontaneity, I have an idea, so I dive right in. I start with a plan, but soon find myself running through my field of thoughts, throwing paint everywhere. It is definitely exhausting and can be frustrating at times. But then I go back and evaluate what I've actually done. I delete the ineffective splatters and wash off what didn't stick. And what's left?
Bull's-eye.
About the Author: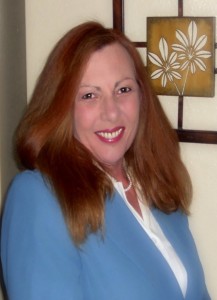 Kelly Stone Gamble lives in a hunting lodge in Idabel, Oklahoma, and spends way too much time looking for Bigfoot and the Ivory-Billed Woodpecker, both of which are said to reside in her 1,800 acre backyard. When she isn't writing, trying to keep her dog from befriending a skunk, or shooting various wildlife (camera shooting, that is), she teaches Communications, Humanities and English to students at Southeastern Oklahoma State University.
Website | Twitter | Facebook | Goodreads | Red Adept Publishing
Cass Adams is crazy, and everyone in Deacon, Kansas, knows it. But when her good-for-nothing husband, Roland, goes missing, no one suspects that Cass buried him in their unfinished koi pond. Too bad he doesn't stay there for long. Cass gets arrested on the banks of the Spring River for dumping his corpse after heavy rain partially unearths it.

The police chief wants a quick verdict—he's running for sheriff and has no time for crazy talk. But like Roland's corpse, secrets start to surface, and they bring more to light than anybody expected. Everyone in Cass's life thinks they know her—her psychic grandmother, her promiscuous ex-best friend, her worm-farming brother-in-law, and maybe even her local ghost. But after years of separate silences, no one knows the whole truth. Except Roland. And he's not talking.
Buy the book at Amazon, Barnes and Noble, Apple, Kobo, or Google Play.