Long and Short Reviews welcomes Sean Michael as he celebrates the recent release of his newest book Daddy, Daddy, and Me.
Thank you to Long and Short Reviews for hosting me today!
So today I'm sharing my top five writing snacks (I can only choose five?). I am a muncher. I love snacking, probably more than I like eating actual meals.
Top Five Writing Snacks
5. Water. Does it actually count as a snack? I don't know. I drink a lot of it, though, while writing. It's there and it's supposedly good for me. And if it's the "Icelandic" brand I really like it.
4. Nerds. I love things sour/tangy and that's what nerds are. I like the big box of mixed ones and I throw a handful into my mouth and munch away as I tap away at the keyboard.
3. Fritt Chewy Candy, the orange one. So these are almost like gummies, but not quite. I guess Starburst are the closest candy, but these are long and thin. I actually call this candy crack because I can't eat just one. I tell myself I'm only going to have one or two and before I know it, the package of six is gone – in my belly.
2. Caramel chocolates. Really, any caramel chocolates – turtles, sweet Georgia browns, caramel M&Ms. If it's got caramel in it, I like it and I'll be snacking on it while writing. Hell, I'm snacking on caramel chocolates right now.
1. Chips! Any kind of chips. I like most. Salt and Vinegar are probably my favorite, though. I love the crunch, the explosion of flavor. I can sit with an open bag and just keep sneaking one more, then one more, then on more until suddenly the bag is finished.
So that's what you can find me munching on at any given time while I'm writing. That and more, but this was only a top five list!
Sean Michael
smut fixes everything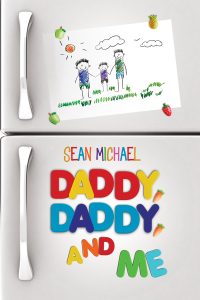 When Jeff agreed to be the sperm donor to his best friend Beth, he never expected a tragedy to leave his newborn and three-year-old motherless. Beth's loss has totally thrown his life into chaos: his lover has left him, his house isn't anywhere near childproof, and his boss feels the restaurant has been patient enough with Jeff's time off.

Donny has always known he wanted to work with kids, and he just finished his degree in early childhood education. He didn't count on the prejudice he'd face as not only a male nanny, but a gay one at that. Job-hunting has been frustrating to say the least, so when he knocks on Jeff's door and is greeted by the sounds of things breaking and a pair of screaming children, he thinks maybe he can begin this particular interview with a trial by fire.

Becoming the nanny to Jeff's children might be a dream come true for Danny and exactly what Jeff needs, but are either of them ready to really be a family?
About the Author: Best-selling author Sean Michael is a maple leaf–loving Canadian who spends hours hiding out in used book stores. With far more ideas than time, Sean keeps several documents open at all times. From romance to fantasy, paranormal and sci-fi, Sean is limited only by the need for sleep—and the periodic Beaver Tail.
Sean fantasizes about one day retiring on a secluded island populated entirely by horseshoe crabs after inventing a brain-to-computer dictation system. Until then, Sean will continue to write the old-fashioned way.
Website | Blog | Facebook | Twitter | Instagram
Buy the book at Dreamspinner, Amazon, or Barnes and Noble.