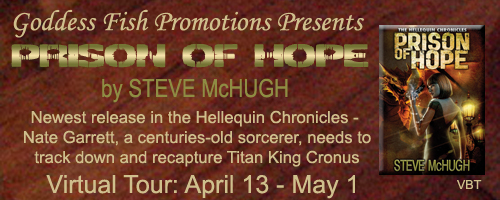 This post is part of a virtual book tour organized by
Goddess Fish Promotions
. Steve McHugh will be awarding a $25 Amazon/BN GC to a randomly drawn winner via rafflecopter during the tour. Click on the tour banner to see the other stops on the tour.
My Take on Critique Groups
Back when I was 25, which was only a decade ago, but feels much longer, I was tired and deliriously happy from the birth of my first daughter. There's nothing quite like having a lot of late nights and the overwhelming thought that you are now responsible for a little person, to make you wonder just want you want to do with your life. In my case, I'd always wanted to be a writer, but I used the excuse, "some day, when I have time" an awful lot. The birth of my daughter changed all of that.
I knew I wanted to get serious about writing, but I'd never even finished writing a book, so I knew I was about to write the greatest novel of all time on the first go. So, I went online for hints about improving my craft. And that hurt my brain. Because everyone has a different view, and by everyone, I actually do mean everyone.
Eventually I found myself talking to someone about it who suggested I go take a look at Kelley Armstrong's website. She's written about writing and given hints and tips, and I'd loved her work, so I figured I may as well. What I found was somewhat bigger than that, because I ended up joining her forum and adding my name to the list of people wishing to join a critique group.
Now the groups on her forum were split into newbie island, which is where everyone starts until they've proven that they're going to actually post and give critiques to others on a regular basis. So, I actually sat down and wrote something. It was shockingly bad.
I don't think I actually posted anything for a few months, but I did read critiques and learned how advice should be given, and where people were going right and wrong on their own work. After a while, I published my first piece… it didn't end well.
The following month, I published another. And then another. And with my regular critiquing, I left newbie island to be put into a permanent group (group 2 in my case). It was there that I met people who I consider some of the best people I know, certainly some of the most talented. Over the 4 or 5 years I was there, I made a lot of friends, got some excellent advice, and when Kelley had to close the forum, I'd already published my first book.
By the time it was over, pretty much everyone in the groups posting on anything close to a regular basis had either published or had a publishing deal.
To me, that shows that if you're just starting, critiques are some of the most important things you'll ever get. They help you grow as a writer, they help you learn from other people's mistakes. And more importantly, you'll make good friends. A good critique group can eventually put you on the path to publication.
Now I'm not saying they're for everyone, some people wouldn't enjoy that environment, but they're certainly helpful, and they're worth trying. You just need to find a good one.
I have beta readers now, people I've known for years from that group, I get to see friends go further and further with their writing career. So, no, they're not for everyone, but for me, it helped me become a published author. Which in turn has completely changed my life.
Long ago, Olympian gods imprisoned the demon Pandora in a human—Hope—creating a creature whose only purpose was chaos and death. Remorseful, the gods locked Pandora away in Tartarus, ruled by Hades.

Now, centuries later, Pandora escapes. Nate Garrett, a 1,600-year-old sorcerer, is sent to recapture her and discovers her plan to disrupt the 1936 Berlin Olympic Games, killing thousands in a misplaced quest for vengeance.

Fast forward to modern-day Berlin, where Nate has agreed to act as guardian on a school trip to Germany to visit Hades at the entrance to Tartarus. When Titan King Cronus becomes the second ever to escape Tartarus, Nate is forced to track him down and bring him back, to avert a civil war between those who would use his escape to gain power.
Enjoy an excerpt:
The power collected by the runes would have returned to me until I'd regained my strength. Breaking the runes had changed that. On the plus side, it meant getting my missing energy back much more quickly; on the minus side, it turned the car park into a damn bomb.
The remaining magic exploded outward like a nuclear shockwave. Windscreens and headlights shattered, tires blew from the pressure, and the lights and windows at the front of the restaurant rained down glass over the ground. The blast picked me up like I was made of paper and threw me aside. I felt a crunch as I collided, back first, with something hard. Pain rocked through me, and then, just as quickly as the magical energy had rushed outward, it stopped and all rushed back into me as if it were attached on an elastic band.
The final thing I remembered before passing out was that I cried out in pain.
About the Author: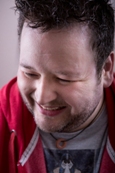 Steve McHugh is the author of the popular Hellequin Chronicles. The fourth book, Prison of Hope, is out on April 14th. He lives in Southampton on the south coast of England with his wife and three young daughters. When not writing or spending time with his kids, he enjoys watching movies, reading books and comics, and playing video games.
Blog | Twitter | Facebook
Buy Prison of Hope at Amazon.