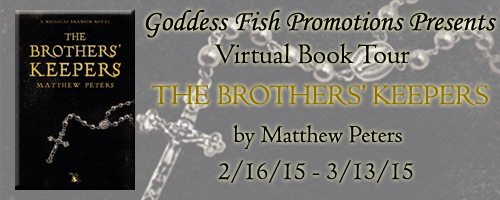 This post is part of a virtual book tour organized by
Goddess Fish Promotions
. Matthew Peters will be awarding a $10 Amazon or B/N GC to a randomly drawn winner via rafflecopter during the tour. Click on the tour banner to see the other stops on the tour.
My Take on Critique Groups
One of the most important things I've learned in my writing career thus far is that most good books are not written in a vacuum.
I bring this up because I am of the mind that a good critique group is vital to the writing and, ultimately, the publication process.
Why? Because a good critique group can provide the following:
1. Fresh eyes to catch grammatical mistakes and typos. No matter how meticulous we think we are, or however grammatically knowledgeable, we are certain to make mistakes in our writing. While a critique group should not take the place of a good editor, any mistakes found and pointed out will help strength the manuscript.
2. Insight into larger story elements. Does your plot hang together? How well developed are your characters? Do they have arcs? What are the emotional stakes involved? Is there as much conflict as possible? These only some of the issues a critique group can address.
3. Ideas for strengthening any identified weaknesses. Often the ideas expressed will be things you yourself will never have thought of, indeed probably couldn't have thought of, because you are so tightly wrapped up in your story.
4. Much needed support. Along with constructive criticism, a good writing group provides support and encouragement to its members. Such support is crucial and in my opinion can make or break a writer. Writing is hard work. People who are working hard at writing know that, and seek to build up rather than knock down a writer.
5. An audience for your work. This is an early opportunity to see how your work will be received. One of the most important things a group can provide in this respect is perspective. You may be sweating things that are not even crucial to the story and its potential impact on readers. The critique group can really help you see the forest through the trees when you need to.
6. Incentive to keep writing. One of the hardest things about writing is to keep writing. Starting is relatively easy, but to keep doing so day after day, week after week, can test the commitment of even the most seasoned professional. Scheduling presentations on certain dates by certain members can provide incentive to keep writing. Most writers I know benefit from some type of deadline, self-imposed or otherwise.
7. Insights into other elements of the writing/publication process. Members of a critique group can offer insights into things such as marketing and promotion.
This having been said, having a bad critique group can be worse than not having one at all. Generally speaking, one should stay clear of a critique group that doesn't provide most of the services mentioned above, and especially from ones that tear the writer down, instead of building her up. Choosing the people who belong to your critique group can be one of the most important decisions you make as a writer. Ideally, you will know the potential member by having met her in a writing workshop or a similar environment.
Personally, I wouldn't trade my critique group for the world. We've been meeting for two years. There are four of us. We meet once a month for two hours. Two of us present each month. We submit our chapters or stories to the members of the group two weeks prior to meeting so we all have time to read and critique the work. We come to the meeting prepared to discuss the submissions. We don't make it a habit to provide food or beverages for fear the meeting might become a strictly social event. We provide constructive criticism and support for each other. I am not saying this is the only way to run a group. I am just sharing what has worked for us. I know writing groups that differ in nearly all respects, and yet provide excellent services to their members.
Bottom line: it's important to have others read your work before you submit it for publication. Of course everything in your manuscript sounds right to you and is clear in your mind, but that may not be the case. Find a good critique group, or better yet start one. You won't be sorry you did.
Most of us are familiar with Jesus' parents, Mary and Joseph, and Jesus' purported spouse, Mary Magdalene. But what about Jesus' siblings? What role did they play in early Christianity?

Contemporary Jesuit and renowned religious historian Nicholas Branson is about to find out…and the answer will shake the foundations of the Judeo-Christian world.

It all starts with the murder of a United States Senator in a confessional, and the discovery of a strange religious document among his possessions. At the urging of his FBI friend, Branson joins the investigation. His effort to uncover the truth behind the murder draws him into the search for an eight-hundred-year-old treasure and into a web of ecclesiastical and political intrigue.

Accompanied by a beautiful, sharp-tongued research librarian, Jessica Jones, Branson follows a trail of clues, from the peaks of the awe inspiring French Pyrenees to the caves of war-torn Afghanistan. Along the way, shadowy powerful forces trail the pair, determined to keep safe a secret buried for centuries.
Enjoy an excerpt:
Father Rawlings drained his cup and set it on the table. "What I'm about to tell you may sound ridiculous and melodramatic. At best it will seem the stuff of conspiracy theories and spy novels. However, I assure you it is not." He fixed Branson with a steely gaze. "As God's soldiers, we are engaged in a battle, Nicholas. As real as any battle ever waged. The war we fight has raged for centuries, but the battle we fight now could well be the last. And we, you and I, the Roman Catholic Church as a whole, must emerge victorious. Nothing less than the foundations, the stability of the Christian world is at stake." He smiled again, this time with bitterness.
"Of course it sounds unbelievable, even paranoid, but believe me, it is neither. I choose my words carefully. I don't make bold assertions I cannot support. I assure you I am telling you exactly how things stand, exactly what is at stake. Before I go on, however, I must demand a pledge from you, your promise to help the Church in the epic struggle in which we currently find ourselves. We require your guarantee, your warrant if you will, that you will use all your energies, resources, and powers to secure the interests of the Church, and that you will let nothing deter you from the task at hand. With this binding agreement comes an inexhaustible supply of resources: anything and everything you deem necessary to accomplish your mission. But I must have your pledge before we proceed." Rawlings rose from his seat, motioning for Branson to stand as well. "Before you give me your answer, listen again to Jesus' words: 'He who is not with me is against me.' Nicholas Branson, tell me now: Are you with our Lord, or against Him?"
About the Author: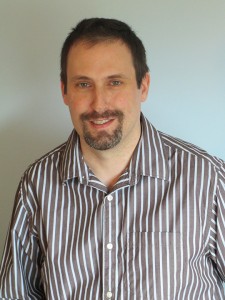 Dual diagnosed* from an early age, Matthew Peters dropped out of high school at sixteen. He went on to obtain an A.A., a B.A. from Vassar College, and an M.A. and Ph.D. from Duke University. He has taught various courses in a variety of disciplines throughout North Carolina. He is committed to increasing the awareness and understanding of the dual diagnosed. In addition to The Brothers' Keepers, he is the author of Conversations Among Ruins, which features a dual diagnosed protagonist. Currently, he is working on a sequel to The Brothers' Keepers.
*The term dual diagnosed refers to someone suffering from a mood disorder (e.g., depression) and chemical dependency.
Website | Blog | Twitter | Facebook
Buy the book at Amazon, Barnes and Noble, Kobo, or MuseItUp Publishing.